Hair oil treatment has different names and versions. There are so many methods that you can use a different one every day and enjoy a varied hair care routine for a month or longer. How is it possible? Even applying a natural oil to hair tips can be called 'oiling' (it's simply a contact between hair and oils).
For the best hair oil treatment effects, you should go for a version that ensures an in-depth repair and nourishing. The best oiling method doesn't just benefit your hair but also strengthens the bulbs and cares for the scalp. For the inhabitants of India, it's the one and only, original and highly-appreciated treatment that's done at hair salons. It's known for ages and described in Ayurveda – the Eastern medicine and philosophy.
Traditional hair oil treatment involves spreading an oil on the hair and scalp – in this way, the oil's molecules penetrate the bulbs, improving their condition, nourishing, strengthening and repairing. At the same time, they nourish the scalp and fix micro-damage on the entire hair surface.
Hair and scalp oil treatment can be done in many ways, too. Hot oil treatment is among the most popular and effective methods. Why does it bring such great effects? What benefits does it give? How to do the hot oil treatment? Here's a full guide.
What does a hot oil treatment for hair and scalp involve?
It consists in applying a heated oil to hair. You can do it using different techniques (e.g. apply a warm oil to dry hair or wash hair and apply an oil to damp strands). Still, there are two conditions that must be fulfilled:
you must heat an oil up before the application
you apply the oil to strands and – most of all – to the scalp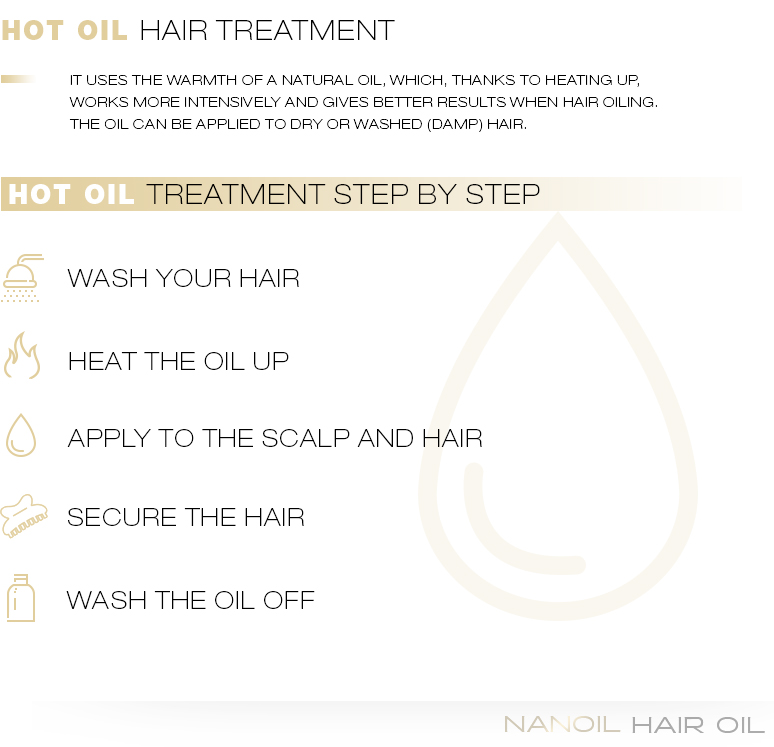 Hot oil hair treatment – effects
It's an extremely hair rebuilding and regenerating treatment. In such a version, it's the easiest for the oil to reach the deepest hair layers.
Why? The physics gives the best explanation. Warm molecules move more quickly so they penetrate under the cuticle scales more easily and effectively. Using a metaphor – molecules in a cold oil are 'lazy' and when you heat the oil up, they get the energy and power to work harder for the hair repair. That's why hot oil treatment provides the best results, namely:
an oil penetrates the hair faster
a warm oil works intensively from within
after heating up, an oil is easier to apply
hot oil treatment nourishes and repairs bulbs
increases blood flow to the scalp
warm molecules give better scalp care
an oil strengthens, protects the hair and adds elasticity
hot oil treatment intensifies hair sheen and vitality
quickly repairs the hair and prevents thinning
makes hair grow faster
Hot Oil Hair Treatment - how to do it? Step-by-step guide
Wash your hair – applying an oil to damp strands is the best and most intensive form of hair care. It has a huge plus – an oil works with an intensified power because water opens cuticle scales. Washing frees the hair and scalp from toxins, sebum and cosmetic build-up that could make the oiling treatment less effective.
Heat the oil up. Using the so-called water bath is the easiest way. You pour the oil into a small bowl and put the bowl in a pot with warm water, remembering that the temp must be between 40-55°C. Oils heat up quickly so you can apply them to hair after a few mins.
Apply the oil to the scalp. Comb strands out, divide them into sections and gradually cover the scalp with the oil along each parting. The hair and scalp must be greasy but the oil can't drip off.
Apply the oil to hair throughout its length. Warmed-up molecules start penetrating damp strands and hair starts 'drinking' the oil. It means one thing: the oil starts working inside your hair and on the outside.
Secure the hair – put on a towel or shower cap. Leave the oil in from 30 mins to a few hours. The characteristic feature of oiling is the fact you can't overuse it. You can even let it sit in overnight (in this case, the oil should be applied to damp hair). Oils belong to safe emollients that give wonderful scalp and hair benefits.
Wash the oil off. Use a delicate shampoo which is mild for the scalp.
Hot oil hair treatment – tips & tricks
While choosing an oil for the hot oil treatment, remember it has a contact with the skin. That's why, you must pick an oil or a properly-composed blend of oils that have safe ingredients – free of silicones, parabens, oil derivatives and other irritants. The best blends include cold-pressed oils and hair and scalp-conditioning substances (herbs, keratin, vitamins, panthenol, lanolin, UV filter).
Buying a professional hair cap is a good idea. You put it on the oil-covered hair. In this way you keep the oil from soaking in a towel and protect yourself from unpleasant surprises e.g. greasy spots on your clothes or pillows.
A warm airflow of a dryer is another ally of hair oils. Feel free to direct the warm airflow of the blow-dryer towards the hair and scalp. As a result, the hair scales raise whereas the oil's molecules get warmed up for the quicker and better absorption. Thanks to the heat, the blood flow in the scalp is increased so hair bulbs are stimulated.
A conditioner after oiling. It's a saver for those who have damaged hair or when a mild shampoo doesn't do well with washing the oil off. To emulsify the hair oil (in other words – neutralize it) and make it easier to rinse out, you can apply a fave conditioner, balm or mask a few mins before shampooing. Two extra benefits – additional nourishing and easy-to-remove oil.