Hydrosols take the cosmetic world over. They're common in skincare yet few people know about their wonderful hair and scalp benefits. What are they, how they're made and why they're worth adding to the everyday haircare? The article contains the most important info on hydrosols, describes the most popular ones and helps to buy the best hydrosol for your hair.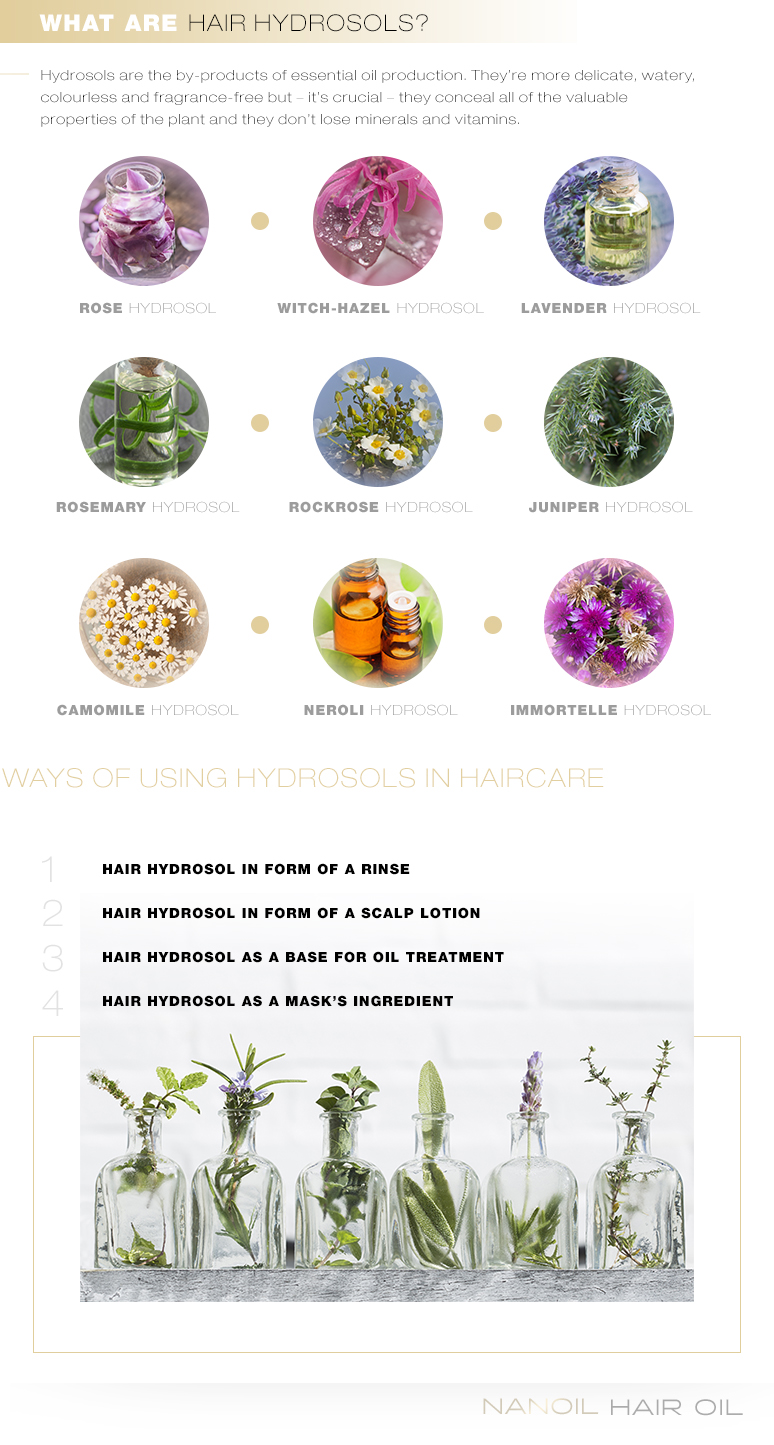 What are hair hydrosols?
I'm sure everybody knows essential oils that are common in the aromatherapy. They're produced by the steam distillation of chosen herbs and flowers. Apart from the oils, the so-called distilled water comes into being – it's a hydrosol of a given plant. So, hydrosols are the by-products of essential oil production. They're more delicate, watery, colourless and fragrance-free but – it's crucial – they conceal all of the valuable properties of the plant and they don't lose minerals and vitamins. Hydrosols are game-changing beauty-care tools. Why? Essential oils can't be applied to hair or scalp whereas hydrosol is an amazing form of care.
What are hydrosol hair benefits?
Hydrosols are gentle yet extremely effective haircare products. The molecules of hydrosols are sprayed onto the hair and they don't just stay on its surface; they penetrate inside, transporting nutrients. The great thing is they're all-natural and non-irritative. They make an excellent complement to hair oils, shampoos and conditioners. If you choose the right hydrosol, it can stop oiliness, moisturise, increase shine, provide the right sebum secretion on the scalp, protect the hair and scalp, stimulate the blood flow thus strengthen the bulbs. What's more, hydrosols have antiseptic properties, delivering lots of vitamins and minerals at the same time. Many hydrosols include phytoncides – antibiotic ingredients that fight bacteria off, help heal infections and inflammation and keep the scalp clean.
How to use hydrosols in haircare?
Hydrosol is so lightweight and delicate that you can apply it even several times a day. It's going to moisturise the hair, protect against the harmful external factors and bring relief e.g. on hot days. Using hydrosols is a child's play; they're fast-absorbing and will never weigh your hair down because water is their main component. Moreover, you don't need to limit yourself to just one hydrosol; you can use different ones by turns. The application is really comfy: you spray a chosen hydrosol on hair and (most of all) scalp. It isn't the only application technique, though. You can intensify the effects.
Ways of using hydrosols in haircare
1. Hair hydrosol in form of a rinse
In this form, you must mix a hydrosol with apple or raspberry vinegar (three portions of hydrosol for one portion of vinegar). Such a rinse adds amazing shine, makes hair easy to style, defrizzes and leaves tresses very soft and silky smooth.
2. Hair hydrosol in form of a scalp lotion
Rubbing different mixtures into the scalp has been known for ages. If you rub a chosen hydrosol into the scalp, you give your scalp a massage. Therefore, you stimulate blood flow and make it easier for the hydrosol's elements to penetrate the hair bulbs.
3. Hair hydrosol as a base for oil treatment
Oiling wet hair can be intensified with hydrosols. Instead of wetting hair with water, spritz strands with a hydrosol. After such an oil treatment, your hair will be better hydrated and extra nourished. What's more, the absorption of both scalp and bulbs will be increased.
4. Hair hydrosol as a mask's ingredient
Those, who use natural, cosmetic clays for hair, are going to appreciate the power of hydrosols. They're cut out for mixing the powdery clay. Hydrosols upgrade the clay's benefits and enrich the mask with an array of nutrients. You can add a few drops of a favourite hair oil to create your own hair elixir.
Which hair hydrosol to choose?
Every hydrosol has different properties. You must choose the one that's most suitable for satisfying the needs of your hair. Here are the most popular and best-working hydrosols for hair:
Rose Hydrosol for Hair
Ideal for hair that has lost its bounce, vitality and moisture. Rose hydrosol has anti-ageing qualities, removes impurities, freshens the scalp and hair, restores softness and smoothness, reinforces blood vessels and increases shine in dull strands. Fun fact, rose hydrosol is common in cooking – rose water is added to desserts and drinks. Rose hydrosol is the most popular distilled water used in hair and face skin care.
Witch-hazel Hydrosol for Hair
The witch-hazel hydrosol is a brilliant antioxidant, prevents inflammation and bacteria. It can be used in summer as it soothes all kinds of irritations and sunburns, bringing an instant feeling of relief in the scalp. Witch-hazel hydrosol has moisturising properties. It's rich in antioxidants, flavonoids and tannin so it helps hair keep young longer and shields the scalp from free radicals. This hydrosol provides the protection for the whole hair fibre – doesn't let toxins penetrate under the hair cuticles.
Lavender Hydrosol for Hair
Lavender hydrosol works like a soothing compress for hair and scalp. It calms irritated scalp, soothes sunburns, controls sebum secretion and repairs the epidermis. People, who have oily hair, are going to appreciate the benefits of lavender hydrosol. It's one of the mildest distilled water for hair. A delicate aroma makes the lavender hydrosol perfect choice for the night because it lets you relax and combine haircare with aromatherapy.
Rosemary Hydrosol for Hair
Rosemary hydrosol is one of the most popular distilled waters intended for hair and scalp care. It greatly strengthens the bulbs, boosts hair growth and hinders thinning. It's the most effective when you mix it with natural oils, upgrading the benefits. Rosemary hydrosol stimulates faster hair growth and helps fight the dandruff. It's perfect for the problematic scalp, reducing sebum production and keeping the right level of its secretion. The rosemary hydrosol strengthens bulbs as well as the hair fibre throughout its length, boosting shine and protecting from the toxins. It has anti-inflammatory, purifying and antiseptic properties so it gives a gentle scalp detox.
Juniper Hydrosol for Hair
Juniper hydrosol amazingly intensifies the effects of oils, especially the ones for low porosity hair as it gently lifts the roots of hair. The hydrosol controls the sebum secretion and keeps the glands from producing too much of the sebum. Juniper hydrosol is a source of phytoncides which prevent bacteria, cleaning the scalp. This hydrosol contains vitamins A, C, E that slow down ageing of bulbs and deliver a nice, intense hair colour. It cleans well e.g. after giving hair too much keratin.
Rockrose Hydrosol for Hair
Rockrose hydrosol is perfect for all hair types. It cleans and tones the scalp and, most of all, it improves the micro-circulation, strengthening bulbs and stimulating hair growth. Rockrose hydrosol enhances the colour of dyed hair, cares for over-dried skin and slows down ageing. It's fit for 'hair at all ages', gives strength and brings back vitality in lifeless hair.
Vervain Hydrosol for Hair
Vervain hydrosol is amazing for dandruff-prone, oily and weighed-down hair. It reduces sebum secretion and hinders even the most intensive sebum production. It works as an antiseptic, unblocks skin pores, neutralizes the action of free radicals. Vervain hydrosol has a beautiful fragrance that lingers on hair long. It soothes irritated skin, gives hair softness and bounce.
Camomile Hydrosol for Hair
An incredibly delicate hydrosol which is fit even for the sensitive, atopic or irritated scalp. Camomile hydrosol soothes irritation and relieves the skin after long sun exposure. It prevents hair dryness, protects from the hot dryer's airflow. Camomile hydrosol is also great for blonde haircare, bringing shine and softness back.
Neroli Hydrosol for Hair
Neroli hydrosol works great for all hair types. It hydrates, freshens and tones the scalp; it has a fresh and slightly sweet aroma. Neroli hydrosol prevents the damage of coenzyme and elastin. It delays ageing and cares for the hydro-lipid barrier of the skin, normalizing the sebum level and regulating the function of sebaceous glands.
Immortelle/Helichrysum Hydrosol for Hair
Immortelle hydrosol – despite the moisturising and smoothing properties – isn't a very popular product because of the strong scent. Most women use it just for the night because the aroma eases off until morning. Helichrysum hydrosol has anti-inflammatory qualities and it's a perfect remedy for skin conditions like eczema, psoriasis, acne, dandruff. It soothes allergic lesions, too.
Are hydrosols worth using in haircare?
They surely make a great additional hair and scalp product. They purify, freshen up, tone, prevent hair ageing and skin diseases. Some of them boost hair growth and keep thinning away. Hydrosols work in a gentle way, therefore you must wait for the effects longer. Luckily, you can enhance their action with natural hair oils.
It's amazing that hydrosols are versatile: replace a hair mist as well as face toners and body lotions.