Does your hair get oily too fast? A large part of the society is bothered by the problem. Greasy hair doesn't just look unaesthetic but may also mean some health problems. How to condition oily hair? Let your hair speak up!
In your daily care, you should follow the professionals' advice, meaning prevention. Keeping hair from getting greasy may save us from lots of hair problems. What can be done if, sadly, we're already bothered by the oiliness? No matter if it's a disease symptom or just a beauty problem, greasy hairdo is troublesome. To effectively do away with it, knowing the causes is the key.
GREASY HAIR – CHARACTERISTICS
Greasy hair is flat, weighed-down, volumeless and shiny in a way that has nothing to do with a healthy shine. It looks like it hasn't been washed for a few days, even though it's seen a shampoo on the same day in the morning.
Why does hair get oily?
Sebaceous glands are distributed all over the body; in the scalp, too. They produce sebum which is essential for protecting the skin and hair from the loss of hydration. Sebum makes up a natural protective barrier. The problem begins when the glands produce too much of the sebum, causing hair oiliness. The quantity of sebum depends on many factors. Hair is usually greasy due to an extremely dry scalp, which forces sebum glands to an intensified work. However, they can be stimulated in a mechanical way or because of hormones.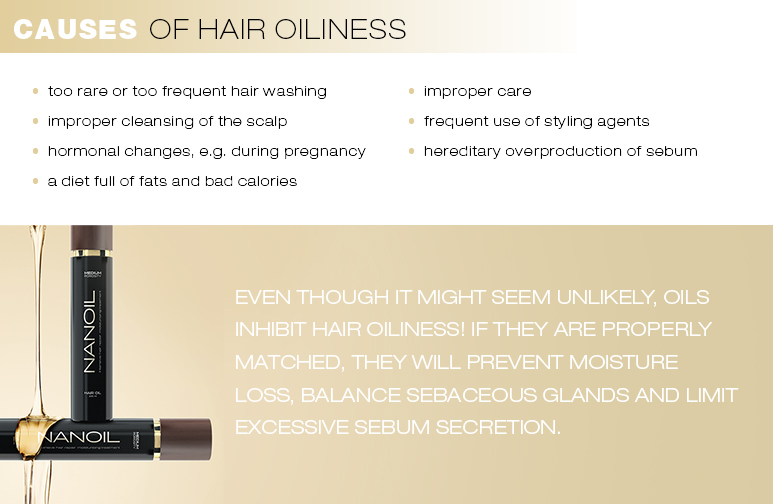 Interestingly, the over-production of sebum can be hereditary or come together with oily skin. However, if you have dry or normal skin type, there can be a different source of the problem e.g. the wrong care or washing routine.
GREASY HAIR CARE
What can you do to make hair less greasy? Obviously, you must reduce all factors that may stimulate the work of sebum glands in the scalp. Eliminating the causes is the most important e.g. eating a balanced diet, washing hair more often, avoiding care products that dehydrate the scalp. Usually, it's not enough, though.
Which shampoo to choose for greasy hair?
You can begin the battle during the stage of cleansing. We usually wonder which shampoo to pick. It's a good thing because the choice of the wrong shampoo may intensify the problem, instead of helping. We must avoid shampoos for dry hair, strongly moisturising and smoothing products as well as the ones intended for greasy hair. It might be surprising but the explanation is simple. The first ones have too heavy formulas whereas the other ones may leave the scalp over-dried and double the sebum secretion.
So, which shampoo is the best for greasy hair? A lightweight consistency and lack of overburdening ingredients (e.g. silicones) matter the most. An ideal shampoo for greasy hair should contain herbal extracts, especially Nettle, Black Radish, Green Tea, Aloe, Citrus Fruit, Sage, Burdock, Common Soapwort. From time to time, you can remove the excess of sebum with a proper pharmaceutical.
Trick: You can thin the shampoo with water (1:1 proportion) so that the product is lighter and doesn't weigh hair down.
Washing greasy hair
It isn't recommended to wash oily hair with cold or hot water because keeping the balance is advised in case of problems with sebum glands. While washing, gentle motions make the right choice so that you don't stimulate the glands in a mechanical way. You should wash greasy hair twice to remove dirt more effectively and deliver a long-lasting freshness. When to wash? The morning is the best time as sebum glands are most active at night.
How often should you wash oily hair? It's time we dispelled one of the most popular myths. Skipping hair wash for a few days doesn't solve the problem. After finally washing it, the hair will be as greasy as before. In this way, we may treat ourselves to folliculitis because of sebum build-up. You must wash greasy hair as often as necessary; not more often than once a day. Washing every day doesn't speed up oiliness if you use mild shampoos (free from strong detergents) and follow a few simple rules for washing greasy strands (check above).
Greasy Hair Styling Routine
The rule is simple: you must reduce all things that may stimulate sebum glands e.g. high temperatures. So, if you must blow-dry, use the cool airflow and keep the dryer at the distance of minimum 6 inches away from the scalp. During the fight with this problem, it's a good idea to give up on curling wands and straighteners – all heat styling tools. Tight updos and wearing hats are bad for greasy hair. Let's give them up. Is it enough?
Different styling products, e.g. wax, mousses, liquid silk, can intensify hair oiliness. Definitely, you should get rid of all styling primers, fixers and products that reduce the blow-dry time. They could weigh hair down and irritate the scalp. Hard-bristle brushes, combs and the popular Tangle Teezer could do the same. A soft and natural-bristle brush is cut out for brushing oily hair.
Nourishing – yes or no?
Obviously, yes! There's a common opinion that every mask, conditioner or serum can weigh oily hair down. As usual, the truth lies somewhere in between. It actually might happen if you use unsuitable products. Everyone makes the same mistake – giving up hydration, being afraid of making hair greasy quickly. It's an own-goal situation; as a result, hair lacks water and tries to produce it, secreting more sebum. The effect is adverse.
How to nourish greasy hair the right way?
If we use masks and conditioners, they must have lightweight ingredients, free from silicones.
We must apply all care products before washing.
We must apply products from mid-lengths only, avoiding the scalp.
Let's not reach for leave-in conditioners which could weigh hair down.
Let's use herbal scalp lotions, clays or lemon rinses more often.
Another way for delivering the right nourishing is a regular hair oil treatment before washing. As unbelievable as it sounds, vegetable fats can help us do away with the problem. If hair oils match the needs of hair, they can reduce oiliness because they lock in water thus nullify the problem of over-dried scalp. Oils have a positive influence on the function of sebaceous glands. What's important, they're fit for the scalp use, not just hair. In case of greasy hair, they make a much better choice than traditional conditioners. The best oils for greasy hair are, among others, Burdock Oil or Jojoba Oil (you'll find it in Nanoil for medium porosity hair).