Europe – one of the fastest-developing continents. Hairstyling has its roots there. European women have been setting hair care trends for ages. They strive for the best, cherishing both innovative and traditional methods. Old recipes for enhancing the beauty are a thing together with a modern approach. Hair care turns out to be the key point in beauty care. How do European women care for hair?
HAIR CARE IN DIFFERENT WORLD CORNERS PART 2 – EUROPE
What can we learn from French, Spanish and Scandinavian women?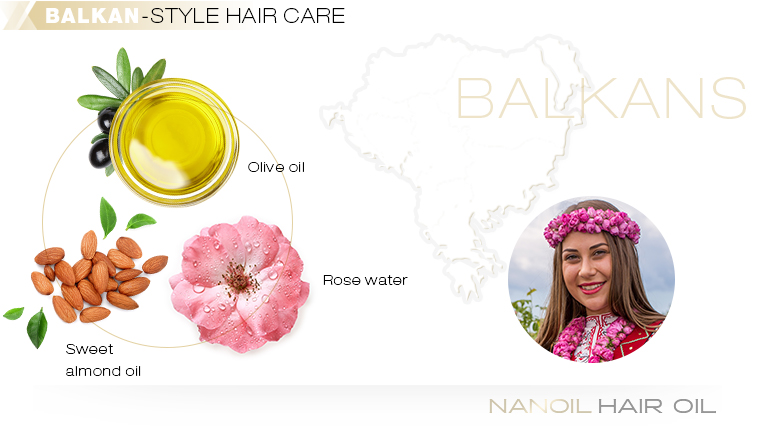 The Balkans mean the semitropical, Mediterranean, warm and quite dry climate with chilly winds. The region is moody and varied. The heat is mixed with humidity. The hair care routine is a must in this climate to keep strands beautiful and healthy. Luckily, women of the Balkans have their remedies and tricks for beautiful hair.
● Greek women have had a remedy for the scorching heat and semitropical climate for ages. Their hair is beautiful, voluminous and doesn't go gray fast, even when they're elderly. Their strands grow healthy and shiny thanks to olive oil.
Greeks boast about their olive trees and olives – the plantations belong to the oldest ones in the world, dating back to 5000 BC. Olive oil is used both in cooking and cosmetics. It is rich in valuable phytosterols and beneficial fatty acids which ensure excellent hair and skin benefits. Olive oil is applied to lengths and scalp so it both conditions the strands and nourishes the hair bulbs and follicles. Olive oil hair treatment effectively protects from the elements.
Greek women also like to use hair masks based on olive oil and a plain, thick yogurt. Rosemary is their great 'herbal' love. It is mixed with water and used for final rinsing. Rosemary is a remedy for thinning hair. A Greek black soap is the last (but not least) love of women living in the land of Homer. It is a blend of natural active substances which work for washing both the skin and hair. It is infused with sweet almond oil, linseed oil, jojoba oil, rosemary oil and (obviously) olive oil. The Greek black soap lathers well and effectively removes an oil after a hair oil treatment.
● Bulgarian women have found a different hair-enhancing product. They boast about rose water and rose oil which are already used by women worldwide. Rose water is a great ingredient in hair rinses. It adds shine, softness and elasticity to hair, leaving you with moisturised, smooth and voluminous strands. Rose water is used for making hair masks with cosmetic clays, upgrading the effects. There are also rose water sprays and perfume for hair, lingering long on strands. Rose oil is thick and greasy: Bulgarian women use it as a remedy for damaged hair ends and as protection from the elements.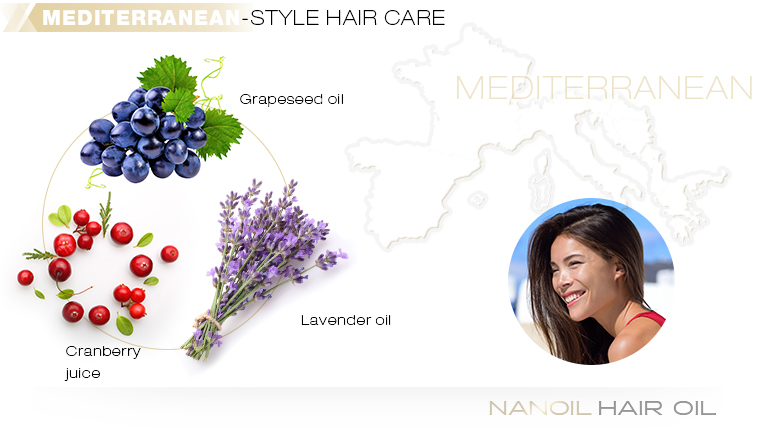 The Mediterranean Sea means lots of countries and hair care methods. Spanish and Italian women think that long, shiny, healthy hair is the pride of every woman. On the other hand, French women care for their hairdos with a bit of nonchalance.
● In the country of bulls and toreadors, femininity is associated with dark, shiny hair – Spanish women love to wear their hair loose and celebrate its beauty. Cranberry hair rinses are their secret. Your hair will be shiny and bouncy if you mix freshly-squeezed cranberry juice with water, apply it to hair and leave in. Cranberries are the source of vitamin E, A, lots of group B vitamins, flavonoids, hair-repairing and enhancing elements such as iron, magnesium, calcium, potassium and phosphorus. Thanks to cranberries, hair grows long and strong. Moreover, the cranberry extract is anti-bacterial and hugely increases the resistance of hair to damage.
● Italian women, similarly to Greeks, are crazy about the hair oil treatment and love to use olive oil. They adore it as a food and beauty product. Italian women make use of its multitasking power: rub the oil in the body from head to toe, in lips, hands and mostly – in hair to protect strands from the sunlight and enhance healthy growth. A grapeseed oil is another natural oil appreciated in Italy, being milder and rejuvenating both hair and skin.
Italian women apply oils to hair, beginning during their childhood. Apart from olive oil, they like to use hair masks together with thermal and mineral waters. Hair and skin SPA is an essential element of beauty in Italy. SPA detoxifies the scalp and body, removing toxins and delivering lots of minerals. No wonder the most reputable SPA resorts are situated in Italy.
● French women don't have as much faith in traditional recipes yet there is one exception: they have a soft spot for lavender oil. They passionately add it to their hair masks and balms, rub it into hair ends and mix with hair rinses (the raspberry one is the most popular). French women are big on natural hair care and products free of comedogenic chemicals. There is an impressive awareness of the importance of natural hair products in France. The top-selling hair cosmetics are made up of safe, plant ingredients. This might be the reason why DIY beauty care isn't extremely popular there. The plant hair coloring treatments are a thing in France, being supported by professional, plant-infused hair care products. This trend is known as the Organic Dynamics cosmetics.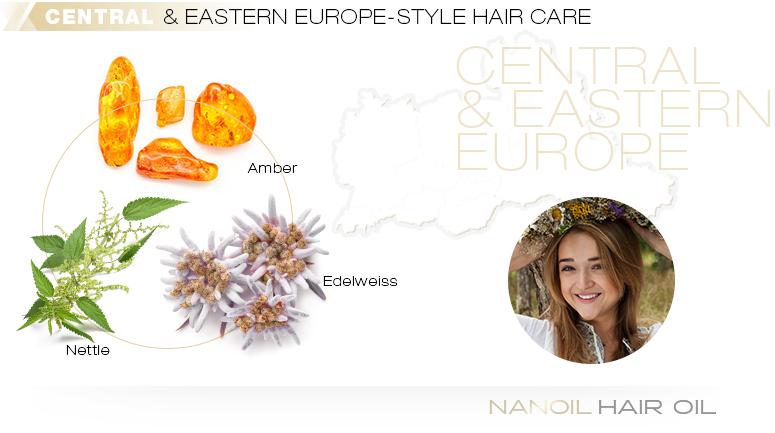 The climate is extremely varied in this world region. Frosty winters are followed by moody, rainy springs and hot summers. Hair care matters, considering the changeable weather conditions.
Women living in the regions of Central and Eastern Europe skillfully combine modern and traditional beauty products – this kind of synergy is most visible in hair care.
● Ukrainian and Belorussian women love caring for their hairdos. Hair care products are the most popular out of all cosmetics. Moreover, home hair remedies, passed from generation to generation, are highly appreciated here, too. Castor oil is an irreplaceable winner which enhances hair growth and prevents hair loss. Pine oil is another highly-valued oil which is extremely popular in Russia. No wonder ladies living in the regions of Eastern Europe are keen on hair oiling – they know and appreciate the benefits of natural oils. In traditional natural hair care, a yeast and milk hair mask is popular, too. Herbs play an equally important role: nettle and horsetail extracts are used for hair rinses, scalp conditioners or drinks (to strengthen skin, hair and nails from within).
● Amber is among the exceptional skin and hair products. In Poland, it is used for treating some ailments (amber syrups and ointments). Polish women love the amber beauty benefits. Amber is added to scalp lotions, ampules, shampoos, hair masks and balms. Its amazing properties have been known for ages whereas amber itself is a popular Polish export. It strengthens hair from bulbs, preventing hair loss, regenerating and nourishing (amber is rich in vitamins A, E, F and Inutec – a prebiotic which ensures hair shine and health).
The central part of the Old Continent is also made up by the highest European mountains – the Alps. The flora of this region is used for health purposes as well as hair and skin care. German, Austrian, Slovak and Swiss women can brag about alpine herbs and flowers – strong antioxidants growing at the foot of the mountains:
Alpenrose – its stem cells are added to anti-aging creams and masks for damaged, over-processed hair. It is a source of special, unique metabolites which facilitate the function of human skin cells. Applied to the scalp, it improves the working of bulbs and follicles.
Edelweiss – its extract has anti-inflammatory and anti-bacterial qualities, gives an effective protection from the harmful UV radiation, slows down the aging processes and delays hair graying.
Great Yellow Gentian – it soothes skin irritation, fights bacteria, leaves the scalp clean and heals scalp diseases.
Mountain arnica – supports the process of skin and hair repair, makes a perfect match with other natural herbs and oils; a common ingredient in hair masks.
Alpine Sea Holly – its stem cells promote skin repair, stimulate it to work, prevent hair loss and slow down the hair graying process.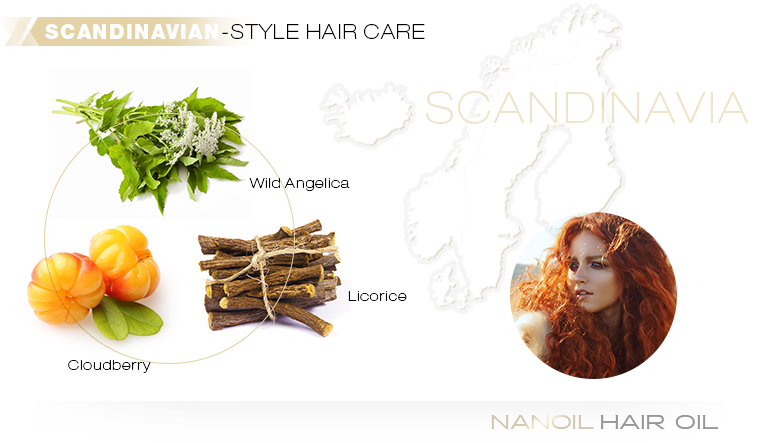 Wild nature and tricky climate make for the serious approach of Scandinavian women to hair care routine. It should give maximum benefits with the minimum effort. Hours wasted in hair salons and longsome treatments – not for them. They go for more active forms of relaxation instead. In this harsh climate, hair has no easy life: hidden under a hat; if it's not accompanied by frost, it is torn by the wind or tortured by hot summer or dry air of heaters. Scandinavian women are famous for their fair skin and hair. They like to define their hair shade with hair-rinsing mixtures. That's why their hair care must be on-point.
Nordic plants grow in pure, harsh climate – no wonder, they make up a rich source of vitamins, minerals and elements that maintain the youthfulness of skin and hair. Scandinavians like to make use of their benefits. Herbs and fruit of untouched regions are among the most valuable ingredients in beauty products. Norwegian, Danish, Swedish and Finnish women value traditional recipes based on plant extracts coming from the local flora. The most important ones:
Licorice – it is not just an ingredient of black sweets of a characteristic taste and smell. Licorice is famous for its anti-septic properties. It removes toxins from the skin. You can drink Licorice teas or use it for making hair rinses.
Wild Angelica – angelic acid, many mineral salts and vitamins are among its active ingredients. It revitalizes tired hair and soothes scalp inflammation.
Cloudberry – loved by all Scandinavians: a strongly-rejuvenating antioxidant which protects from free radicals. It is often included in hair masks (infused with natural oils). It is a vitamin bomb for hair and body. Cloudberry frees the body of toxins, shields from the oxidative stress, repairing with the power of carotenoids and plant sterols.