Keratin is conquering hair salons. What does a keratin hair-smoothing treatment involve? If you're wondering how to repair your hairdo and have straight hair, check the effects delivered by the keratin hair reconstruction.
Before moving on to the step-by-step procedure, let's answer the question why keratin is so important to our hair.
Keratin in hair
It is a structural protein. Its name derives from the Greek word 'κερατίνη keratíni' - it means 'horn', which makes sense because keratin is a tough building block of hair. The hair stem, made up of dead cells, is filled with keratin. The keratin, like other proteins, is built of hundreds of amino acids (Arginine, Lysine, Tyrosine, etc.).
What makes keratin different from other proteins? A majority of two amino acids which are rich in sulphur – cystine and methionine. Thanks to them, the hair is resistant to damage because it has the so-called disulfide bonds. Rich in sulphur, keratin gives hair its unique properties: bounce, water tightness, resistance to external elements.
How is keratin created inside the hair? The production of this protein occurs in a hair bulb, or hair root. Keratinocytes – cells specialising in the synthesis of keratin – are located at the bottom of hair follicles. It is worth remembering that the above-mentioned amino acids are essential for the production of keratin so we must deliver them with the food.
Why we lose keratin?
When our hair lacks keratin, it loses vitality, becomes dull, coarse and easily damaged. It is much more often splitting and brittle because disulfide bonds inside the hair are weaker. An extremely damaged hairdo is usually a result of keratin deficit. We lose this valuable protein:
due to the UV rays if our hair is not protected;
because of too much chemical processing, bleaching;
if we don't eat enough proteins that are essential for the production of keratin.
Keratin Hair Reconstruction
Because of the wrong hair care and lack of protection, hair repair is a must. You must do your best so the keratin deficit is as little as possible. After all, keratin is responsible for hair health, shine, shape and structure.
The keratin treatment is supposed to reinvent the looks of your hair by replenishing the precious protein. It beautifies thanks to full repair and reinforced hair structure. It is a hairstyling treatment which has another name – the keratin hair straightening treatment. What does straight hair have to do with regeneration? Rebuilt and strengthened, hair is smoother and less prone to curl.
What are the benefits of the keratin hair straightening treatment?
The effects of the keratin treatment last even 2-3 months, therefore more and more women turn to this kind of hair treatments. It is a brilliant option for dry, brittle, damaged and dull hair. Keratin treatment is recommended for people who want to regenerate their hair after summer, winter or damaging chemical processing e.g. bleaching.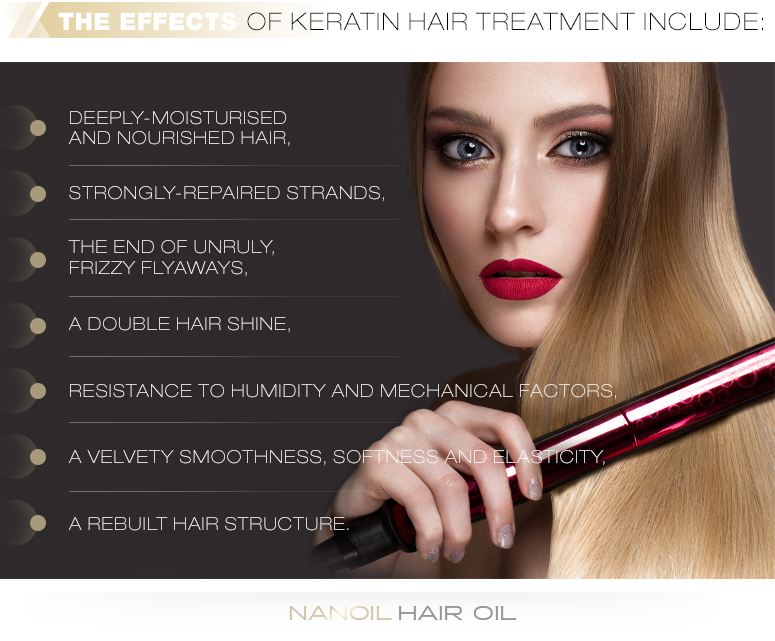 Actually, straight hair is a side effect of the keratin repair and reconstruction.
Professional keratin treatment
Keratin straightening is mostly carried out at salons because it requires appropriate products. Professionals don't just use the power of keratin – they make use of the properly-composed keratin products enriched with antioxidants, vitamins and plant extracts. Thanks to these extra substances, the keratin treatment is more intensive, longer-lasting and safer for hair yet – as a consequence – the price is quite high.
Keratin treatment at home
An alternative for the thrifty ones. However, you must be aware that the at-home keratin treatment without professional products won't bring the same effects. Commercially-available keratin products for home use contain less keratin and give less intensive results. Without the knowledge and skills, you can end up with over-proteined hair. Too much keratin in hair means no good. Keratin treatment at home entails a risk of worsening hair condition instead of strengthening and smoothing. If we want to regenerate our hairdos but can't afford a keratin treatment, let's turn to well-known hair oiling methods.
What does a keratin hair treatment involve?
It is a hair-rebuilding treatment which, no matter the product used, is carried out in the same or very similar way. The straightening keratin treatment begins with priming the hair. It must be perfectly clean, preferably with a special shampoo which opens hair scales.
The next step involves applying a special keratin product – section by section. The cosmetic can be in form of ampoules or a conditioner – it doesn't have much influence on the effects. Keratin is spread on hair and 'pressed in' with the heat. At this stage, a flat iron is used. Keratin can penetrate the hair and fix the damage in inner structures only with the heat.
The applied product is left on the hair for at least 30 minutes. Keratin smoothing treatment finishes with blow-drying the hair with a cool airflow to let the rest of the product be absorbed, smooth and style the hair. Blow-drying the hair gently and gradually is important. You can wash it after two days.
A hair straightener for the keratin treatment
There are no strict rules saying what type of straighteners should be used for the keratin hair-smoothing treatment. The device must be heated up to 220-230 degrees (240 is the maximum). It's great if the tool has extra functions e.g. ions or preventing burning the hair – in this case, hair keratin treatment is safer (despite working with high temps).
Keratin hair treatment after-care
Many women dream of straight hair, that is why keratin smoothing treatment is a thing now. Few of them know about the limitations that the procedure entails. Immediately after keratin treatment:
you shouldn't use salt-infused (sodium chloride) hair products,
you cannot use alcohol-based cosmetics,
you should avoid SLS/SLES-rich products,
you shouldn't use silicone-infused products.
If you are wondering which shampoos to choose after the keratin treatment, there is just one answer: for kids. Only shampoos designed for children are natural, organic and/or hypoallergenic, as well as free of substances which could worsen the effects of keratin treatment. Similarly, a conditioner you use after the keratin procedure should be natural, free of proteins, not weighing hair down. Oils are not recommended either unless you use them for protecting hair ends, choosing the proper ones after the keratin treatment – natural and silicone-free e.g. Nanoil Hair Oil.