You have limp, fragile, easily weighed down hair? To make things worse, you lack time for hair care? Reach for a leave-in spray conditioner. The application takes just a second and it is going to repay you with hair shine, bounce and beautiful looks. How to choose the best leave-in conditioners? What should you pay attention to while shopping? Can DIY and drugstore leave-in conditioners give equally good results? Check the benefits that your hair can get from mist-like yet strongly-conditioning atomizer products.
What are spray leave-in hair conditioners?
Simply put: the group of lightweight, watery products. They are often bi-phase – composed of a light, liquid phase (mostly made of long-chain alcohols) penetrating hair cuticles and improving their structure, and a heavier phase (oil or silicone) conditioning and nourishing hair throughout the day or protecting from heat styling. A hair conditioning spray often works as support for traditional hair care.
Who is a leave-in hair conditioner designed for?
A leave-in conditioner makes a brilliant alternative for all those having fine, tangling hair: its lightweight formula does not weigh hair down, facilitates brushing and protects strands from harmful UVA, UVB radiation and all kinds of mechanical damage.
Moreover, leave-in conditioners are appreciated by women running out of time for advanced daily hair care. Using a spray conditioner is quick (simply spray it onto dry or wet hair), does not require rinsing and you can use it many times during the day. To put it simply: it is a form of hair care for the busy/active ones.
How a leave-in hair conditioner spray works?
Its lightweight formula lets ingredients reach the inner hair structures more easily. On the other hand, some of the components create a microscopic, occlusive layer on the surface protecting against the sunlight, heat styling, toxins coming from the environment and mechanical damage (pulling while combing or putting hair accessories on). However, the main task of a spray hair conditioner is an instant improvement of hair looks – a shiny, soft, manageable, silky smooth and nice to the touch hairdo.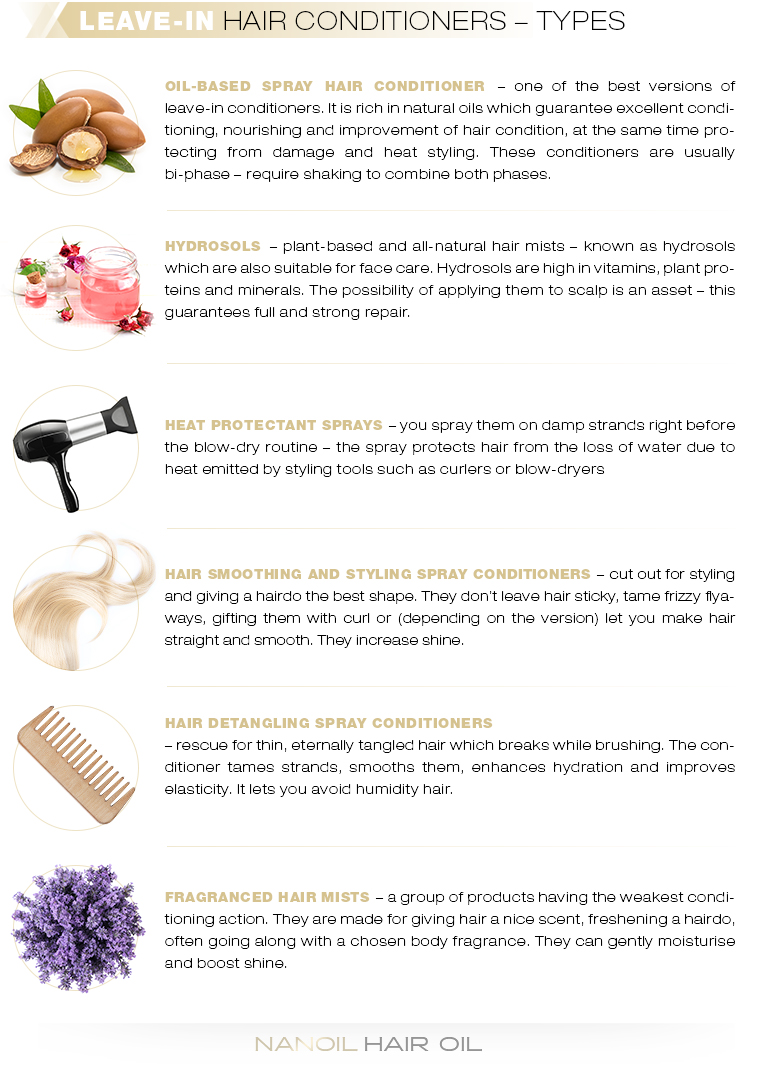 What are the ingredients of a good spray leave-in conditioner?
keratin– one of the vital hair-repairing ingredients. Keratin is a building block of hair, fixing damage in hair structure, strengthening, sealing the fibers and improving the appearance and condition of hair.
UV filters – protect hair from photo-aging, fading color and dehydration, save hair fibers from damaging UV radiation, prevent hair breakage and loss of melanin.
natural oils – are able to ideally match the hair porosity, regenerate, deliver valuable fatty acids and vitamins, protect strands from damage and enhance the appearance and color. Oils make up the source of lipids which replenish the deficiencies in the intercellular cement and seal the structure in weak hair.
vitamins & minerals – support the hair-nourishing process. They strengthen fibers and inner bonds, add bounce and vitality. They protect hair from damage and keep it good-looking.
plant extracts – deliver precious minerals and vitamins to hair, keep it from falling out, moisturise and condition the scalp, blocking dandruff and excessive sebum secretion. Young (e.g. soy or wheat) shoot extracts are the most valuable plant blends, having the largest number of nutrients, working as the strongest hair-fixing substances. Plant extracts comprise the source of proteins which mend damage in hair fibers, regenerating and reinforcing hair, reducing the proneness to splitting.
sugars – provide hair cells with energizing substances, stimulating the work of bulbs and hair growth. They bind water molecules in hair, which reduces the loss of keratin in inner hair structures. Also, they keep an optimal moisture in hair.
low-molecular weight hyaluronic acid – essential for the proper functioning of all skin cells, has rejuvenating and revitalizing action. It binds water both on hair structure and in deeper layers (nestles in the structure of hair fibers), intensively and permanently moisturises.
hydrolyzed silk protein – a lightweight and non-overburdening substance which makes styling run smoothly. It moisturises, smoothes, softens hair, intensifies shine.
panthenol – enhances the production of keratin, therefore it is a useful ingredient in keratin spray conditioners. Panthenol makes the hair structure silky smooth, gently boosts shine and livens up faded hair color.
fatty alcohols – the group of so-called good alcohols which have moisturising power, tame unruly flyaways and facilitate the transportation of other nutrients to inner hair structures. Moreover, they have hygroscopic properties (lock water molecules in hair), smoothing and making detangling easier.
Leave-in hair conditioner spray – ingredients to be avoided
Unfortunately, apart from hair-enhancing substances, leave-in sprays contain ingredients worsening the state of hair. Heavy, short-chain alcohols (alcohol denat, benzyl alcohol, ethanol alcohol, propanol alcohol) are the most common. They often cause allergic reactions and scalp irritations. Heavy silicones also belong to this notorious group – they settle on hair instead of evaporating; it is hard to wash them off with a shampoo free of comedogenic substances such as SLS, SLES. Weighing down silicones include simethicone, trimethicone, trimethylsiloxysilicates.
Leave-in hair conditioner spray – usage
Using leave-in hair sprays is extremely easy and convenient: simply spritz them on dry or damp hair and leave them in. In most cases, you must slightly shake a bottle before use to combine the phases (water with oil or silicone-based). You can freely apply a leave-in spray a few times throughout the day e.g. when your hair gets dull, shine-less, coarse or frizzy.
Leave-in hair conditioner spray – effects
Are leave-in hair conditioning sprays worth using? Can you use them instead of a full hair treatment (a hair mask, a rinse-out conditioner or hair oil treatment)? It turns out that despite valuable nutrients – atomizer mists should be just the complement and enhancement for traditional hair care. If you have thin hair and lack time for a hair mask during a week – devote time to applying hair oil treatment at least once a week; on other days protect your hairdo using a leave-in conditioner composed of well-thought-out ingredients. You can make a product yourself at home – to make sure you control the components.
A leave-in hair spray is a life saver in summer protecting hair from the destructive power of radiation, keeping hair moisturised, preventing color from fading. It is good at conditioning and detangling. Also, in winter, it saves hair from dry heaters and hot blow-dryers whereas it keeps frizz away in humid weather.
DIY leave-in hair conditioner spray – how to make it?
The best leave-in conditioners keep hair moisturised as well as protect, repair and tame strands. Natural oils are the must-use ingredients. Both the easiest and extremely effective leave-in conditioner should be rich in:
water or a chosen hydrosol (around 50 ml)
flax seed gel – you boil and strain the seeds first (around 10 ml)
a teaspoon (around 5 ml) of a favorite oil (preferably a blend of a few high-quality oils respecting your hair porosity)
Mix all ingredients and pour them into a dark atomizer bottle. Before spraying it on hair, always gently shake the bottle.