Herbs enjoy a huge popularity in cosmetics. It is nothing surprising because their conditioning, regenerating and even healing power has been known for ages. Herbal hair products often top chemical and lab-devised substances. Why? Most of all, they are extremely effective and guarantee beneficial action. Moreover, they are fully safe: neither irritate nor clog skin pores. Plant extracts in beauty products are varied. You must choose them depending on your hair type and the problem your hairdo is struggling with. Hair herbs make an excellent complement to haircare. Regularly used, plant extracts support hairdos and quickly bring profits in form of enhanced looks.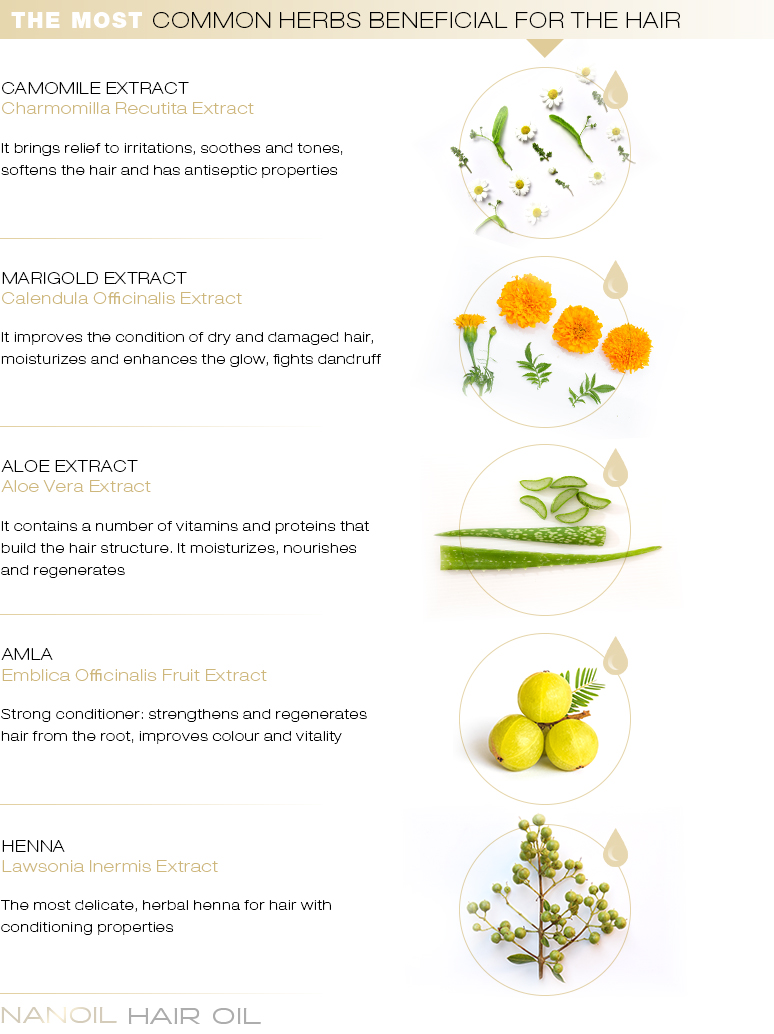 The most popular herbs and plant extracts for hair:
Camomile extract (Charmomilla Recutita Extract). Camomile is the most popular, widely-available and known for ages hair nourishing and scalp conditioning substance. Camomile extract soothes irritations, adds hair softness and gently disinfects the scalp.
Coffee extract, caffeine (Caffeine). Coffee stimulates micro-circulation in skin cells thus boosts hair growth. Caffeine works well for thinning hair because it hinders hair loss.
Common horsetail extract (Equisetum Arvense Extract). There are two main horsetail hair benefits: strengthening thanks to silicon, potassium and calcium; stimulating hair growth. Horsetail extract is highly popular and common in hair cosmetics.
Marigold extract (Calendula Officinalis Extract). Marigold is mostly recommended for damaged, over-processed and extremely dry hair. Marigold extract moisturises the scalp, delivers hair shine and boosts epidermis repair. What is more, marigold has anti-inflammatory and anti-fungus qualities, therefore people bothered by dandruff or psoriasis should choose it.
Burdock root extract (Radix Bardanae Extract). Burdock disinfects hair and gently exfoliates the scalp so it is a remedy for oiliness. It balances the level of sebum secretion so scalp is no longer oily. Burdock root extract prevents hair thinning as well.
Nettle extract (Urtica Dioica Extract). Nettle amazingly reinforces hair and increases its shine. Nettle extract leaves hair silky smooth and bouncy, as well as controls sebum production (so it blocks oiliness). Nettle fights off dandruff.
Birch extract (Betula Alba Extract). Birch has a healthful power for both your hair and the whole body. It is the source of vitamin C, group B vitamins, phosphorus, magnesium, iron, calcium and copper. It also contains lots of mineral salts. Birch perfectly strengthens hair and protects from damage. Birch extract works best for damaged hair that needs an intensified care and protection.
Rosemary extract (Rosmarinus Officinalis Extract). Rosemary is a natural antioxidant that slows down hair ageing. It prevents greying and stops hair loss. Rosemary extract is ideal for heavy, weighed down and oily hair.
Aloe extract (Aloe Vera Extract). Aloe is a favourite ingredient among girls crazy about hair. It delivers incredible moisture, gloss and volume. Aloe makes a perfect match with natural oils and you should include it in your hair care routine (e.g. add it to a blend of oils). Aloe is a stunning hair conditioner because it includes lots of vitamins and protein. Remember that using aloe too often can make your hair dull and frizzy.
Ginseng extract (Panax Ginseng Root Extract). Ginseng brings amazing hair benefits as it enhances the synthesis of protein, makes hair more resistant to damage and beautifies, increasing body. Ginseng extract has antioxidant properties and improves blood flow in the scalp (therefore, it strengthens hair matrix).
Common soapwort extract (Saponaria Officinalis Extract). Common soapwort is very common in natural hair products, especially in shampoos, due to saponins (natural and mild detergents) that gently wash the dirt off. Soapwort is a perfect choice for oily hair and dandruff.
Sweet flag extract (Acorus Calamus Extract). Sweet flag extract gifts hair with shine and bounce, improves its condition and lifts the roots. It keeps hair fresh and hinders oiliness.
Sage extract (Salvia Officinalis Extract). Sage extract is popular among dark-haired girls. Sage hair rinse is recommended for treating excessive sebum production and greasy hair. It adds body and gently lifts hair roots.
Bamboo shoot extract (Bambus Vulgaris Extract). Bamboo extract is a high concentration of minerals and vitamins. It shields hair stem and reinforces strands, stopping hair loss and ageing. Bamboo is a rich source of flavonoids that have great power for destroying free radicals.
Soy sprout extract (Glycine Soya Germ Extract). Soy is the source of nutrients that penetrate hair follicles, nourishing, repairing and forcing them to work. Young soy shoots increase the level of energy in mitochondria. As a result, hair growth is faster whereas the anagen phase – extended.
Wheat sprout extract (Wheat Triticum Vulgare Germ Extract). The extract works both on hair surface (protects and increases shine) and from within (repairs and strengthens from bulbs to tips). Wheat sprout extract offers a high concentration of vitamins A, C, B1, B2, B3, D, E, K, PP – a strong and effective weapon in the battle for a healthy and beautiful hairdo. Moreover, it works as an antioxidant, smooths hair surface, speeds up growth and gently lifts roots, without weighing down.
Ayurvedic hair herbs
Indian herbs are getting more and more popular all over the world. They have been used for ages and valued in Ayurveda – Indian medicine and philosophy. For full effectiveness, the Oriental herbal blends must be macerated in a natural oil. Then, you can apply them to hair like a mask. Ayurvedic herbs work for making teas as well. Brahmi tea is extremely popular in India; it does not only ensure beauty and health benefits but also enhances your brain activity.
Amla (Emblica Officinalis Fruit Extract). Known as the Indian gooseberry, it is extracted from green – similar to gooseberries – amla fruit. It is usually macerated in coconut oil. Amla works for hair, softening and reinforcing throughout its length, as well as regenerates hair bulbs.
Brahmi (Bacopa Monnieri). People in India call it the herb of grace. Brahmi nourishes both hair and scalp, stimulating bulbs and preventing excessive falling out.
Bhringraj (Eclipta Alba). It is known as the ruler of hair among Hindu people. Bhringraj is a strong nutrient. If you use it in a maceration, it quickly and effectively improves hair condition and appearance.
Henna (Lawsonia Inermis Extract). One of the most popular Ayurvedic herbs. Henna is a common ingredient in many oriental hair products. Most of all, it is included in hair dyes. Thanks to gentle effects, henna ensures safe colouring.
If you want to enjoy the maximum effectiveness of herbs and plant extracts, you should search for products that include the mix of natural extracts. Properly composed and balanced blends of finest-quality substances are the best gifts for your hairdo. You get the best hair care if herbs and plant extracts are included in natural hair oils (they are macerated thus transfer their benefits to the oils). Such a precise mixture is the one and only key to healthy, voluminous and beautiful hair.
The best plant blends for your hair:
Baicapil – a strong mixture of three powerful natural substances (soy sprout extract, wheat sprout extract, Baikalin Skullcap extract). The combination of plant fractions extracted from the young shoots (most nutrient-rich) makes one of the most intensive hair repair conditioners, reinforcing hair bulbs and stimulating hair growth.
Kerastim – nettle root extract mixed with many properly composed and carefully selected ingredients that make up hair (e.g. amino acids, protein) and appropriately balanced vitamins.
Kshir Pak Vidhi – known for ages. According to Ayurveda, it is among the most effective and richest hair care mixtures. It includes milk proteins and extracts from several Indian herbs. Kshir Pak Vidhi is the art of combining herbs with other substances (mainly proteins) that your hair needs. Obviously, this Ayurvedic blend contains amla and bhringraj extracts.