You can't stop the clock. The passing time leaves a mark both on the skin and the hair. Years go by and you notice your strands are dull, brittle and thinning. Anti-aging hair care is no mean feat. Listen to your hair and find out how to care for your hairdo.
We are aware of the changes that occur in our bodies while getting older. We persistently fight with wrinkles and loss of the skin elasticity. Unfortunately, we forget that our hair ages, too. Check if you spot any signs of your hair growing old. A brilliant task to begin with.
AGING HAIR CHARACTERISTICS
Hair is similar to the skin because it reacts to all changes going on in the body, including the ageing processes. There isn't any specific age that signalizes your hair starts losing its vitality. First destructive processes come when you turn 30 yet they are very slow at this point.
The production of keratin – the main building block of hair – decreases.
Sebaceous glands are no longer as active so the amount of sebum and moisture is poorer.
The production of melanin – pigment – is reduced or stopped.
There are fewer lipids which make up the natural protective barrier.
Around the fourth or fifth decade of life, the condition of hair bulbs weakens. In women, it might be connected with hormonal changes which occur during the menopause. Hair is more problematic. In what way? It depends on our genes. Generally, it is much more common for mature hair to:
fall out excessively (hair loss, baldness)
be dry and – consequently – brittle
lose the natural shine and become dull
be coarse and stiff
be hard to detangle and brush
The best way to see if your hair is already mature is looking at its color. If you have spotted first gray hair, it means the ageing process has started. Individual gray hairs shouldn't make you panic but one must come to terms with the fact that the level of melanin drops with the passage of time so strands lose their natural color.
Key thing: hair graying may have other causes e.g. permanent stress. If you want to check if the ageing is the reason, visiting a doctor is the best option. A trichologist is going to answer all your questions.
ANTI-AGING HAIR CARE
Keep in mind that hair ageing is fully natural and you can't stop it! All you can do is camouflage gray hair with dyes or slow down the appearance of some signs and prevent quick weakening of hair condition. That is why the right anti-aging hair care matters a lot. A conscious approach and systematic caring for every single hair.
How to take care of mature hair? Since it is generally weaker and drier, you must regenerate, deeply moisturise and strengthen it. Delivering essential nutrients regularly is the key. What substances does your hair need to keep resilient and shiny?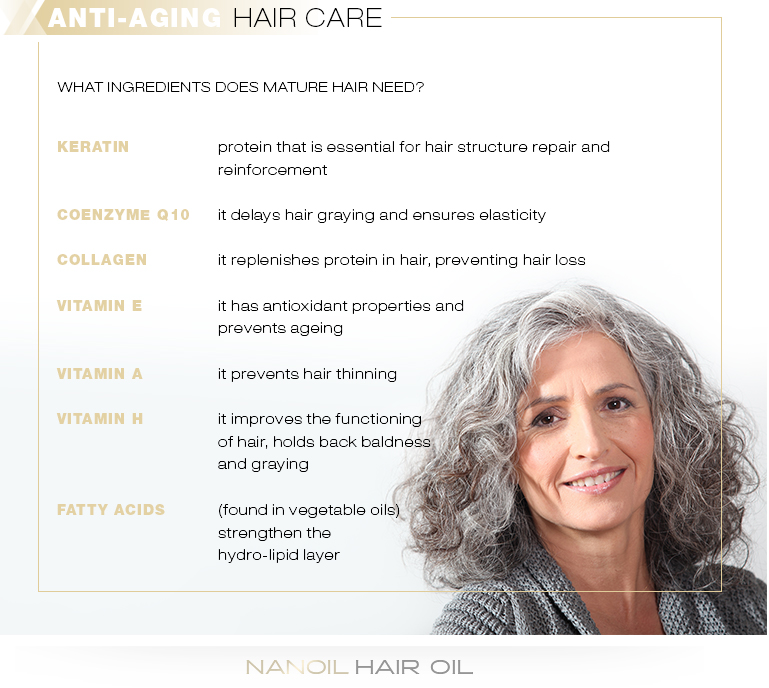 Obviously, you can't deliver all those ingredients separately so it is crucial to use the right products for mature hair. Which ones to choose?
Anti-aging products for mature hair
With the passing time, your hair gets weaker so the key thing is to choose a product which offers a composition of substances that are essential for aging hair (mentioned above). Follow a rule – maturity deserves the finest quality! What to use for nurturing mature hair?
Many brands make lines of anti-aging hair products. These are mostly shampoos, conditioners and masks. Sometimes – hair serums and scalp treatment ampule. Most effects include hair volume boost, strengthening, nourishing and rejuvenation. These products often include UV filters, delivering some protection. It isn't always enough, though.
You must remember that most conditioners work only on the hair surface whereas a majority of shampoos include strongly-washing substances that harm the hair and scalp. A regular hair and scalp oil treatment is a much better solution – a natural alternative to all hair care products and rejuvenating treatments.
Anti-aging hair oils
Again, a hair oil treatment turns out to be the best hair care method. It is thanks to a diversity of oils that you choose right for your hair condition and needs. Aging hair can also make use of applying hair oils regularly. How exactly?
Applying oils to mature hair lets you:
reinforce the natural hydro-lipid barrier so hair has the right moisture and it isn't dry or brittle
close cuticle scales to restore hair elasticity and shine, lock nutrients in and prevent damage
deeply nourish and repair hair bulbs so hair stops falling out and is stronger and thicker
Without any doubts, oils are great anti-aging daily hair care products. Your mature hair will definitely get lots of benefits. If you need an intensive hair repair treatment to bring the youthful vitality back – heat a hair oil up, apply to wet hair and scalp and leave in overnight. You can do such an intensive treatment every week. It doesn't mean you can't use oils with every hair wash. You can! Rub a bit of an oil on dry or wet strands for shine, smoothness, sun protection and hydration.
The best anti-aging oils are the ones dedicated to high porosity hair e.g. Argan Oil, Pomegranate Seed Oil, Cottonseed Oil. They all have strong regenerating power, especially when used in proper proportions and in combination with essential hair-conditioning substances e.g. Keratin or Vitamin E.
Nanoil for high porosity hair is a product that your mature hair is going to like.
Washing mature hair
Eventually, a little reminder – how to wash hair? After all, anti-aging hair care is not just about nourishing and repairing. A seemingly simple activity turns out to be a bit tricky. Sadly, it often comes with some standard mistakes – rinsing hair with hot water, using way too much shampoo, skipping the scalp massage. This has a huge impact on the hair condition.
What is the best anti-aging hair wash routine like?
Use mild SLS-free and SLES-free shampoos.
Massage the shampoo into the scalp, not the entire hair length.
Use lukewarm water for washing and rinsing.
After washing, close hair cuticles with e.g. an acidic mixture.
Don't forget to apply a hair oil before washing and a little amount afterwards.