Blondes belong to the group of women who should attach great importance to their hair care. Naturally fair hair is the most fragile and prone to damage. Consequently, it is the most challenging when it comes to care routine. How to keep blonde hair beautiful and healthy? The answer is inside your hair.
Getting to know the blonde hair structure and characteristic is the priority. You must know the difference between naturally fair and dark hair. It is the only way to match the effective care routine. Therefore, the answer to the question – how to get amazing blonde hair – is: get to know it better.
BLONDE HAIR – CHARACTERISTICS
Blonde hair shade comes from a small amount of the natural pigment (melanin). It is estimated that over 26% of the population has different diversities of fair hair. Interestingly, the number of natural blondes is getting smaller because they are defined by the recessive genes. What does it mean? The gene that is responsible for inheriting blonde hair is weaker. Children of a blonde woman and brown-haired man are likely to have dark hair. That is why people with natural fair hair should do their best to enhance it and define their uniqueness among colour-treated and bleached hairdos.
Natural blonde hair looks stunning provided it has enough hydration and nutrients. Sadly, this hair shade has a few downsides to be remembered in the everyday haircare.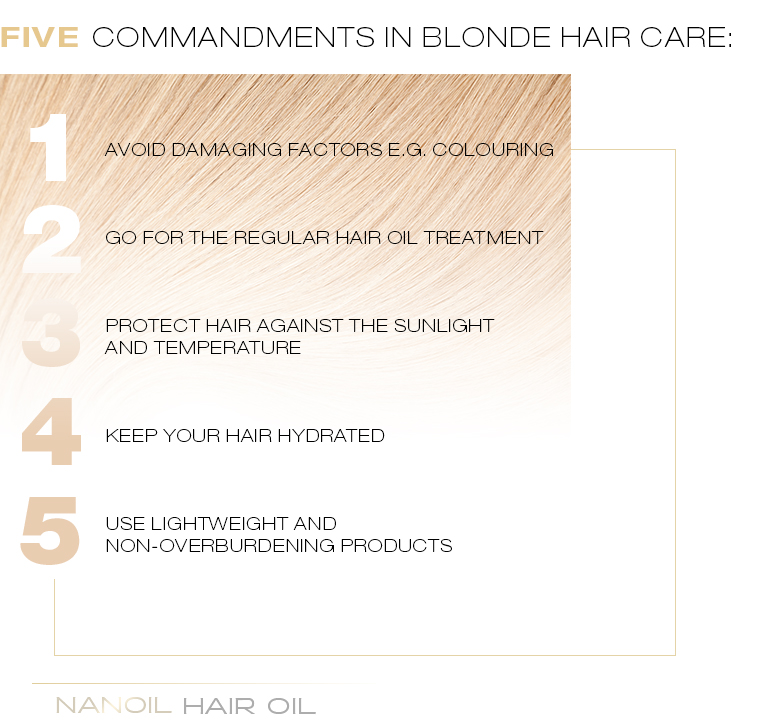 What hair problems can blondes face up to?
Generally, fair hair is much thinner and – consequently – weaker than dark hair. It's a key tip when you wonder how to care for blonde hair.
Blondes have more hair. Regrettably, it doesn't equal a voluminous hairdo. There is more fair hair but it is finer. It means blondes struggle with tangles more often.
The poor thickness of fair hair means it is more prone to mechanical damage and harmful factors. Breakage, dryness and thinning are more common in blonde hair.
Blonde strands lose water from the inside quickly so they tend to get frizzy without the right hydration. Another hint while striving for the best haircare regimen.
You should know that generally, blonde hair has high porosity. It is not just about bleached hairdos that get damaged due to chemicals. Natural fair hair is highly porous, too.
BLONDE HAIR CARE
Since we already know the features of blonde hair, it's time to move on to ways for defining its beauty. How to take care of blonde hairdos? Natural haircare matters the most; similarly to other hair types, blonde strands love ingredients coming from nature. Is there something more you must remember?
Five Commandments in Blonde Hair Care:
Avoid damaging factors e.g. colouring.
Go for the regular hair oil treatment.
Protect hair against the sunlight and temperature.
Keep your hair hydrated.
Use lightweight and non-overburdening products.
Blonde haircare mainly focuses on the protection from harmful factors. Since it's fragile and sensitive, you shouldn't expose it to treatments that could destroy its delicate structure. We advise against colouring but if you go for it anyway, find a professional who will both colour and strengthen your hair. Colouring blonde hair may lead to dryness. Heat styling might be as harmful. For example, straightening – popular among blonde girls who use it as a failed fix for frizzy and unruly strands.
Summing up, heat and chemicals make up the bad and damaging factors for blonde hair. There are even more, though. You should avoid weighing-down care products and strongly-purifying shampoos. Lots of styling products, sprays, leave-in masks etc. may leave your hair weighed-down, taking the volume away. Treating blonde hairdos to strong cleansing cosmetics is a quick way for depriving hair of the natural water-lipid barrier. Plastic, metal accessories that seize on hair are the blondes' enemies, too.
How to wash, brush & blow-dry blonde hair?
A shampoo with gently-cleansing and natural ingredients is the best choice for this hair type. Go for shampoos that remove the sebum excess and impurities, as well as don't strip the protective lipid layer (leading to extremely dry strands). That is the same reason why you shouldn't wash hair more often than every two or three days. Lightweight moisturising conditioners will help you keep hair hydrated. Oiling blonde hair with every wash works best here, though.
Blow-drying blonde hair is another stage in which being gentle counts. Letting hair dry naturally is the best solution but if you need to blow-dry, set the cool airflow. Before blow-drying, you should slightly towel-dry the hair without rubbing too harsh. While brushing blonde hair, you should use tools that are made from natural bristles. If you have problems detangling the strands, you'd better get a smoothing product or a weightless hair oil. Pulling while brushing is not good; you can weaken hair bulbs this way, triggering thinning and breakage.
What does blonde hair need?
Most of all, blonde haircare should aim at non-stop hydration in combination with regeneration. Because this hair type is often weak and out of water, products with lots of hydrating and strengthening substances will come in useful. Try out light conditioners or rinses that work great for blonde hair, closing cuticle scales for smoothness. However, hair oils turn out to be far better.
Oiling blonde hair is a way to nourish, reinforce and protect it from damaging factors. If you choose right oils for your hair porosity, they will deliver heat protection and reduce the harmfulness of the UV radiation. They strengthen the natural lipid layer so hair loses less of the essential water. What's important, oils work from within and on the hair surface, not weighing down. They can repair hair and bulbs as well as stimulate growth.
Right blonde hair oils include lots of omega-3 or omega-6 acids e.g. Grapeseed Oil, Hazelnut Oil, Apricot Oil, Sweet Almond Oil, Avocado Oil, Linseed Oil, Evening Primrose Oil, Corn Oil, Raspberry Oil. Their best proportions for fair hair mixed with extra ingredients (e.g. keratin) can be found in Nanoil for high porosity hair. Remember that blonde hair might have a lower porosity. In this case, go for one of the two other Nanoil hair oil versions. Matching the individual needs of hair matters!