Natural clays are extremely popular and often used in beauty care. They are the most common as the ingredients of the face and body masks but can be successfully used in hair care. Clay hair benefits are different, depending on the type of a product (colour). It's important that the cosmetic clay has the biggest impact on your scalp and it is the area you should apply it to. It's said that the cosmetic clay is good for nearly everything, therefore it should get into the woman's beauty ritual. Cosmetic clay cares for the whole body; applied to hair, it delivers spectacular effects.
A cosmetic clay for hair – how is it produced?
A natural clay is a sedimentary rock produced by the weathering of minerals. Stony forms of clay are extracted, smashed, sun-dried and sterilised. A cosmetic clay may be extracted from the bottom of the hot springs, too.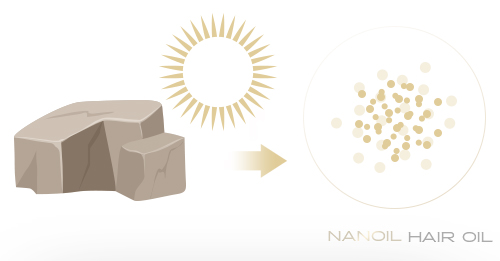 Clay Hair Effects & Benefits
No wonder clay is a valued product. It includes a full set of macro and micro elements that the skin needs, e.g. magnesium, calcium, potassium, copper, iron, zinc and selenium. After you apply it to the scalp and hair, it transports all of the ingredients into hair and scalp.
The cosmetic clay has an extra benefit. It is gifted with the negative charge and attracts substances that have the positive charge e.g. toxins and impurities. In this way it effectively does away with all harmful toxins that settled on the skin.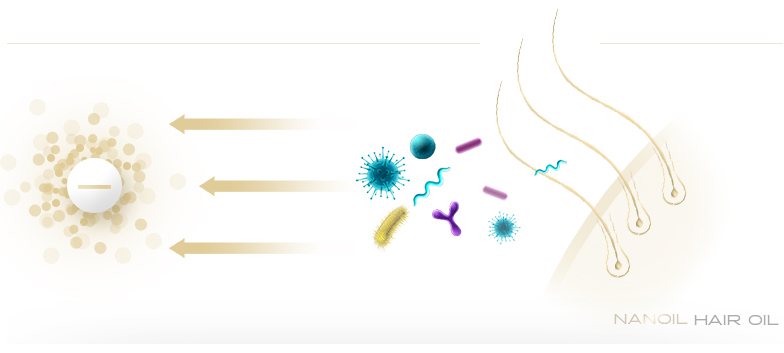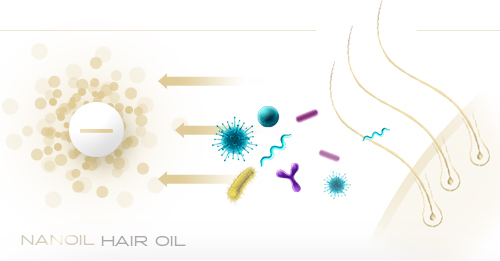 Clay has hair and scalp detoxifying, disinfecting and purifying properties, controls sebaceous glands and blocks the excessive sebum secretion. What is more, it soothes all irritations, nourishes and slightly lifts hair roots. Instead of nourishing, you can use it for styling a hairdo. Girls who have thick, flat and easily weighed-down hair are the biggest fans of clay.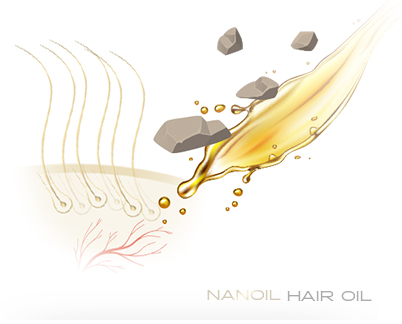 There is one more less-known yet very valuable feature – it increases blood flow thus boosts hair growth. That is why clay makes a wonderful match with natural hair oils – mixed with a chosen oil, it creates an intensive hair-nourishing and scalp-conditioning mask.
Hair Clay – Types & Action
There are several types of hair clays and each one has slightly different beauty benefits. For the best hair care, you must choose the best application method and discover the properties of each one.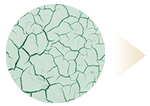 Green Clay Hair Benefits
It amazingly purifies the scalp so it's perfect for keeping the right sebum level, evening out the skin pH, soothing irritation and inflammation. Green clay works great for the mature skin care and hair that struggles with the loss of volume and vitality, and its bulbs are poorly-rooted in follicles.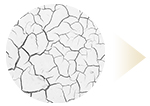 White Clay Hair Benefits
Other names include kaolin and china clay. White clay is the mildest so it works for the sensitive scalp. It gently soothes all scalp irritations.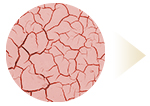 Red Clay Hair Benefits
It is a bit milder than the green clay but has similar qualities – normalizes the sebum secretion, seals blood vessels and consequently enhances the blood flow and strengthens hair bulbs. It is recommended for the sensitive scalp and will work better than the intensive 'sister' - green clay.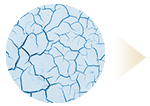 Sky-Blue Clay Hair Benefits
The light blue clay version comes from the Crimea. It is full of cobalt. Considering the effects, it is the strongest clay. Light blue clay quickly absorbs sebum and tightens the skin, precisely cleanses skin pores and eliminates impurities. It improves the blood circulation, repairs and strongly nourishes the hair. People with the sensitive scalp should avoid it because of too intensive action.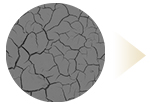 Black Clay Hair Benefits
This cosmetic clay comes from the Dead Sea. It has scalp antiseptic and cleansing qualities, contains many valuable minerals and 'feeds' them to hair. This results in the gradually enhanced hair looks and intensive reinforcement. Black clay protects the scalp and hair, too – prevents damage caused by weather conditions.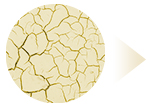 Yellow Clay Hair Benefits
It frees skin from the sebum excess and impurities, leaving hair supple and voluminous. If you follow the anti-ageing care, you're going to like yellow clay – it slows down ageing. Yellow and red clays have similar effects but the yellow one is a bit stronger. Despite the intensive cleansing action, the clay can work in a subtle way, soothing an irritated scalp.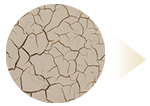 Ghassoul Clay (Moroccan Clay)
It isn't only perfect as a hair mask. Thanks to the gentle foam-forming action, the clay is suitable for washing, leaving both scalp and hair fresh. Use it for hair shine, softness and bounce. Ghassoul clay works for all hair types. If used in a DIY mask, it removes the keratin build-up. The Moroccan clay prevents hair breakage, unblocks clogged follicles, boosting healthy growth.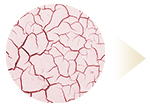 Pink Clay Hair Benefits
It's untypical as it doesn't occur in nature. It is created through mixing white and red clays. Pink clay combines the benefits of two above-mentioned clays. It is ideal for the sensitive scalp and fragile hair (thin and oily). Pink clay works for fine and thinning hairdos and scalp irritations. It is also good at soothing sunburns that happen to fair-haired women. The product heals the scars.
How to Use Cosmetic Clay for Hair?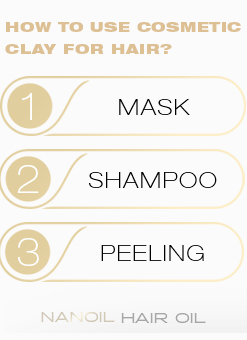 You can apply clay to hair using many ways. A clay-infused mask is the most popular. Do it mixing a chosen clay with a liquid: water (boiled or mineral) or hydrolate (e.g. rose, camomile or nettle). Enriching the mask with a few drops of a hair oil makes a good choice. In this way your hairdo won't be coarse and rough after washing the mask off – the hair oil will increase shine and softness. You apply the mask mainly to the scalp but spread it on the lengths so that oils and clay's minerals can be absorbed.
The clay-infused shampoo is another idea. Washing hair with clay prevents hair thinning, helps fight the dandruff, balances the sebum secretion and makes the scalp fresh. Clay effectively washes oils off after hair oil treatment. The ingredient absorbs grease – also the molecules of natural oils. If you want a clay-infused shampoo, mix the clay with water or hydrolate (such a shampoo won't lather). Adding clay to a traditional shampoo is another good and as popular idea. The mixture works equally and additionally lathers. Lots of women use cosmetic clay instead of a dry shampoo, applying dry clay to scalp and roots, waiting a few minutes and combing out the rest of the product.
Scalp exfoliation is another way for applying the natural clay. It works amazingly for extremely dirty and oily scalp. The treatment boosts blood flow, stimulates hair bulbs and lets you do away with product build-up and keratin. You must mix clay with a shampoo or a mild SLS-free conditioner and sugar (a spoon of conditioner and clay gets three spoons of sugar). You apply the mixture to hair and scalp, massaging for 2-3 minutes.
Hair Clay - Effects
Clay is recommended as a fix for lots of scalp and hair problems. Regular use of the cosmetic clay enhances the growth of healthy and strong hair. Clay for thinning, clay for hair growth or maybe clay for oily scalp – if you choose the right one, it will tackle every problem.
Clean scalp and hair, no longer flat, weighed down or greasy hair; instead – nourishment, softness and protection against external factors – these are just a few of the benefits you get using a hair clay.
Using hair clay – rules


never use running water for thinning the clay

make sure the clay goes with your scalp condition, remembering that lots of clays may cause scalp irritation

mix clay with oils to get hair softness and shine and prevent coarse strands


don't mix the ingredients with a metal spoon and don't thin the clay in a metal bowl – clay loses its absorbing properties in contact with metal


water should have the room temp – don't mix clay with boiling water as it could lose most of its beneficial elements


while buying a clay, always check the ingredients and choose the one free from fragrances or other artificial substances; INCI should include nothing but the name of the clay.