An extraordinary product: mineral oil…
It's been used as a hair product for long years. People rave about it or hate it. Mineral oil is often mentioned while speaking about best hair growth-promoting treatments. Surrounded by a mystery – there are some contradictory opinions about it:
Mineral oil nourishes dry hair. Mineral oil stimulates faster hair growth. Mineral oil is able to hold back hair loss. Mineral oil moisturises hair. You can use it instead of a hair conditioner. Mineral oil helps treat dandruff.
Which of the statements are true?
Is mineral oil a hair care hit or miss?
Where does it come from? What is it? Is it worth having in your bathroom?
Today, we bust all mineral oil myths.
Mineral oil – what is it?
Mineral oil is also known as liquid paraffin (paraffinum liquidum). It is derived from petroleum. It's a mixture of straight-chain hydrocarbons that occur during the petroleum distillation process. Pure paraffin has been used for hair enhancement for long years. It is a common ingredient of creams, lotions and other face and body care products because it's a greasy, protective emollient. Few people know that mineral oil is used for treating stomach problems. It's an attractive substance for cosmetic companies because it's cheap. Too bad, too much mineral oil clogs the pores so the skin doesn't receive enough oxygen. Mineral oil 'overuse' is comedogenic and may lead to skin irritation or dehydration.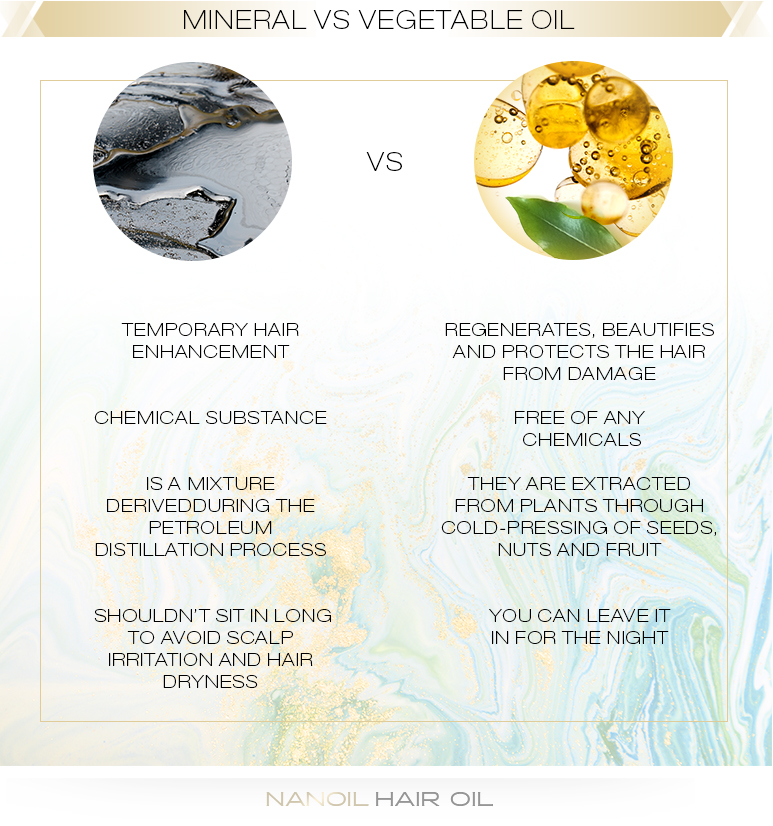 Mineral oil – hair benefits
Because mineral oil doesn't penetrate the epidermis or hair, it leaves an oily occlusive lipid coat on the surface. It locks water in and protects from the toxins (which could penetrate the hair) and other damaging environmental factors (frost, strong wind or sunlight). The oil delivers a good conditioning, shine, softness and smoothness, thickening the structure and closing cuticle scales. Another benefit is connected with the antistatic properties – it prevents hair static and flyaways.
Mineral Oil for Hair – Effects
To discover the effects of using mineral oil, you must be aware that it doesn't work like a hair conditioner or treatment. Its action focuses on improving the appearance and protecting the external hair structures. That is why it isn't a remedy for damaged hair. Mineral oil is like a shine-increasing and conditioning hair lotion. It's also able to boost volume, creating a coat on hair – similar to the one built by silicones.
Mineral oil hair benefits can be summed up with a few points:
hair elasticity
less breakage and static
hair shine
hair body and volume
easier styling and less tangling
easy brushing
Mineral Oil for Hair – Side Effects
While applying a mineral oil – which is a distillate of petroleum – to your hair, you must be aware that:
it may cause scalp irritation
too much of mineral oil weighs (especially thin) hair down
used too often, it causes hair dryness instead of protecting
the effect of beautiful hair lasts until the first washing, mineral oil doesn't give long-lasting results, it neither nourishes nor repairs the hair, it works on the surface and is removed after the washing routine
Mineral oil for hair – how (often) to use?
For best effects and no dryness or irritations, you must never overuse it. Apply it twice a week tops. Mineral oil doesn't penetrate the hair so there's no need for applying it to damp strands (damp hair and scalp have an increased absorption, which may have a bad impact on the scalp).
You apply mineral oil to dry hair (from roots to ends) and scalp – maximum a tablespoon (for shoulder-length hair) or two spoons for very long hair. It shouldn't sit in long to avoid scalp irritation and hair dryness. Ten minutes are enough. Next, you wash the mineral oil off with a shampoo. To emulsify it, you can apply a conditioner, wait a moment, rinse hair out and use a shampoo.
Mineral Oil for Hair – Myths
It is time we dispelled a few mineral oil myths. You must know the facts and the things you shouldn't believe in because some opinions may harm your hair and skin.
Never leave mineral oil in your hair overnight. It would leave you with dry and damaged hair and irritated scalp. Natural oils are the only substances you can leave in for the night – they have nothing to do with petroleum. A greasy consistency is the only thing they have in common. Natural oils are used for the hair and scalp oil treatment. There's no such a thing as a mineral oil hair treatment. Remember that mineral oil is a chemical substance whereas natural oils are free of any chemicals.
Another popular myth says that mineral oil nourishes and repairs hair. Sadly, it's not true. It won't fight dandruff or cure hair loss either. Mineral oil brings superficial effects and must be used in moderation to avoid hair damage. It's a beautifying and conditioning ingredient but it's never going to work as a strengthening or repairing treatment for damaged hair. Let's remember that mineral oil doesn't get inside the hair – it stays on the surface. That is why it has no possibility of fixing the inner hair structures.
What to use instead of mineral oil?
If beautiful, healthy and shiny hair, stronger bulbs and healthier scalp are your coveted goals – mineral oil won't help you. Luckily, there is a different group of emollients which regenerate, beautify and protect the hair from damage. I mean natural oils that are extracted from plants through cold-pressing of seeds, nuts and fruit. Argan oil is among the most popular natural oils, repairing the hair and ensuring heat protection. Oils make up an amazing source of vitamins, minerals and fatty acids. Chosen right for the hair type, they promote hair growth, add volume to hair and hinder hair loss.
Mineral Oil for Hair – Reviews
Considering the beautifying power of mineral oil, no wonder it gets quite positive opinions. It is a good solution when you want an instant hair enhancement (e.g. before an important meeting). Still, you must beware – next to the good reviews, there are the negative ones. Women mention irritations and extreme hair dryness. Summing up, mineral oil may bring benefits and beautify a hairdo on condition that you use it reasonably. For the repair and faster hair growth, it's better to go for natural substances, safe for the scalp which both beautify and repair your hair.