Hair oiling
Hair oiling is not only trendy but also a very effective and gentle method of hair care. Since natural oils have become so popular, one of the most important questions that arise is: which oil to choose for oiling my type of hair? It is not that easy to select the ideal one out of nearly 100 oils available on the market.
Below, you will find an outline that will help you comprehend how to match oils to particular types of hair.
It is said that over 100 various natural oils are used in cosmetology. An interesting fact is that a large number of them is also used in the kitchen on daily basis. For example: sunflower oil, corn oil or rice oil. However, those that are to be used in hair care must be pure, organic, cold-pressed, unrefined and without any synthetic substances. Moreover, vegetable butters are also commonly used. What are they? They include oils that have solid consistency in a room temperature and require warming up to become more runny.
What oil for starters?
Among hundreds of oils, you have to choose one that will be most suitable for your hair. No wonders that this question causes so many doubts and costs us sleepless nights. What oil will be most suitable for the beginning of your journey with hair oiling? It must be matched to your hair porosity, must come from a reliable source, unrefined and cold-pressed.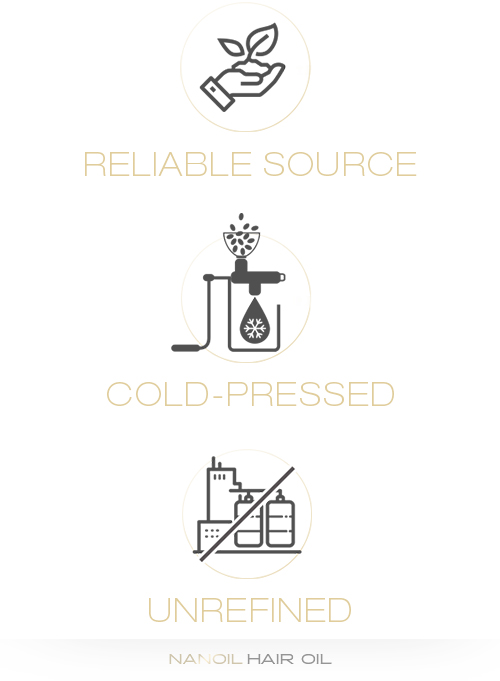 HAIR OILING

VS HAIR POROSITY
YOU CAN DISTINGUISH THREE TYPES OF HAIR AND THE SAME NUMBER OF HAIR OIL CATEGORIES.
Knowing properties of both, there will be no problem with matching proper oils to particular hair type. Strands can have different porosity which indicated their level of destruction. How to determine porosity? One of the methods is to observe them under a microscope. Fortunately, there are methods that can help you identify your porosity in the comfort of your own home.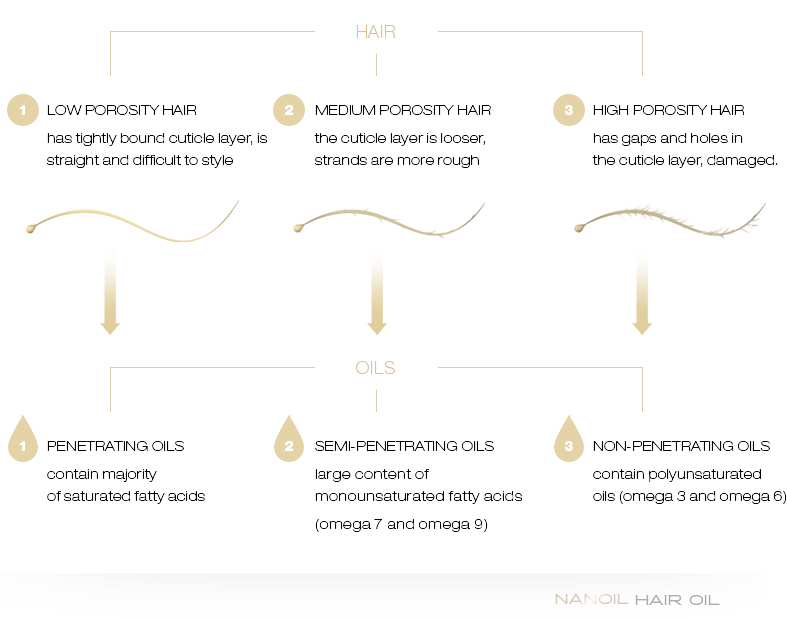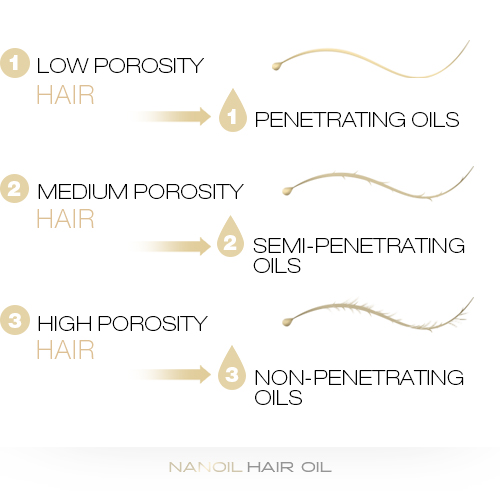 Oils are made of esters, fatty acids, vitamins, phospholipids and minerals - can be categorized according to their properties. They can be divided due to their absorbability which depends on the size of particles and the content of fatty acids in the oil.

Penetrating oils are easily absorbed by hair because they have small particles. Those are mainly butters with saturated oils such as: shea butter, babassu oil and cupuacu butter which are contained in Nanoil hair oil for low porosity
---

A bit larger particles are characteristic features of semi-penetrating oils with unsaturated fatty acids omega 7 and omega 9. This group includes macadamia oil, argan oil, marula oil, maracuja oil and jojoba. Those are the components of Nanoil hair oil for medium porosity
---

Large particles can adjust to the defects in the hair structure. The are typical for non-penetrating oils with unsaturated oils omega 3 and omega 6, such as: evening primrose oil, cotton seed oil and avocado oil that combines Nanoil hair oil for high porosity
---
Which hair oil to choose?
Knowing you hair porosity, it is very easy to consciously match proper oil for it. Therefore, hair oiling brings much better results and there risk of frizz instead of improvement is reduced. Keep on reading and you will find guidance which oil to choose.
Oil for blond and fair hair?
It is known that blonde hair contains very little melanin and is naturally thinner and weaker. Especially if it is chemically bleached. Therefore, blonde hair oiling should be done with the use of light, well-absorbed oils that will not overburden such fragile strands. A good idea is to use macadamia oil (penetrating), marula oil or jojoba. Blonde hair girls who are satisfied with their colour should avoid using Indian oils (amla and brahmi) as well as castor oil – the provide darkening properties.
Oil for curly hair?
Curly hair often differs when it comes to their built – in the place of the curl strands are a lot thinner and more prone to brittling. By nature, they have an increased porosity, and therefore oil for high porosity will be ideal; for exmple: grape oil, sunflower oil, sweet almond oil, linseed oil, neem oil, avocado oil or hazelnut oil.
Oil for frizzy hair?
The problem of frizz concerns everyone who has medium and low porosity hair. In this case, the best oil will not only take care of frizz but also smooth and ensure proper level of hydration. The following oils contain such properties: linseed oil, olive oil and jojoba oil. Taming unruly strands and softness is provided by oiling your hair with heat and using oil mist during the day.
Oil for colour-treated hair?
Colour-treating has very negative influence on the hair keratin structure. Dyes cause sever damage to strands, therefore oil for such hair type must have in-depth action, regenerate, strengthen and protect from further damages. For dyed hair, the most recommended oils are: avocado oil, grape seed oil, sweet almond oil and argan oil.
Oil for bleached hair?
Bleaching hair as well as colour treating strips hair of valuable nutrients, damages it and weakens. Bleached strands require in-depth regeneration and strengthening. This case it is good to reach for argan oil, cotton seed oil or sunflower oil.
Oil for falling out hair?
Loosing hair is a natural occurrence until it is not excessive. Hair oiling can inhibit loosing hair loss because it strengthens bulbs and regulates scalp functioning. Oils recommended for hair loss problem are: castor oil, black seed oil, cedar oil (obtained from Syberian Pine, not essential oil).
Oil for thin hair?
Such hair type requires strengthening and oil that will improve its volume, moisturise but not overburden. Delicate hair, for example naturally fair is worth treating with oils that are well-absorbed. You can choose from the following oils: olive oil, safflower oil, linseed oil, or macadamia – semi-penetrating oil.
Oil for split ends?
Ends are the parts of hair that are mostly exposed to harmful effects of external factors, high temperature etc. They need effective protection. Argan oil or cotton seed oil will perfectly protect hair tips and work as thermal protection.
Oil for wavy hair?
Like curly hair, wavy strands are also exposed to frizz and breakage. What is needed here is an oil which will emphasise the wave, absorb easily, prevent frizz and not weigh wisps down. Jojoba, almond or linseed will be the best for such task.
Oil for dehydrated hair?
Nearly every oil will work well on dehydrated strands because of the fact that oils are natural emollients. Therefore, they protect strands from water loss and maintain proper level of hydration. The best oils are: macadamia, sunflower oil, almond oil, avocado oil and wheat germ oil.
Oil for greasy hair?
It seems that greasy oils are not recommended for greasy hair. In fact, they regulate the work of sebaceous glands, cleanse and prevent excessive sebum secretion that causes oily scalp. In this case, the best solution is to rub castor or cedar oil onto your scalp.
Oil for hair with dandruff?
In most cases, the fight with dandruff is uneven especially because there are different causes. However, it all starts in the scalp that begins to function abnormally. A great replacement for anti-dandruff shampoos are oil for hair with dandruff. The favourites in this competition are: cedar oil, castor oil, burdock oil or rosemary oil.
Oil for brittle hair?
Brittleness of hair is associated primarily with its increased porosity. In the case of dry and brittle hair, it might be worth reaching for oils recommended for medium and high porosity hair. Those will add flexibility and smooth strands. For example, evening primrose oil, corn oil, wheat germ oil, argan oil.
Oil for straightening hair?
Straightening hair can be harmful only if you do not provide it with adequate protection. The best oil for styling hair is natural argan oil (provides thermal protection, regenerates and hydrates) as well as oil, maracuja or marula oil.
Oil for damaged hair?
Damaged hair has high porosity and oils that are suitable for it are those that provide comprehensive regeneration, strengthening, moisturising, smoothing as well as restore damaged keratin structure. Oils for high porosity hair recommended for strongly damaged strands are: safflower oil, grape seed oil, evening primrose oil, cotton seed oil or corn oil.