An absolute must-have when it comes to hair care! Undoubtedly, nobody can do without a shampoo, especially those who want to have beautiful (and clean) strands. Quite surprising is the fact that we still know little about this product and this lack of awareness frequently makes us choose improper cosmetic that mismatches our hair type. It's a pity because hair care and its good state begins with a shampoo - this is one of the most frequently used hair cosmetics so we shouldn't agree on any compromises in this case. It must be realized that using a good shampoo is the first step towards healthy hair. How to find Mr Right of shampoos? What ingredients included in shampoos should be avoided? What to focus on while buying a shampoo and how to match it with one's hair type?
The word 'shampoo' sounds similar in many languages. Its foremother is a Hindu word chāmpo meaning scalp massage. The truth is, it was almost over 100 years ago when Hindu people could already boast about having one of the best cosmetics to wash their hair with. Namely, they were powdered plant called Shikakai and Reetha nut powder which didn't only make hair fresh again but also conditioned it. Today, Shikakai is considered as an alternative to chemical shampoos available at all drugstores'. When it comes to massage, this treatment should be highly appreciated by those who care for having strong and healthy hair bulbs.
Currently, there are many different versions of shampoos available so you can go for the one which faultlessly answers your hair needs. For that reason, cosmetic brands offer shampoos for thin, thick (stiff), deprived of shine, blonde or dark, colour-treated or lightened up, greasy or dehydrated, affected by dandruff hair... everyone can cope with finding the right product.
However, the secret of a good shampoo doesn't rather lie in its purpose but more in its composition and the form it was produced in. The most popular version is naturally a liquid shampoo, yet this isn't this product's only visage. It's worth learning the types of shampoos and the purpose they serve as well as action they deliver. This may shed new light on hair care issue.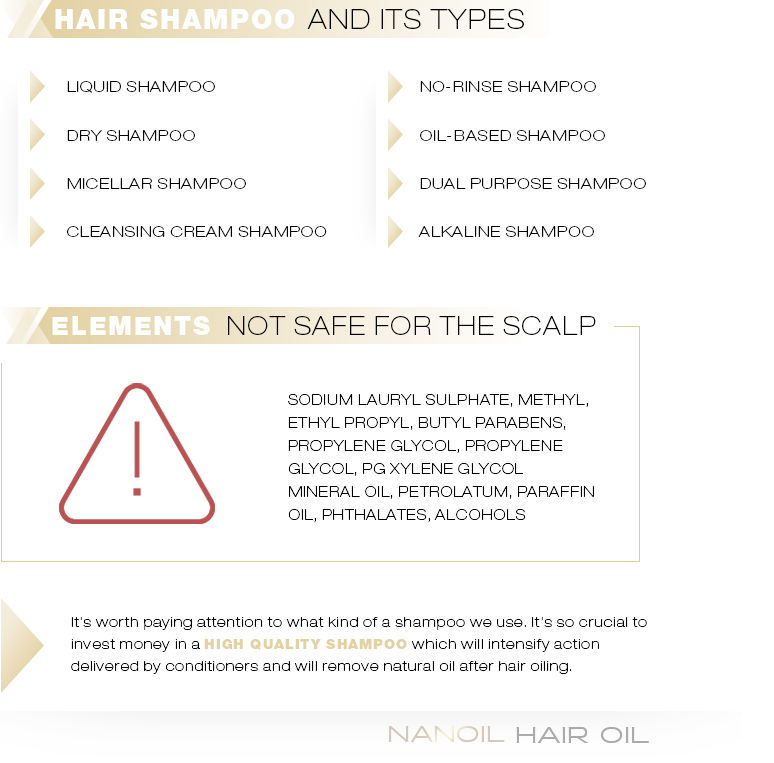 Hair shampoo and its types
● Liquid shampoo - known to everyone, it's the most popular kind of shampoo. It was created by Schwarzkopf brand and almost overnight it ousted its previous competitor, which was a powder shampoo. Liquid version of shampoo is mostly made from a insecticidal or ammonia soap solution - completely dissolved in water. These detergents are responsible for creating lather. So as to prevent hair from dehydration, the solution of soaps, and the composition itself, is enriched with buffer solutions of acid reaction as well as conditioning substances which are responsible for gifting hair with shine and healthy appearance (they are divided into gloss-delivering and antistatic products.
● Dry shampoo - those who consider dry shampoo as a last-years' invention have another guess coming. Dry shampoo has been well-known for centuries and the truth is that the first shampoos had the very 'dried' form (e.g. Schwarzkopf introduced into the market their first shampoos in the form of powder closed in small sachets; the powder lathered when mixed with water). The first dry shampoo which didn't require water use, Minipoo, came into existence in the '40s of the 20th century, the face of which was Twiggy - one of that time most famous British models who was known for setting beauty trends. The producer advertised the product for offering an alternative to cleansing and freshening hair up when there was no possibility to make the strands clean in the regular way. Minipoo was also supposed to be suitable for kids because it didn't sting eyes. This shampoo from the '40s was made from talc which task was to absorb sebum from hair. The present-day shampoos are closed in bottles featuring atomiser, thanks to which, it's easier to spray them evenly all over the hair. Now, they base the action on delicate and lightweight rise starch. A good dry shampoo has freshening-up and conditioning qualities (owning to keratin, vitamins and oils) and doesn't contain aluminium salts, silicones nor parabens.
● Micellar shampoo - this is a fairly new product. As it turned out, it was regular micellar lotion cleanser that inspired the producers to create a micellar shampoo. These were the efficiency and innovativeness of micellar lotion cleanser that motivated the creators to combine its features with a shampoo. As it's not hard to guess, micellar shampoo features micelles - very precise in their performance molecules, attracting toxins and dirt without disturbing both the lipid structure of the scalp and the lipids that are natural building blocks of hair.
● Cleansing cream shampoo - in most cases it's a specialistic, dermatological product which, owning to its form, is suitable for exceptionally sensitive skin care. Cream shampoos belong to the group of products that are delicate and facilitate healing up processes of problematic scalp with the symptoms of atopic dermatitis, psoriasis and chronic dandruff. Moreover, cleansing cream shampoos are able to eliminate the sensation of constantly itchy scalp, soothe skin and cope with excessive and uncontrolled exfoliation of epidermis.
Moreover, cream shampoo is also useful when it comes to 'No Poo' trend that depends on resigning from all possible chemical substances included in cosmetics (mainly lather-producing agents). It's also worth mentioning that cream shampoo doesn't contain sodium lauryl sulphates, silicones, colourants or parabens. Additionally, this type of shampoo leaves hair perfectly clean and purifies scalp, although, as mentioned above, it doesn't feature any lather-forming agents. Last but not least, its application resembles using a hair conditioner.
● No-rinse shampoo - first of all, in terms of application this product can be compared to a dry shampoo. Frequently, no-rinse shampoos are closed in spray-like bottles. When it comes to the composition, they neither contain talc nor powders, they are rather runny in form and feature vegetable substances. No-rinse shampoo is also used in hospitals because it doesn't irritate or trigger allergies. What's more, no-rinse shampoo is very convenient to use. All that has to be done is spray it on hair, massage into scalp and dry it with a towel. This kind of product, despite its freshening up qualities, is supposed to condition strands without disturbing the natural lipid barrier.
● Oil-based shampoo - is a specialistic, little-known group of shampoos. It's produced from natural oils like for example castor oil, soy, paraffin and various waxes (e.g. beeswax). Such shampoos lack lather-forming agents. Basically, they are recommended for damaged and dry hair, and have to be applied like natural hair oils (oil-based shampoo use resembles oil hair treatment). To clarify, oil-based shampoo has to be rubbed into scalp and the entire length of hair to be rinsed after 30 minutes using warm water. Once the procedure is over, hair becomes fresh and soft. It's important to mention that oil-based shampoo shouldn't be used too frequently because it has strongly lip-replenish qualities which may overburden hair.
● Dual purpose shampoo - in other words it's a shampoo that combines features of a regular shampoo and a conditioner. Frequently, such a product is called a 2in1 cosmetic. This kind of shampoo was designed to do both save time and nourish hair during washing. Indeed, dual purpose shampoos are convenient to use, yet they are a little bit controversial. First of all, they aren't suitable for all hair types and their frequent use might not only weigh hair down but also irritate scalp. Moreover, action delivered by dual purpose shampoo is that, on one hand, it raises hair cuticles up (typical for a shampoo) but on the other, it is to close the cuticles to make hair smooth (typical for a conditioner). In other words, 2in1 shampoo combines two completely different preparations that preclude each other's action. It's better not to use them simultaneously.
● Alkaline shampoo - this is a distinct product. First of all, it has to be clearly stated that it shouldn't be used constantly since this shampoo's task is to thoroughly and really intensively cleanse hair, even its inner structures. Alkaline shampoo is frequently used by hairdressers before specialistic hair styling treatments to nourish strands deeply. In order to make it easier for nourishing and regenerative substances to penetrate hair, strands have to be cleansed precisely - and alkaline shampoo is perfect to do it because this cosmetic additionally opens hair cuticles. It often happens that after such a precise hair cleansing strands require being treated with special lipid-replenishing, acidifying and hair-cuticle-closing products. It's also worth realising that alkaline shampoo may appear to be perfect for using before exposing the strands to oil hair treatment - this facilitates oil's molecules penetrating deep into the strands. Actually, once a month, it's suggested performing a special kind of hair oiling procedure that is combined with the very alkaline treatment.
Shampoo composition. What to pay attention to?
Equally crucial point to get acquainted with is the list of ingredients a particular shampoo is made form.
What elements of the composition determine whether a certain shampoo is good, but what elements should be shunned?
How to recognize whether a shampoo is good for our hair and, what is even more important, whether it is safe for the scalp?
First, the most important quality of a good shampoo to mention is that it mustn't deliver comedogenic action to the scalp. To clarify, it can't contain synthetic substances, intensively irritating agents nor any petroleum derivatives. Therefore, it's wise to buy shampoos which composition bases on natural and delicate substances; shampoos that lack parabens, silicones, SLS and SLES substances, dehydrating short-chain alcohols as well as heavy, non-volatile silicones. It's worth bearing in mind which ingredients to avoid.
List of ingredients that may deliver adverse action to hair:
Sodium Lauryl Sulphate, SLS; Sodium Laureth Sulphate, SLES - highly irritating detergents which clog skin pores. Additionally they are able to penetrate into blood and may damage hair protective layers, which increases hair brittleness.
Methyl, Ethyl Propyl, Butyl Parabens - or simply parabens which cause inflammations of skin and penetrate into blood.
Propylene Glycol, Propylene Glycol, PG Xylene Glycol - it's a glycol group which can be highly toxic to human body. Therefore, it has to be made sure that they don't get into the organism in galore.
Mineral oil, Petrolatum, Paraffin oil - is an array of petroleum-derived substances which tend to deposit in an organism, mainly cumulating in bowels. When applied to skin, they weaken its protective barrier and encourage bacteria multiplication.
Phthalates - dangerous especially for pregnant women and the breastfeeding. Phthalates penetrate to mother's milk and get into placenta of foetus. They are believed to damage generative cells significantly.
Alcohols - they dehydrate hair and scalp, yet not all of them are harmful. The most dangerous ones, short-chain alcohols, are mostly: Alcohol Denat, Benzyl Alcohol, Isopropyl Alcohol and Ethanol.
Beautiful hair is the symbol of femininity and, it can't be denied, the glory of every woman. Therefore, it's worth paying attention to what we use to condition our hair with as well as to what kind of a shampoo we put into our basket while doing the shopping. Beauty and the good state of hair already begins with washing and hair cleansing. For that very reason, it's so crucial to invest money in a high quality shampoo which will intensify action delivered by conditioners and will remove natural oil after hair oiling.