People who have a head full of curls must remember that such hair type requires special care routine. Curly hair has an uneven structure, a tendency to lose moisture and becoming dull and is prone to damage. How to take care of curly hair to make it healthy and resilient? Apparently, the clue is hidden nowhere else but within your hair.
Many women can only dream of having curly and thick hair. Those of us who have straight hair consider waves and curls as a lottery win. However, in practice, curly hair is a lot more demanding! It requires specialized care and brings along more problems that one might think. In order to answer the question of how to take care of curly hair, it's best to pay more attention to it! Simply learn more facts about it and make sure to observe it carefully.
CURLY HAIR - CHARACTERISTICS
At first glance, we see hair full of curls and lots of volume. For some people, it might seem that this is the only thing that distinguishes this type of hair from others. However, the most significant differences are hidden a bit deeper. To have a closer look at them, it is advisable that you use a microscope. Then, you will learn that the cross-sectional look is completely different from straight hair. The fact that hair starts curling is determined by its structure - wavy hair is lightly flattened (ellipse), curly hair is flat and coily hair resembles a kidney.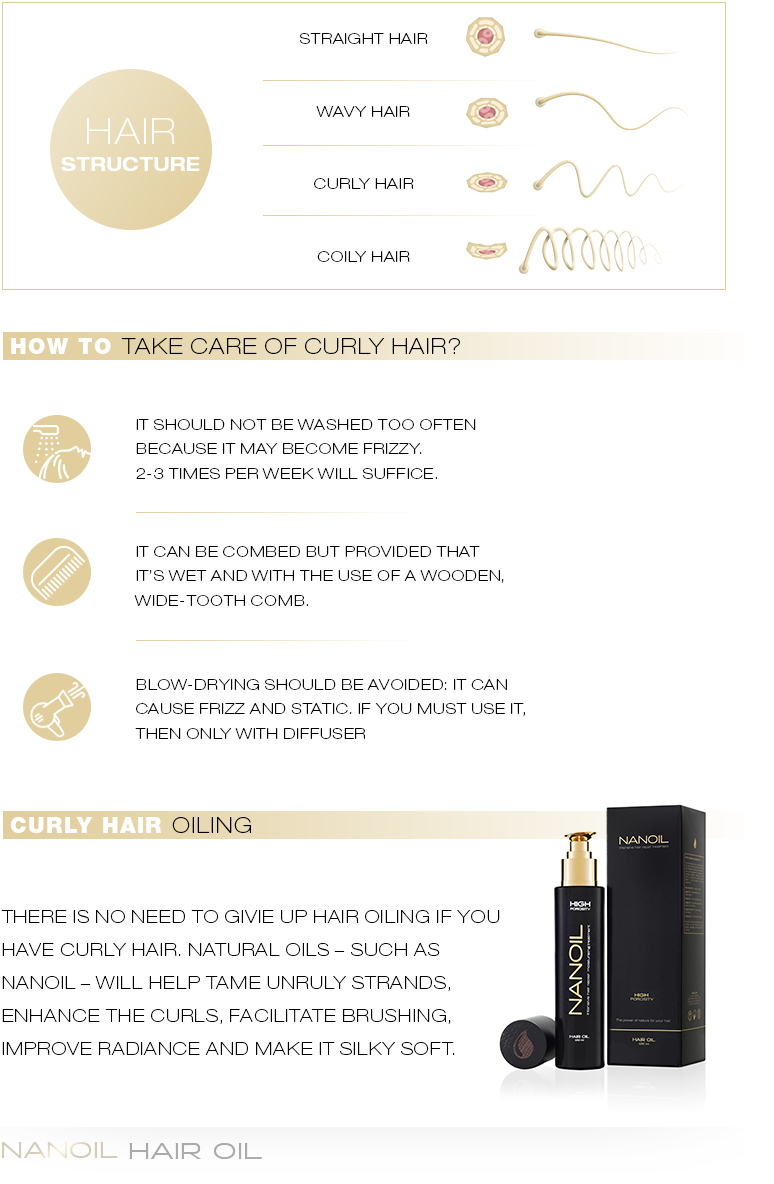 Moreover, curly hair is much more delicate and sensitive to the effects of external factors. Where does it come from? Natural curls are thinner in the places of curving and therefore become more fragile and brittle. Additionally, it does not have a tightly bound cuticle layer with overlapping scales that lay flat as in the case of straight hair. At the bends, the small keratin scales involuntarily lift. That is why curly hair is highly porous by nature, but of course, there are exceptions to this rule as well.
Another issue that the owners of curly hair must struggle with is the tendency to losing moisture. Such hair type is often dehydrated, which is also connected to its structure. Not only moisture escapes through the excessively raised scales, but curly hair is also covered with a thinner layer of protective sebum. Why? Curls do not lay flat touching the head and thus, they do not have the opportunity to collect the necessary sebum secreted by the glands placed on the scalp. On the other hand, such situation has its advantages, because such hair gets greasily a lot slower. Dehydration is one of the main, but not the only problem that people with curly hair must face.
The most common problems of curly hair:
it is very often dry, rough and brittle,
it is much more susceptible to damage,
it is more likely to tangle, and combing it is a challenge,
it lacks lustre and flexibility,
without proper support, it tends to get frizzy and static
it cannot be straightened easily,
it is dull because it refracts less light.
Why isn't curly hair growing?
For the owners of natural curls, growing out the hair can be very cumbersome. The tighter the curls, the harder is to notice any increase in the length. That's one of the most frequently asked questions: Why isn't my hair growing? Of course, it is growing! It's just more difficult to notice the improvement.
CURLY HAIR CARE ROUTINE
How to take proper care of curly hair? First of all, you must be aware of the fact that it will take twice as long each day than for people with straight hair because curls are very demanding and 'moody'. The care and styling of curly hair is even a huge challenge for experienced hairdressers! Here are the most important rules that will help make everyday care of curly hair a little easier.
Three stages of a professional curly hair care
In-depth moisturising - the first step includes providing ingredients that will bind water molecules inside the hair (hyaluronic acid, urea, panthenol, aloe or honey).
Regeneration and reinforcement - the second phase consists in using products abounding in essential substances, such as silk, keratin, collagen, as well as wheat, soy and milk proteins.
Thorough protection against losing moisture and harmful factors (for instance, low or high temperature, solar radiation, etc) thanks to emollients such as hair oils or silicones is the last but not least stage of the proper curly hair care routine.
How to wash curly hair properly?
The most significant principle: curly hair is to be washed less frequently. If you do not want to have frizzy curls, you must take your time. It's not to convince yourselves to walk around with oily hair for weeks, this, in turn, might contribute to the formation of dandruff. Curly hair does not like exaggeration in any direction. Frequent washing weakens the curl and increases dehydration because detergents rinse out small amounts of sebum essential to maintain proper moisture level. How often should you wash your curly hair? Rather not more than once every two days. The optimal solution is two washes per week.
Furthermore, there are a few more things that are worth mentioning. It is best to wash curly hair with the head bowing down - thanks to this method we increase the volume and can easily comb through. What is more, it is worth using cold or lukewarm water to wash and rinse the cosmetics because heat makes the scales rise higher. Always remember that you have to treat your hair gently - no more tousling nor pulling the strands. Also, the shampoo should have a mild composition.
How to comb curly hair? - dry? wet?
It has been assumed that curly and wavy hair should be only wet-combed. And rightly so, because in this case, combing dry strands is a simple way that leads to plucking and breakage. Instead of struggling with brushing dry curls, it is better to comb them out immediately after washing. Later one, this will make drying easier and it will prevent frizziness. It is recommended to comb your curly hair right after applying a conditioner or oil, or when having the cosmetic just rinsed off. This way, the hair is smooth and slick, therefore, the risk of damage decreases.
You need to know how to comb your curly hair the right way. However, it is equally important what to use for this purpose. The best accessories for curly hair are the simplest ones. A wooden wide-tooth comb or the popular Tangle Teezer will be perfect. Curly hair will also benefit from using a brush with thick and sparse bristles, preferably made from natural materials or with the ionization function.
How to dry curly hair?
In this case, it is a good idea to completely give up on using a blow-dryer which could increase the problem of losing moisture, frizziness or static. Letting such hair type air-dry is the most beneficial method. However, if you do not have the opportunity to do so, let's check how to dry it without causing any further damage. It's best to do it with your head tilted down, gently kneading your hair with your fingers, which allows to add volume and emphasize the curl. What's more, a blow-dryer with a diffuser will be useful, but remember to use only the cool settings. What to do to prevent curly hair from becoming frizzy? Before drying, it is worth massaging a bit of moisturizing, heat protective oil into your hair.
The most recommended cosmetics for curly hair:
Curly hair shampoo should be gentle. It would be best if the product was based on plant extracts and does not include any strong detergents (SLS, SLES). A baby shampoo can be your go-to product for a day-to-day use. Once every two weeks, you can use a stronger cosmetic to cleanse the scalp of any product-buildup and sebum.
Curly hair conditioner should make brushing easier, smooth out and moisturise thoroughly. The best products include emollients that provide protection against dehydration and do not overburden the strands at the same time. Such a cosmetic should also increase shine and improve softness due to the moisturising and nourishing composition.
Curly hair styling cream or a mousse will help you tame unruly strands, increase shine and set the hairdo. If you have been wondering how to intensify the curls, feel free to choose something from the wide range of curly hair styling products. However, it is worth remembering that their overuse may contribute to hair weakening and development of dandruff.
This is important! All curly hair cosmetics can be effectively replaced with natural oils that nourish deeply, moisturize thoroughly, protect and facilitate styling. They are more the beneficial substitutes for masks, creams and hair balms. However, you must learn which hair oil is best for curly hair. The right choice is a guarantee of success.
Curly hair oiling
A lot of information about how hair oiling affects the condition of hair can be read in many other entries on this blog. Natural hair oils are an endless source of valuable vitamins, minerals and fatty acids. Especially the latter are extremely essential for curly hair because they strengthen the external structures and the natural hydro-lipid layer. Thanks to this feature, curly hair oiling provides the appropriate level of hydration, softness, shine, elasticity and protection against harmful factors. The key to success is to choose the right oil.
What kind of oil will be most beneficial for curly hair? The most recommended ones are those rich in polyunsaturated fatty acids from omega-3 and omega-6 group. Curly hair has a high porosity and should be treated with oils that have large particles. Thus, when deciding on oils for curly hair, it is worth taking into account the following ones:
avocado oil,
sweet almond oil,
cottonseed oil,
argan oil,
evening primrose oil.
However, you should keep in mind that curls will certainly not like coconut oil, which can increase frizziness. It is also better to avoid castor oil, which is too thick for such a hair structure. If you have a problem with the choice of a natural oil and still do not know what oil will work in your case, you can reach for a ready-made solution such as: Nanoil for high porosity hair. It is a product with a comprehensive action, which contains both ideal oils for curly hair, as well as valuable additional components, including vitamins and proteins.