Do you feel like your hair is just one step away from damage?
It is due to its... sensitization. As long as sensitivity is welcome in the world of art and emotions, sensitive hair is not desired... Sensitized hair means faster and stronger hair damage.
There are 5 levels of sensitized hair depending on how deeply the hair structures are damaged. Check the damage and the level of sensitization of your own hair and learn to care for it so your hairdo never triggers any problems again.
What is sensitized hair?
We've already mentioned that sensitized hair is, in other words, the hair having low resistance. What does it actually mean? It turns out that sensitized hair is on a highway to damage. It's not necessarily ruined but the risk of damage is very high.
Hair devastation is faster and easier.
Simply put, sensitized hair is easier to damage than all other hair types. Another problem is that such hair is both easily damaged and hard to fix. Extremely sensitized hair doesn't equal damaged hair yet its condition gets poorer due to various factors which are gentle and safe for healthy hair. That is why sensitized hair may end up ruined after just one coloring procedure, a single flat iron use, heat rollers or bleaching. Strong sunlight, high temperatures or wrong products do lots of harm as well.
Why does hair become sensitized?
There isn't one clear answer. Genes and wrong hair care are mentioned as the major causes. Treating hair harshly on a daily basis gives it a hard time too (tugging while detangling, harsh towel-drying, wearing a tight ponytail or bun, etc.).
You should remember that sensitization is more likely to affect women who regularly have hair colored, use heat-styling, which leads to dryness, hair breakage, falling out and splitting.
How do you know your hair is sensitized?
it is dull and coarse
it is very dry, in extreme cases - stiff
it is extremely prone to all kinds of physical damage, including chemical processing and heat-styling
5 levels of sensitized hair
LEVEL 1 SENSITIZED HAIR - healthy, quite smooth, no worrying signals, highly resistant to damage
Silky smooth shiny hair which has a sufficient level of moisture. The scalp is clean and healthy, not threatened by excessive oil production/ hair isn't oily, weighed down or flat. It has medium porosity which leans towards low porosity.
LEVEL 2 SENSITIZED HAIR - healthy hair lengths, troublesome scalp, hair is practically resistant to damage
Strong, smooth, quite thick and shiny hair yet the scalp produces too much oil; greasy roots, leading to easily weighed-down low porosity hair.
LEVEL 3 SENSITIZED HAIR - quite healthy, prone to damaged split hair ends or lengths
Generally, hair roots are healthy yet slightly coarse, often static. The hair ends after winter or summer tend to look unhealthily/extremely dry, sometimes a bit frizzy or dull. This hair type has medium porosity.
LEVEL 4 SENSITIZED HAIR - tends to have damaged lengths and (extremely) damaged hair ends
The hair is dull-looking, lacks volume, gets frizzy, has a faded shade, there's a lot damage in the structure of hair ends. Easily loses moisture. This hair type has medium porosity which tends to increase.
LEVEL 5 SENSITIZED HAIR - extremely prone to damage (hair is likely to be damaged throughout its length)
Non-stop dull shade, hair breakage and brittleness, split ends, stiffness, curl-resistance. Totally deprived of water inside, hair fails to absorb nutrients. It is high porosity hair.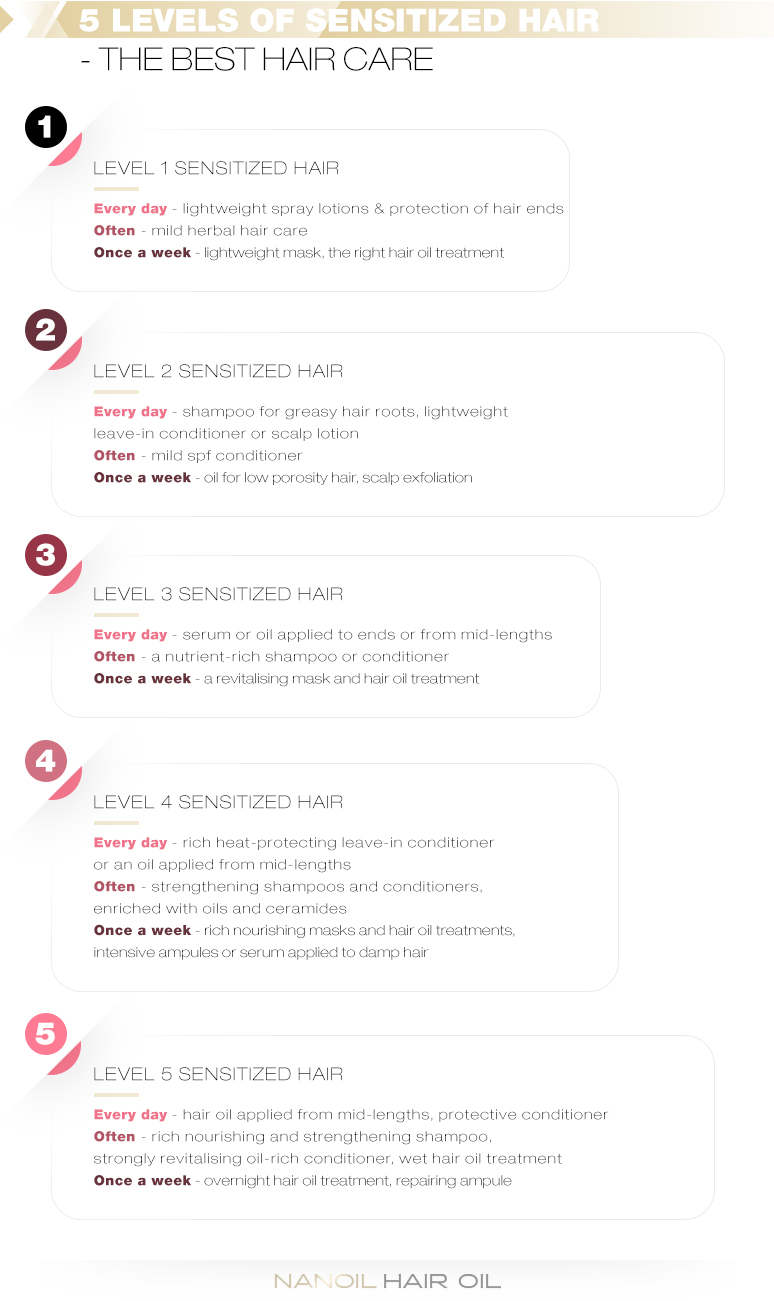 HOW TO REBUILD & CARE FOR SENSITIZED HAIR?
LEVEL 1 SENSITIZED HAIR
EVERY DAY - protect the hair ends (get an oil or a specially-designed serum), use spray conditioners protecting from UV radiation in summer.
OFTEN - adapt the hair washing routine to the state of your hair, wash it as often as necessary, use mild herbal shampoos which are non-comedogenic for the scalp and give a decent cleansing effect. Additionally, reach for hair-nourishing balms which enhance hair condition and prevent damage.
ONCE A WEEK - extra care for level 1 sensitized hair involves e.g. a lightweight vitamin-rich hair mask or (mostly in winter) a good hair oil treatment. You don't need to leave the oil in for the night - apply it and rinse after 30 minutes and wash the hair well. Try out Nanoil for medium porosity hair in your hair care regimen.
LEVEL 2 SENSITIZED HAIR
EVERYDAY - wash your hair even every day if necessary. Get a shampoo for oily hair roots which ensures precise scalp cleansing and hair-fiber conditioning, not leaving hair dry. For an every-day nutrient portion, reach for weightless herbal waters and scalp conditioners - rubbed into the scalp, they let you control the overproduction of oil. Search for the ones containing nettle, horsetail, burdock, pine or sage extracts. Juniper brings similar scalp benefits.
OFTEN - if your hair is very thick, you don't need every-day use of conditioners. With every other washing routine (or less often), enhance it using a light conditioner delivering vitamins and minerals. Choose balms which don't leave the hair overloaded but have a lightweight consistency, UV filter and panthenol which reinforces hair.
ONCE A WEEK - your hair needs oil treatments too. The secret lies in the right choice of natural oils - the ones that don't weigh down but lift the roots, increase volume and shine and additionally - keep the scalp clean. Nanoil for low porosity hair is cut out for that. Once in two weeks, reach for a scalp scrub to make sure the skin is free of toxins and sebum excess.
LEVEL 3 SENSITIZED HAIR
EVERY DAY - go for a serum or a conditioning oil protecting hair ends from damage. If your hair tends to get dry from the mid-lengths - apply the oil to this very part which is likely to be damaged. If your hair is thinner, use an oil-based spray conditioner which is lighter and doesn't weigh down.
OFTEN - apply more intensive conditioning product: after every hair wash routine with a strengthening shampoo (abounding in conditioning substances, vitamins, minerals, oils, lanolin), use a proper conditioner which doesn't just protect against damage but also enhances its condition: preventing extreme dryness, frizz and giving a silky smooth finish. If you use a blow-dryer, don't forget to rub in a specially-designed heat protecting serum which shields against damage and the loss of water.
ONCE A WEEK - reach for a revitalising, moisturising mask. Check if it abounds in ceramides and enhancing plant extracts (e.g. hydrolyzed proteins of wheat and oats). You can also apply the hair mask after hair oil treatment (choose oils for medium porosity hair) - it will emulsify the oil and work as an extra support preventing hair damage.
LEVEL 4 SENSITIZED HAIR
EVERY DAY - protect your hair from damage - all kinds of physical damage, heat and UV radiation. Apply a specially-designed serum, oil or leave-in conditioner. Make sure the product contains ceramides and has a heat-protecting effect to save your hairdo from heat as well as tame flyaways and keep frizzy humidity hair away.
OFTEN - wash the hair using a strengthening and moisturising product which, at the same time, alleviates the scalp. After a hair wash, apply products for weak hair, e.g. the ones containing ceramides, keratin and natural oils. You can add natural oils to a favorite conditioner or mask.
ONCE, TWICE A WEEK - use products rich in nourishing and regenerating ingredients. You can apply a hair mask also after rinsing the oil treatment (choose oils for medium porosity hair or - if hair's more damaged - Nanoil for high porosity hair). The mask is going to emulsify the oil so it is easier to remove and you can additionally provide hair with enhancement and stronger protection against damage.
Also, try to abstain from blow-drying at least once a week. Let hair air-dry and rub a gentle protective serum or oil in hair tips.
LEVEL 5 SENSITIZED HAIR
EVERY DAY - use a hair oil. Rub it in both hair ends and throughout the length. This way, you shield strands from damage, lock water in, add softness and shine. This hair type requires significant enhancement and oils which have the ability to revitalize and strengthen. During the day, rub in a heat protecting conditioner or an oil-based spray as often as you need.
OFTEN - apart from repairing shampoos, use conditioners featuring lots of substances which reinforce the reconstruction of hair fiber (ceramides, lipids, vitamins E and A, oil blends). You can add a few drops of chosen natural oils to your conditioner (go for oils for highly-porous hair). Try to avoid a blow-dryer or use a cool airflow. Avoid flat irons and regularly apply hair oil treatments - if hair is really damaged, feel free to oil it even every day. Always remember to rinse the oil thoroughly and wash the hair. An ideal remedy for level 5 strongly sensitized hair is Nanoil for high porosity hair.
Take preventive steps: protect hair after every wash - when hair's still damp, apply a special serum or leave-in conditioner containing nutrients such as oils or plant analoges of silicones, leaving hair smooth and soft.
ONCE A WEEK - get tempted to try an overnight hair oil treatment - leave a chosen oil in hair for the entire night rinsing it in the morning. Before rinsing, you can apply a mask for deeper hair repair. Also, reach for hair and scalp ampules - don't irritate the skin using harsh styling products.
AVOID - next to proper care, level 5 sensitized hair needs the right protection so avoid all things that are potentially destructive: don't tug or rub it, cut down on chemical processing, avoid heat styling, abstain from straightening with a flat iron, try to spend little time exposed the sunlight and shield hair from UV radiation. Oils contain natural UV filter which enhances level 5 sensitized hair.
SENSITIZED HAIR VS OIL TREATMENT
In the case of level 4 and 5 sensitized hair, applying oil treatments is a must. This kind of therapy gives best results as a repairing ritual for damaged hair. Reach for natural oils if your hair is highly porous or choose suitable set of substances which can strongly repair the hair and prevent damage. The choice of the right application of oil treatment matters a lot too.
Dry hair oil treatment - apply an oil throughout hair gently massaging it in. Make sure the oil coats your hair instead of dripping. Leave it in for around 30 minutes, rinse and wash the hair. It is a slightly milder therapy.
Wet hair oil treatment - the procedure is almost the same but you need to dampen your hair or wash it first to get rid of dirt, sebum and product buildup. Wet hair absorbs oils more easily and deeply so try to do this type of oil treatment at least once a week.
Thanks to the wet hair oil treatment, your hair gets a moisture boost and goes through repair.