Have you ever heard that baby wipes or a headband can give better results than the latest state-of-the-art curling wand? Depending on the effect you look for, there are lots of things you can use. Check the best ways to get damage-free heatless curls!
Hairdressers warn us that the heat-styling overuse does a lot of harm. Flat irons, curling wands, hot rollers give quick, long-lasting and gorgeous effects but you get hair damage in exchange... The level of moisture drops, hair becomes sensitized, coarse, dry and brittle.
Does it mean that we must give up on fabulous curls? Not at all!
No-heat curls are the solution. This means getting curly or wavy hair without the use of heat (curlers or straighteners) thus without hair damage. There are lots of natural ways to get the curl and here are the most popular ones.
FLEXIBLE CURLING RODS
Our grandmas loved curling rods. The easiest and the most popular way to curl hair without a curling wand. Lots of us might have curling rods lying somewhere in the bottom drawer. It is time to get back to the old-fashioned way as the effects may turn out to be positively surprising. What should you know about curling rods?
A curling rod is a long tube with thin tiny wire inside. There are two major types:
foam curling rods, soft and lightweight, available in various sizes
neoprene curling rods, resistant to hairstyling products, used e.g. for permanent wave
The main benefit of curling rods is their easy use and being gentle for hair. Wrapping a hair section around the rod isn't at all difficult; then, you simply tie the ends of the rod. The huge plus is the rods being soft and comfy to sleep.
How to use curling rods?
In the evening, wash hair or dampen it using a flower water or thermal water.
Divide the hair into sections and wrap them around the rods.
Tie the ends of the rods to hold them in place.
In the morning, gently take off the rods.
Run your fingers through the hair or use a wide-tooth comb.
Remember! The size of the rods (their diameter) determines the width of your curls and the hair volume. Thin rods and small hair sections mean tight curls.
TYPES OF CURLING ROLLERS
Another popular way to get heatless curls is using regular rollers. It is not as comfy as the softy rods but you get a wider range of possibilities. Use them to magic out classic regular curls on long hair or lift the roots of short hair.
You can choose between these types of hair rollers:
Self-grip rollers - big or small (3-6-inch wide), made from artificial material and hook and loop fastener so you need no other accessories or pins to secure the roller. Lightweight accessories which give a nice root lift but you can pull out a few hairs while taking them off.
Cone-shaped rollers resemble counters; you wrap the hair starting at the thinner end of the cone and finishing at the widest hook-and-loop end. They come with pins which additionally secure the hair and hold it in place.
Plastic hair rollers of various sizes, used like self-grip rollers but instead of hook-and-loop, you get a snap cover which makes the roller stay in place.
Perm rods are generally made from wood or plastic. Specially designed for permanent wave or Afro curls. Used on wet or damp hair, rolled tight near the scalp.
Spiral rollers - the least popular, probably because of quite challenging use. Every spiral roller has a hook to make the roller cling to the scalp and a plastic tip. The spiral rollers let you create natural-looking tight curls.
OTHER HAIR CURLING ACCESSORIES
While discussing self-grip rollers and other tools, let's take a look at some new arrivals such as curl formers. They are known as magic leverag and magic rollers.
The spirals are made from soft elastic material. Hair sections are sucked in a roller to give them the desired curl. It is hard to classify them as rollers because you use them differently. Curl formers are available with hooks to pull hair through, which makes them easy to use.
Obviously, magic leverag curlers have a variety of lengths so you can choose the right one for your hair length. They are extremely easy to use, let you sleep comfily, neither tug nor tangle the hair.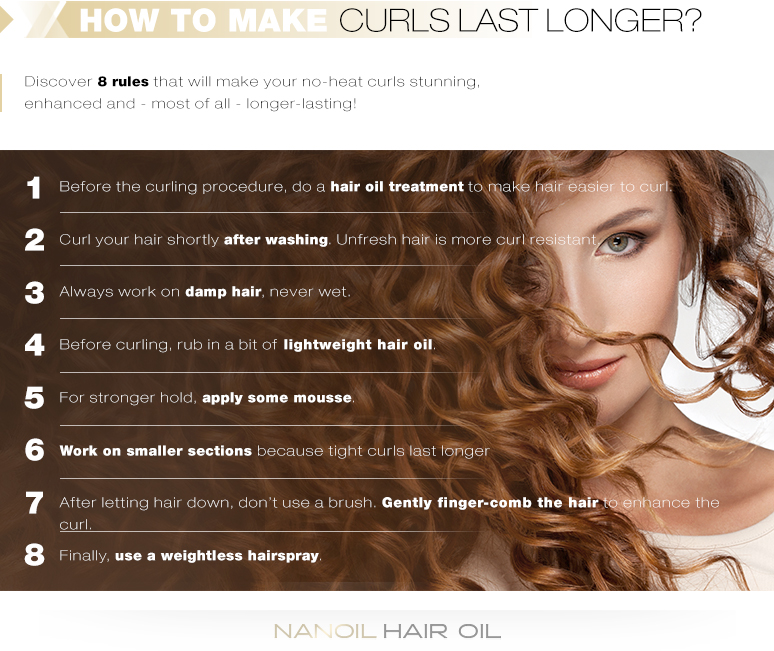 BRAID WAVES (CRIMPED HAIR EFFECT)
When it comes to home ways to curl hair, overnight braid wavy hair enjoys huge popularity. I guess it's really loved by little girls whose mums braid their long hair into comfortable braids in the evening.
How to get wavy hair with braids?
Nothing easier! Wash your hair in the evening and let it dry - it must be damp, not wet. You can also dampen it using thermal water or a pro curl-enhancing spray. Next, you need to make English braid (two braids will be even better) and go to sleep. After unbraiding, the crimped-look, natural, beautiful waves will show up!
NATURAL CURLS WITH BUNS
Did you know that beautiful hair bun may turn out to be an excellent zero-heat way to get natural waves or curls? Obviously, the effect is different from the braid curls but it is surely worth trying out.
Which type of bun is the best for curling? A neat English or French bun won't do the trick. On the other hand, a messy bun or double buns will definitely work. Twisting mini buns is the easiest way to get amazing waves.
Curling hair with buns gives various effects:
lots of small mini buns give tight curls
tight buns equal better curl definition
BOBBY PINS HEATLESS CURLS
What do curl-seeking women do when they haven't got a curling wand on them? They reach for bobby pins which is another brilliant no-heat curling method. Contrary to other techniques, this one doesn't work for the nighttime. Your bobby pins may irritate the skin which is neither comfy nor safe. That's why bobby pins for curls make a good choice 2 hours before a party while you get ready.
How to curl hair using bobby pins?
Wash your hair, dampen with water or apply a mousse, comb out well.
Divide hair into 3 sections to easily pick thinner strands.
Starting at hair roots, take a thin strand and wrap it around your finger and create a kind of a loop.
Secure the loop with a bobby pin.
Repeat with the other strands.
Once all hair strands are secured with bobby pins, let the hair dry naturally or use a cool blow-dry.
After untwisting the hair, run your fingers through the hair, forget the brush.
HEADBAND CURLS
Curls with a headband? They are romantic and look gorgeous. The best thing about the method is being able to get a stunning side-swept bang.
For curling the hair, you obviously need a soft headband - the wider the band, the bigger the curls. You can also get yourself The Aurora Band Night Roller.
How to create headband curls step by step?
Wash or dampen your hair; then, precisely comb out.
Stretch the headband around your head.
Take a section of hair and wrap it around the band and repeat until the entire section is wrapped.
Repeat with the next sections.
Go to sleep or wait until hair dries.
After unwrapping, comb out the hair and use a strong-hold product to avoid frizz.
HEAD SCARF CURLS
For making no-heat curls you can also use a head scarf or an ordinary scarf. You can create curls or waves from the mid-lengths. The effect is lovely and all you need is three scarves.
Scarf curls step by step:
As always, wash or dampen the hair, comb out.
Divide hair into three equal sections (left, right, back).
Knot the scarf around every section - exactly where you want your curls to begin (ear level or lower).
Take one section and divide into halves; braid the strands around the scarf.
Secure the ends with an elastic.
Do the same with the other hair sections left.
Go to sleep or wait until hair dries.
After taking the scarves off, run fingers through the hair.
ROMANTIC BABY WIPES CURLS
Using wet wipes is another game-changing idea for no-heat curls. Even though it sounds weird, the method is truly worth testing. The effect depends on the size of the hair sections. Smaller sections mean more volume and tight curls.
The method is extremely easy! All you need to do is divide hair into a few sections and then wrap them on rolled baby wipes.To secure them, tie the ends of the wipes together or use bobby pins. Such a way to get no-heat curls definitely belongs to the easiest ones.
What are the benefits of baby wipes curls?
It is a natural damage-free curling technique.
Substances included in wipes have a hair conditioning effect.
It's good to use overnight (comfy).
It gives possibilities to adapt the effect, the size and volume of curls to your expectations.
WHAT ELSE CAN YOU USE TO GET NO-HEAT CURLS?
Actually, lots of things you use daily can work like hair rollers. Get your damage-free curls wrapping hair on:
pieces of an old cotton T-shirt
paper towel strips
pencils, crayons, pens (not comfy to wear but give the effect)
socks or stockings
long strips cut out of newspapers
Your creativity is actually the only limitation!
AFRO-CURLS WITH STRAWS
Most of home ways give the effect of thin or thick waves and romantic curls. What if you feel like really tight Afro curls? You don't need harsh permanent wave products or heat-styling.
You can get the afro curls with... regular drink straws. Make use of milk shake straws lying somewhere on the bottom of the drawer and get gorgeous tight curls.
How to curl your hair using straws?
A piece of cake! Firstly, the standard - dampen your hair. Make sure the hair is slightly damp because hair wrapped on straws will take hours to dry. The second step involves picking really thin sections and tightly wrapping them around the straws throughout the length of the straws; bend the ends of the straws and tie them together. It's best if you can go to sleep wearing them but to be honest an hour or two should be enough to get a nice curl.
The time-consuming procedure gives gorgeous Afro-curls. Obviously, the effect slightly depends on the size of the hair strands you wrap on the straws and whether you have curly hair (or easy to curl). If you try harder, you're going to get a head full of charming coils.