You need a hair mask but you have no time for shopping? The solution lies there in your kitchen. It is a real beauty laboratory, did you know that? Using honey, egg yolk or Aloe, you are able to magic out an extremely effective, nutrient-rich, hair-repairing treatment. What are homemade hair masks? Are they better than drugstore products? How to prepare a good DIY hair mask making use of the food ingredients?
What are the natural hair masks and are they the best?
Natural hair masks are free from synthetics but they are jam-packed with natural active substances which revitalize hair. Homemade masks are all-natural whereas the ready-made products contain alcohols, stabilizers and emulsifiers which slightly extend the durability of cosmetics. You can usually store ready-made masks for around three months since opening. Too bad, they're usually unsuitable for scalp use.
DIY masks have a much shorter shelf life - you should use them up right away. Next time, simply reach for fresh ingredients from your kitchen and make a new mask. Homemade hair masks brings both hair and scalp benefits. Since they can be applied to scalp, the effect is intensified.
Hair masks - homemade or professional (drugstore)?
DIY mask is much different. Most of all, you are the one who controls the process of production so you know exactly what ingredients and quality it features.
Secondly, a home hair mask can be ideally adapted to the type and condition of hair. You don't risk a situation of buying a big jar of mask which turns out to fail on your hair type, and just gathers dust on your bathroom shelves. The great thing is you can make a different mask every time, choosing various ingredients and checking which ones work best on your hair. An egg mask or the one containing baker's yeast? There are no limits.
Another difference focuses on safety - homemade masks are safe and all natural. Store masks often contain parabens, silicones and - common in cosmetics - short-chain alcohols which dehydrate hair and cause scalp irritations. If you're not skilled in reading and analyzing INCI - a DIY mask makes a better choice because you are aware of the substances in your hair treatment, the safety and naturalness of ingredients.
THE BEST INGREDIENTS FOR HOMEMADE HAIR MASKS - WHAT TO CHOOSE?
YEAST - the source of biotin, vitamins B, zinc, selenium, copper, potassium, calcium, chromide and phosphorus. It strengthens hair, makes bulbs firmly rooted in follicles, prevents hair loss, speeds up hair growth.
EGG - egg yolk brilliantly improves the condition of hair as it contains lecithin, strengthens and moisturises hair. On the other hand, egg white blocks hair breakage and boosts volume. Moreover, the yolk is a natural emulsifier which binds the ingredients of the mask, as well as it abounds in sulphate which is found in keratin - the natural building block of hair.
OILS - make up the source of hair-enhancing fatty acids, phytosterols and flavonoids, excellently improve the state of hair, nourish the bulbs, prevent hair from falling out, accelerate hair growth. The most valuable oils in masks include coconut oil, castor oil, argan oil and olive oil but there are no fixed rules: you can freely mix various oils and check which ones make the best ingredients in hair masks. Hair oil treatment is like a mask for many people. They like to use a well-composed blend of oils which - similarly to a mask - is rinsed out after longer time.
AVOCADO - contains over 20 vitamins and minerals, including vitamins A, K, C, B1, B2, B3, B5, B6, E and potassium, folic acid, magnesium, copper, iron, zinc and phosphorus. Avocado is an incredible nourishing hair therapy which strengthens, holds back hair loss, cures breakage and adds density. What's more, a cold-pressed avocado oil keeps all properties of the fruit.
ALOE VERA - a humectant which moisturises, attracts water and locks it in hair. Aloe smoothes hair and closes cuticle scales, eases combing, strengthens damaged hair and adds amazing gloss, as well as prevents static. Moreover, it enhances anti-dandruff treatments. It is a source of polysaccharides, vitamins A, B, C, carotens, and minerals (chromium, magnesium, manganese, calcium, sodium, iron, copper, phosphorus, zinc).
LINSEEDS - contain lots of vitamins (A, B1, B2, B3, B6, C, D, E, K), proteins, fiber, minerals such as iron, magnesium, calcium and zinc. Thanks to being packed with nutrients, linseeds ensure maximal hair enhancement, moisture, volume and shine. Hair grows more quickly and gets a natural gloss, the color doesn't fade.
HONEY - a strong antioxidant which reinforces and regenerates damaged hair. It triggers hair growth, reduces breakage, prevents scalp infections, has an antiseptic effect, fixes color-treated, over-processed and very dry hair.
HYALURONIC ACID - a key ingredient in skin and hair care. It moisturises and binds water molecules so it protects against damage and dehydration. Hyaluronic acid is a natural ingredient in all tissues in human body. Ideal for dry hair, shields it from ruin. Added to store products, the acid reduces the dehydrating effect of detergents.
BANANA - the source of vitamins A, B, C, and lots of vitamin E which repairs hair, stimulate follicles and keeps scalp healthy. Bananas contain quite a lot of minerals - zinc, iron, calcium and potassium - which fight dryness and hair loss. They are strong antioxidants and effectively regenerate damaged strands.
LIQUID PARAFFIN - it instantly boosts the appearance of hair, adding smoothness and shine, making hair manageable. It leaves a microscopic layer which builds up on hair and slightly thicken hair structure, boosts volume and reduces tangling. Liquid paraffin prevents static flyaways, too. Regrettably, it may weigh down your hair and irritate the scalp.
GELATIN - game-changing natural laminate which increases shine, smoothes hair and immediately makes it look better. Gelatin is a source of protein collagen - essential for strong hair bulbs, reducing breakage and blocking hair loss.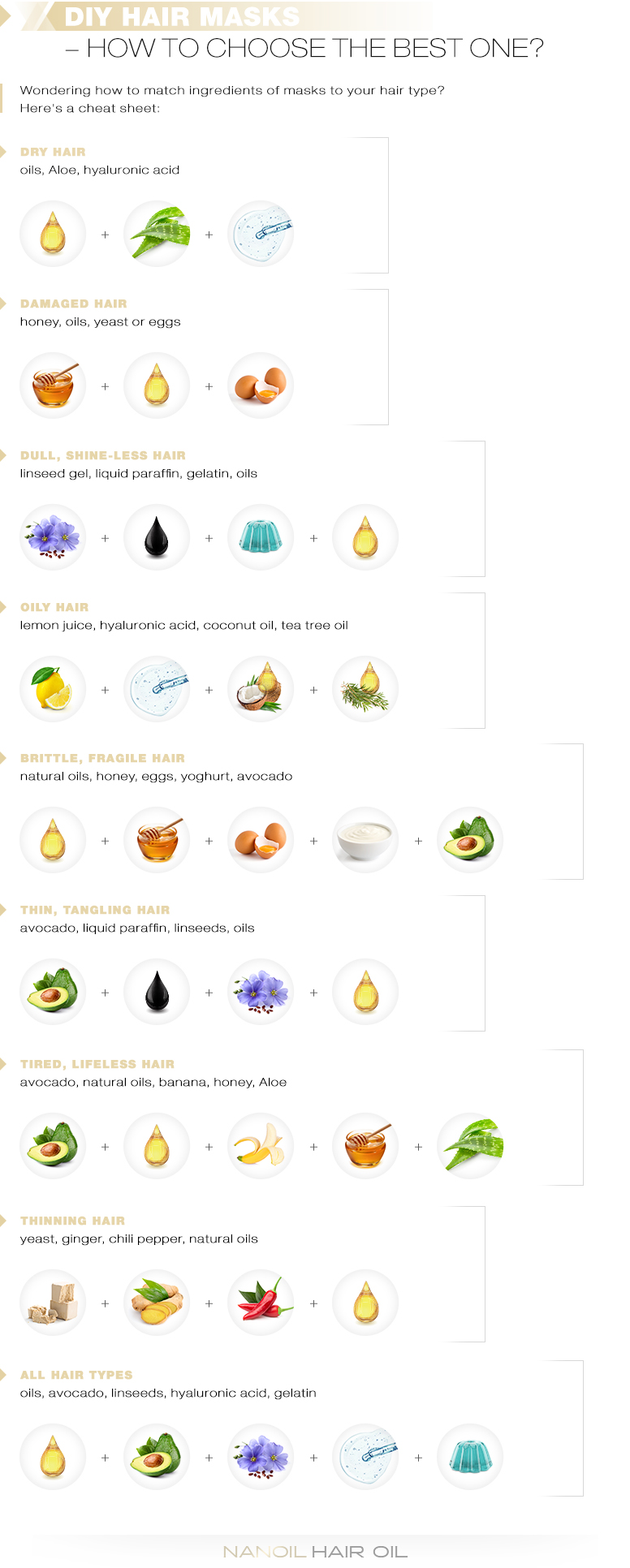 DIY - THE BEST HOMEMADE HAIR MASKS
Homemade baker's yeast-based hair mask
half pack of baker's yeast
1 spoon of plain yoghurt or warm milk
1 teaspoon of natural honey
Precisely mix all ingredients until getting a smooth butter-like mixture. Work the mask through your hair, not forgetting about the scalp. Apply it either to dry or damp hair, it's up to you. Gently massage your scalp to stimulate blood flow - it is relaxing and makes nutrients penetrate more quickly. Finally, put on a towel or shower cap and leave the product in for around an hour. To finish off, wash your hair.
Homemade oil-based hair mask
It's simply a world-known hair oil treatment. While applying oils to hair and scalp, remember that they must go with your hair type, or porosity. You can mix natural oils by yourself or go for a professional ready-made blend of oils e.g. one of the three versions of Nanoil Hair Oil.
Homemade egg-based hair mask
Mix egg white and yolk (1 or 2 eggs, longer hair needs more product) to get a smooth pulp. Apply it to the hair and scalp, leaving it in for around 20-30 minutes. Next, rinse it out thoroughly using cold water and shampoo your hair. Last but not least, feel free to apply a favorite hair conditioner or use a homemade hair rinse.
You can mix an egg mask with other natural ingredients for intensified effect e.g. with a natural oil, flaxseed gel, plain yoghurt or Aloe. Combine them using the right proportions not to make it too runny.
Homemade honey-based hair mask
1 spoon of honey
50 ml of lemon juice
Mix the ingredients and apply them to hair (if it hasn't covered all hair, mix honey with lemon juice again in the same amounts). Apply the treatment to damp hair and scalp - this DIY mask effectively acidifies the scalp and keeps pH balance so hair is no longer oily whereas the skin keeps clean and fresh. Wash the mask off after around 15-20 minutes.
Enrich your honey mask adding other products e.g. smashed banana or olive oil (heat the oil up to around 40 Celsius degrees) and hyaluronic acid which boosts moisture level.
Homemade avocado-based hair mask
Avocado treatment is a game-changing hair-nourishing therapy which additionally upgrades shine and makes hair silky smooth. Prepare:
a medium-sized avocado
2-3 spoons of olive oil
a spoon of lemon juice
(optionally) 1-2 spoons of castor oil
Mix the ingredients: smash an avocado with a fork or mix it in a blender for a smooth pulp. Apply the mask to hair and scalp, rinse it out after 20-30 minutes and use a mild shampoo.
Homemade Aloe-based hair mask
2 spoons of Aloe juice or gel
2 spoons of coconut oil
2 spoons of honey (optionally)
Mix all ingredients (coconut oil is quite solid so heat it up a bit so it gets more fluid). Leave the mask in hair for around 30 minutes and then rinse it out and thoroughly wash your hair.
Homemade linseed-based (linseed gel) hair mask
Linseed gel is the easiest to make DIY hair mask. Pour some warm water over 4 spoons of linseeds. The longer the hair, the more gel and seeds you need to evenly cover hair and scalp. Put the mixture aside for the night. When you wake up, your linseed gel is ready to use. Drain the seeds (feel free to use them for skin exfoliation) and apply the gel to hair lengths and scalp. The linseed mask works a little bit like hair lamination treatment. You can upgrade the effect by mixing the gel with honey, a cold-pressed oil, hyaluronic acid or lemon juice.
Homemade hair masks - what else can you add to enrich them even more?
There are plenty of recipes for DIY hair masks and treatments. Everything depends on the invention and imagination of the person making them. Many people enrich their hair masks with essential oils, plant hydrosols, herbal infusions, natural clays or liquid vitamins. However, if you're a hair mask beginner, start with using just a few ingredients to know if your hair likes a given treatment and easily rule out unfriendly substances.