There's more to hair care routine than washing, brushing and heat-styling. Hair care means purposeful action aimed at nourishing, regenerating and reinforcing. If you dream of a fabulous hairdo full of vitality and life - treat it to a high-quality conditioning mask. How to choose it? A piece of cake after reading the post. Go for the high-end hair care and give your hair what's best.
Hair mask - what's that & what makes it different from a hair conditioner?
A hair mask is a product which repairs, nourishes and reinforces the strongest. It is a treatment which reaches slightly deeper hair structures, it doesn't work on hair surface only. A good hair mask gives scalp benefits, too. It has rich consistency and is jam-packed with suitable active substances. In order to work - you must leave the mask in hair longer than a conditioner. It often works as a pre-wash treatment, giving better results.
A mask transports nutrients inside hair, which is its main task. There are also masks which are rich in hair-enhancing, color-defining, shine-boosting and softening ingredients. In the case of hair masks, we speak of intensive, serious hair care and repair.
A hair conditioner stands in opposition to hair masks. It is supposed to work exclusively on external hair part. It excellently moisturises, smoothes and beautifies but it is a superficial effect which doesn't last long - nutrients are washed out of hair and vanish after next washing.
The conditioner is mostly focused on conditioning your hair but it also has one key feature: thanks to its occlusive layer, the nutrients of the mask can stay in deeper hair structures. Using a metaphor, the conditioner works like a blanket you put on your hair to keep the mask's ingredients inside. That is why you should apply it after rinsing the mask (and on the days when you don't use a mask).
Conditioners are mostly treated like cuticle-sealing, smoothing and conditioning shine boosters which help detangle and style hair, as well as protect from damage, toxins and pollution. Most conditioners are based on silicones and their consistency is quite runny. You leave a conditioner in for just a few minutes.
All in all, there are four things that make masks and conditioners different:
WAY OF WORKING
EFFECTIVENESS
USAGE
CHEMICAL COMPOSITION
Hair masks' types for various needs of hair
One ideal mask for all hair types doesn't exist. You must always choose the right one for your hair type and its needs. For example: color-treated dark hair needs a different mask than blonde shades. Curls, fine, thick, oily or dull - each type needs a different mask aimed at fulfilling its needs. How do we divide the masks?
masks for color-treated hair
Designed for hair which has been treated to intensive chemical processing. In the long run, each hair-coloring procedure harms hair - loss of moisture, getting dull-looking, color fading (the pigment washes off gradually). This type needs reinforcement, moisture boost, strong protection and repair. Masks for color-treated hair often abound in color-keeping and cuticle-closing active substances which leave an occlusive layer to prevent the color from fading quickly.
masks for dark, red & blonde hair
A separate category which - thanks to ingredients and effects - can be successfully dedicated to both color-treated and natural hair which needs enhancement and definition. Hair masks for various shades (dark brown, red or blonde) are packed with conditioning ingredients as well as plant extracts which enhance a particular color. A plant henna is a common ingredient in such masks - it makes the color longer-lasting and upgrades it. Other substances boosting the color of hair include camomile, hazelnut extract, castor oil, cinnamon sticks, rhubarb root.
masks for damaged hair
Over-processed, ruined hair needs an intensive therapy. It has high porosity which means open cuticles and poor condition. This type of hair is usually extremely dry, has split ends and damaged structure. A good hair mask is a must use in this case. It should include an array of active ingredients which are able to repair hair e.g. keratin, essential fatty acids, lots of vitamins, emollients and humectants which ensure proper hydration. Damaged hair masks are to strengthen hair; they are often rich in sprout extracts and hydrolyzed proteins.
masks for curls
A range of products containing curl-defining substances as well as ingredients which tame hair and hold back frizz which is a common problem of curls (especially if treated to regular chemical procedures, heat styling or wrong hair care routine). Masks for curls are quite lightweight, priming curls for styling without overloading them. They make also a good choice if your hair's straight but you sometimes feel like creating curls or soft waves. A curl-defining mask before styling routine surely makes the style last longer.
masks for weak, thinning hair
A group of masks which condition both hair and scalp - the only way to hold back thinning. Masks for hair which has poorer condition (e.g. due to seasonal changes or hair loss) are based on natural safe ingredients. They aim at nourishing and strengthening hair and bulbs. They mostly include essential fatty acids, vitamins and amino acids, make processes taking place in hair bulbs run more effectively, leaving hair firmly rooted in follicles. Longer use blocks hair loss (provided that it is not a hormonal problem or other issue which needs professional help and trichologist consultation).
hair growth masks
They stimulate sleeping hair bulbs to work whereas their active ingredients aim at accelerating cellular divisions in hair matrix. This type of masks works ideally for hair which is weak due to seasons changing, external aggressors or medication (antibiotic therapy). Among the ingredients, you will find natural substances known for their growth stimulating power e.g. yeast, birk juice, natural growth encouraging oils such as castor oil, cedar nut oil or pine oil.
masks for thin, fragile hair
Lightweight masks which gently coat thin, delicate hair creating an occlusive layer and improving hair structure, upgrading thickness at the same time. The effect isn't long-lasting - the product builds up on hair and you wash it off after some time. However, the fact remains that an effective mask for thin hair enhances its appearance, not weighing down strands.
masks for dull, life-less hair
These masks strongly nourish, amazingly glossify and don't overload hair. They work both on inner structures and external layer. Masks designed for dull hair abound in shine-increasing, smoothening and cuticle sealing ingredients. The most popular group of substances working this way includes natural oils, linseed extract and natural gloss-adding ingredients such as hop, apple cider and raspberry vinegar.
masks for oily, easily weighed-down hair
A special group of hair masks which should do something more than support hair stem - it should balance sebum secretion and effectively purify scalp to add volume to hair so that it doesn't get greasy. Masks for thick, heavy hair are mostly applied to scalp to accurately purify the roots of hair. Natural clays, e.g. green or white, nettle, burdock or sage extracts prevail among the ingredients. They absorb sebum excess, as well as contain an array of minerals which nourish skin and hair lengths, lifting the roots for longer lasting volume and freshness.
Hair masks - effects delivered by active substances
It is the easiest as well as the most important classification of various masks, shampoos and conditioners. In order to choose a great hair mask, always check which group mention above you belong to. Why? It turns out that your hair can be easily weighed down with a product, even if you pick the right one. Proteins are the most bothersome because they cause extreme dryness when used in excess - instead of softness and bounce you get stiff lifeless dull hair.
Emollient masks have a nourishing effect, help keep moisture, add incredible gloss, leave hair silky smooth and protect against loss of water and damage. Emollients are greasy and work for all hair types. Natural oils make up their richest source.
Humectant masks are typical moisturisers that work on dry, dehydrated hair yet used in humid environment they can trigger frizzy flyaways.
Protein masks regenerate and rebuild hair structure, replenish keratin, rescue brittle damaged hair. You must use them reasonably because the excess builds up on hair structure, making strands stiff.
In order to get brilliant results in your hair care routine - use masks which combine all three groups of ingredients so they contain oils, moisturising and regenerating substances. You can also use emollients, humectants and proteins by turns - devote some time to performing home hair oil treatment and applying a chosen mask during a week.
Effective hair masks - ingredients. What should they contain?
You must be wondering how certain ingredients work in hair masks and what to search for in order to get excellent effects. The key substances that are essential for your hair include: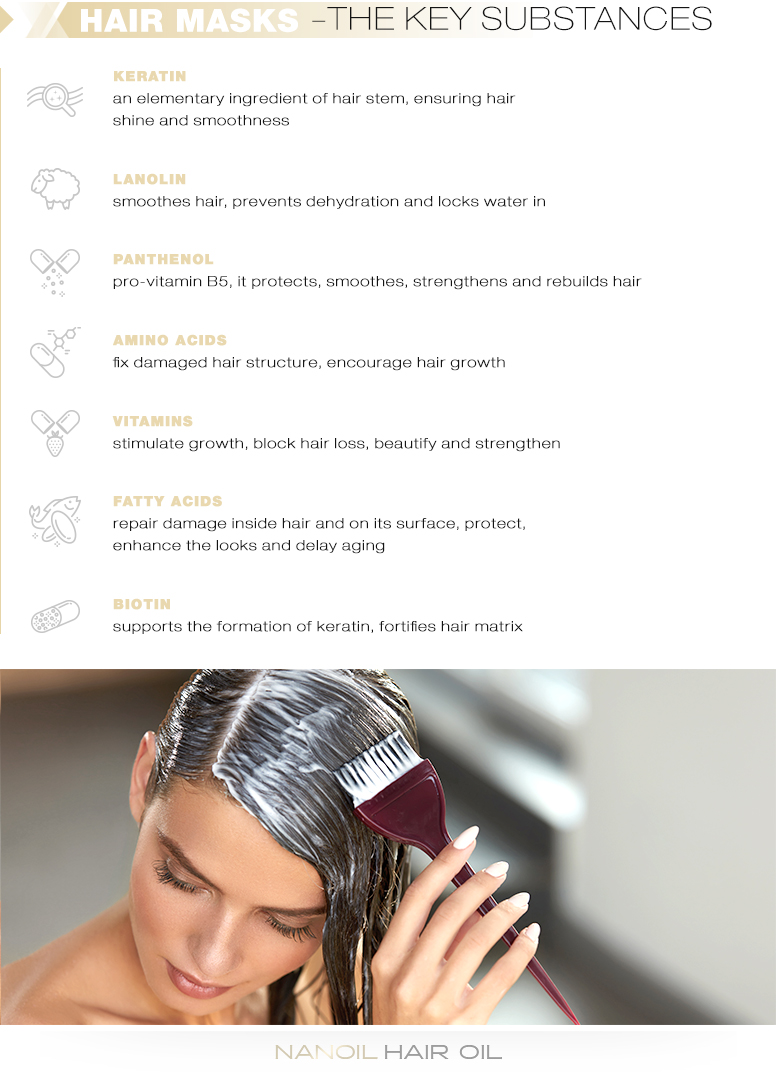 Plant extracts in hair masks
Masks often include plant extracts, especially those that are both for hair and scalp use. They are formulated without silicones which could cause scalp irritation. Plant extracts are precious as they belong to active substances which nourish, fix and repair hair, enhance the appearance and color. They make up a rich source of vitamins and minerals containing carotenes, phytosterols, amino acids, as well as stimulate hair bulbs and alleviate your scalp. What are the most popular plant ingredients? It depends on the region, country, continent. Asian hair care is different than European hair care, for instance. However , there is a group of plants that are commonly used worldwide.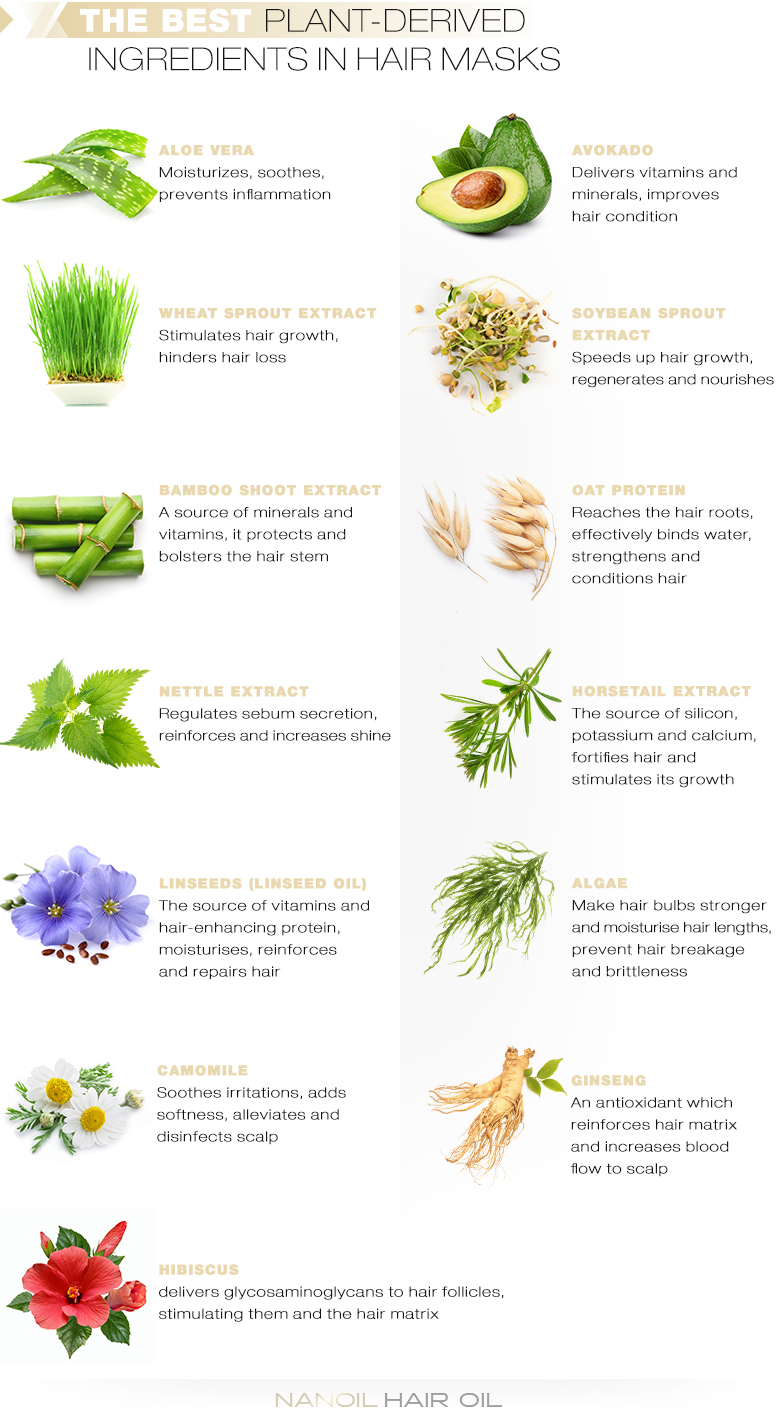 Natural oils in hair masks
Oils make up a separate and extremely crucial group which has a conditioning effect. Their presence in a mask hugely increases the product's effectiveness. Why? It turns out that natural oils contain a full set of the most important ingredients for your hair and scalp: they are the source of valuable vitamins, minerals, flavonoids and plant sterols, and some of them abound in carotenes and squalane as well. One oil is able to give your hair as many benefits as around fifteen separate plant ingredients.
Hair oil treatment - can oils replace hair masks?
Natural vegetable oils play a key role in hair care routine. If you hair mask is missing oils, use them separately and apply to your hair and scalp in form of a deeply-nourishing and regenerating oil mask. Such an oil treatment (done at least once a week) quickly and effectively repairs hair, blocks hair loss, accelerates growth, improves the looks and makes your hair voluminous. It's best to use a specially-composed blend of oils which agrees with your hair porosity. There's an example of an effective and perfectly-composed treatment - Nanoil hair oil which has been launched in three versions, matching three most common hair types.
How to make a hair mask work more intensively?
You can enhance the effect provided by each hair mask - no matter if it is a drugstore or DIY product. You can do it by adding a few drops of a natural hair oil. Oils are natural emollients so they prevent over-proteined hair, bolster inner structures, keep frizzy flyaways away, protect against damage and generally make hair look better, adding gloss and smoothness. Natural oils leave hair silky smooth and boost shine. If you apply your mask to scalp - the presence of oils lets you purify it, remove impurities and product buildup, reinforce hair bulbs and stimulate them to work. Moreover, oils keep hair from falling out and have an anti-aging effect.
How to use hair masks for best effects?
The right application is the key to success. You apply a mask after washing your hair using lukewarm water. Damp hair is more absorbent so it is going to let nutrients penetrate inside. Towel dry strands and evenly work the mask through hair. Leave it in for around 20 minutes (unless the manufacturer says otherwise). Masks containing natural ingredients are safe so feel free to extend the time: everything depends on the individual needs of your hairdo. If your hair is extremely ruined and damaged, you can leave it in for the whole night - enrich it with a few drops of natural oil. In the morning, wash your hair and style as usual. To get desired results from the mask treatment, use it once or twice a week.
The best hair masks - hair care maniacs and experts' opinions
The best mask for your hair? We all see eye to eye: no matter if you use a professional salon product or a homemade mask, it must go along with your hair type, its condition, appearance and needs. Many people expressing their opinions on the best mask believe that a product must be composed of natural oils. The lovers and supporters of hair oil treatments claim that the best way to reinforce hair is giving up on masks and exchanging them for a high-quality oil or a blend of oils.