Why people crazy about hair care are so big on home hair treatments? Because they are budget and super effective. The entire hair therapy takes place in a convenient spot - the privacy of your own home. You feel freely, you can listen to music, read... plus the hair care routine is directly aimed at the needs of YOUR hair - you are the one choosing products and giving hair exactly what it needs. Enhancing beauty is the comfiest at your house, nowhere else. Thanks to a sequence of intensive treatments, your hairdo has a chance of getting an instant beauty boost.
Hair SPA, slow beauty ritual, natural hair treatments, DIY hair SPA - there are lots of names and just one goal - maximum nourishment and noticeable improvement of the looks and condition of hair. As a result, your hair looks as if treated to an advanced salon therapy. The difference is you feel more freely and the treatment is inexpensive and relaxing. You can devote a whole day, e.g. Sunday, exclusively to hair care: leisurely, a little bit lazy, totally concentrated on hair. Hair junkies love to combine hair treatments with other beauty rituals e.g. face masks and scrubs, various nail SPA, feet nourishing baths, etc. What about hair? It undergoes a total makeover in just one day.
One day for your hair - what do you need for a successful makeover?
Free day - when you don't expect quests or go out, it's a slow, pleasant day and you can devote it all to yourself or your beloved ones (an oil or mask on your hair doesn't interfere with watching a good movie with family).
A friend - you can treat your hair to SPA together with your friend - all you need is a few ideas for spending time: favorite TV show, making a meal, etc. Your friend is surely going to make this day much more fun. It's also nice to test various treatments and products together. However, if you feel you need loneliness and isolation - make it an exclusively your day.
Comfy clothes - before applying oils to hair, rubbing chosen products in strands and scalp and rinsing hair - change for comfortable outfit; the one which may get greasy or damaged.
Suitable products - a hair SPA day has a really great benefit as you can use different products and substances that your hair is currently missing. The right products are the key to decent, effective hair care.
Plan of action - to make the most of all products, you must apply them following the right order. That's the only way to make the hair treatment purposeful and undisturbed. You're about to discover the best home hair therapy step by step.
Candles and essential oils - if you want to turn the home SPA into a professional ritual - make use of the power of aromatherapy to calm senses and fully relax. Light a burner and use your favorite fragrance oil.
Hair SPA day, benefits - what do you gain thanks to home treatments?
Relaxation and rest for your whole body - even though it repairs hair - it makes the whole body rest. That is why you can treat this home SPA day as a complete restart after the entire busy week. It is the slow life trend in its purest form.
A huge change for the better when it comes to how hair looks - the enhanced shine, texture, bounce are visible to the naked eye. 'Instantly beautiful hair' is one of the reasons for devoting an entire day to hair care treatments.
Clean scalp - why it matters so much? Using a comparison, your scalp is as important for your hair as soil for plants. If it is contaminated, it becomes fruitless. If you really care for the right growth of hair - keep your scalp clean, massage it, stimulate blood flow and maintain the moisture level on scalp.
Strengthened bulbs - a bulb is the so-called hair factory. In hair matrix, there are cellular divisions taking place; their propriety affects the growth, appearance, health and 'quality' of growing hair. More strength and nutrients in hair mean better-looking hair. By nourishing the inner structures, you trigger growth, speeding it up at the same time.
Hair repair and reconstruction - in other words, the improvement of hair porosity by filling in gaps on the hair surface and fixing disulfide bonds inside. Thanks to active substances, which are able to build into the hair structure, your hair gets thicker, gaining volume and bounce. You are going to easily spot the difference in the state of your hair - it is going to take longer to dry (thin, dehydrated hair dries instantly). Healthy hair keeps more nutrients and locks water inside.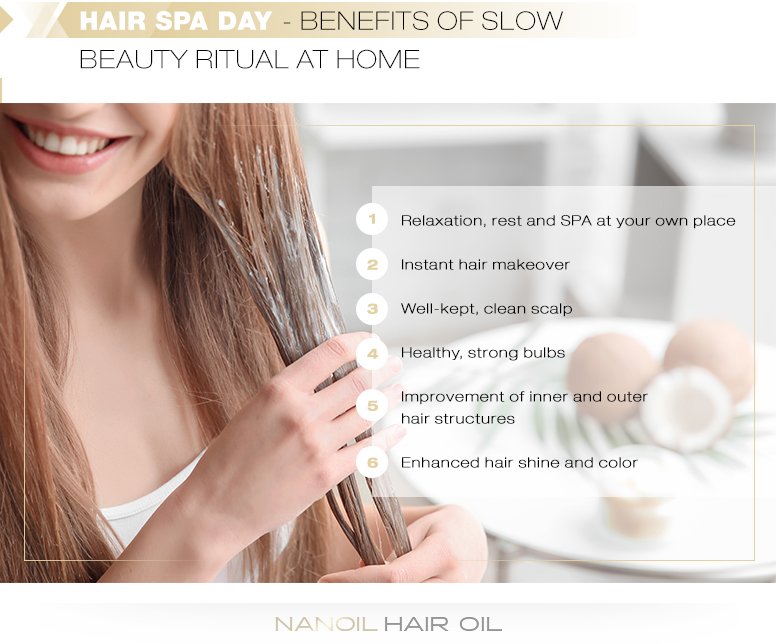 SPA day for your hair. How to prepare a home hair treatment?
Take a look at our detailed schedule which is going to turn your hairdo around in just one afternoon, giving back its fab looks as well as conditioning from the bulbs to the tips. Unravel 10 steps leading you towards the total hair makeover!
1. SCALP EXFOLIATION
Purifying your scalp is the trigger for success and reinforcement of every hair treatment. Still underrated yet recommended even by trichologists - scalp exfoliation lets you get rid of all toxins, product overload, impurities, sebum excess, dead cells and mostly it excellently primes hair and scalp for receiving active ingredients. The excess of dead cells and the build up of products (especially, styling primers or dry shampoos) cover up your scalp and hair roots with the layer which keeps active substances from penetrating bulbs and scalp.
You can get yourself a ready-made scalp scrub or do it yourself. Still, an enzyme scalp scrub gives most benefits - it is the most precise and doesn't require rubbing, which makes it the most sensitive to hair roots - it's the most crucial in thinning and fragile hair.
Apply the scrub to damp hair and scalp, massage it in for a while or - if it's an enzyme scrub - leave it in for the time indicated on the product's label and rinse out using lukewarm water. Now, feel free to wash your hair.
2. CLARIFYING SHAMPOO (first hair wash)
Not only does it wash away the residue of the scrub but also purifies your scalp and hair - this kind of shampoo has an important quality: it slightly raises hair cuticles in order to increase absorption and help them receive nutrients. In other words, a clarifying shampoo upgrades the absorption of hair which easily absorbs active ingredients.
3. HAIR OIL (TREATMENT)
Oils in hair care and the old ayurvedic art of oiling make up the basis for splendid hair care. Why? As the only substances, they are entirely composed of excellent ingredients and condition hair in a variety of ways: not only do they improve the external and internal part of stem but also stimulate bulbs and restore good shape of your scalp. It is the most complex hair care you can treat yourself to.
Oils contain good essential fatty acids, phytosterols, flavonoids, carotenes, squalane and a set of vitamins and micro nutrients which guarantee perfect hair care. They precisely match hair porosity which is the type (and needs) of hair.
On a day exclusively devoted to hair, do a full hot oil hair treatment: apply a slightly warm oil to damp hair and scalp, gently massage your scalp and cover hair with a warm compress to intensify the way the oil works.
WORTH REMEMBERING!
The hair oil treatment is in the centre of the scheme; other secondary treatments revolve around the oily routine. Both the mask, scalp conditioner or a scrub intensify the effectiveness of oils, complementing them with nutrients and making active ingredients of an oil work more intensively. The better the blend of oils, the more effective the entire SPA day for your hair is. To present your hairdo with what's best, reach for one of the three Nanoil hair oils - it is the most balanced mix of natural oils and boosting ingredients (UV filter, keratin, lanolin, silk, panthenol). All for giving hair the most valuable substances necessary for the repair and (re)growth.
4. NOURISHING-REGENERATING MASK TO EMULSIFY THE OIL
Enriched with vitamins, proteins, plant extracts (in order to deliver extra nutrients and emulsify the oil). Nothing is going to remove the oil as easily as a mask applied after the oil treatment. It performs two functions:
firstly - it effortlessly removes greasy oil from hair so you are sure that greasy particles are gone and there's no sign of them
secondly - it is an additional dose of nutrients for your hair. Which hair mask to choose? Preferably, the one which abounds in humectants (aloe, hyaluronic acid, urea, sorbitol, fructose) and proteins (milk, silk, wheat, oat or rice proteins, collagen, elastin, keratin). Masks containing keratin and amino acids (cysteine, cystine, taurine, tyrosine, arginine) work well, too.
WORTH REMEMBERING!
If you want the all-day hair SPA make sense and give results, dare to go for variety - use a protein mask (for enhanced repair) one day, go for humectants another time (they give a moisture boost to dry hair).
5. NOURISHING SHAMPOO (second hair wash)
Another hair wash to remove an oil and mask. The second wash lets you avoid weighing down your hair with nutrient-rich masks and conditioners. This time, the shampoo must be different - vitamin-rich, moisturising, infused with proteins e.g. oats or silk, natural which additionally cares for your scalp and maintains hydro-lipid balance on scalp.
6. VINEGAR OR HERBAL HAIR RINSE
A rinsing mixture complements the entire SPA day for your hair. It is like cherry on top - it boosts shine, adds smoothness, seals hair cuticles, keeps pH of scalp balanced, softens strands and makes them nice to touch, depuffing hair and preventing static flyaways at the same time.
Apple or raspberry vinegar is the most popular basis for hair rinses. You can get a ready-made vinegar rinse or do it yourself - check the best home hair rinses and give them a shot.
7. SCALP CONDITIONER
The last (but not least) step to keep your scalp in shape. A scalp lotion might have various functions - choose the right one to answer the needs of your hair and scalp. If your hair's greasy, reach for a herbal conditioner which normalizes the function of sebaceous glands. On the other hand, if you're bothered by volume-less, weighed down hair, choose the lotion which adds volume and lifts roots of hair. There are also scalp conditioners which moisturise, soothe irritation or fight off dandruff. Everything depends on the condition of your scalp and the needs of your hair.
A scalp lotion is used exclusively for scalp and roots of hair so it should be mild, natural and non-overburdening. You don't need to rinse it out. Massaging the scalp during application additionally stimulates bulbs and scalp.
8. SPRAY LEAVE-IN CONDITIONER, FLAXSEED GEL OR HAIR HYDROSOL
If your hair's damaged or the season of the year requires an intensified hair care routine (frost or heat) - use a lightweight spray conditioner, plant hydrosol or other leave-in product. It is going to protect your hairdo from the unfavorable outside elements.
All those obsessed with hair care rave about various mists or floral waters which you can spray on your damp hair before the blow-dry routine; they can also be rich in natural oils which excellently protect strands from toxins in the air.
Flaxseed gel is a commonly-used natural leave-in conditioner. It works as an incredible treatment protecting, smoothing and moisturising hair. Flaxseeds have a superb conditioning effect, take great care of hair ends and give a nice finishing touch. An express recipe for flaxseed gel involves pouring lukewarm water over some flaxseeds (they should be covered up) and putting them aside for the night. On the next day, the gel is ready to use (after draining the seeds).
9. SERUM FOR HAIR ENDS
Hair tips get dry and damaged the fastest of all hair parts. In order to save them from splitting, rub in a protective serum or some natural oil every single day. This way, ens will keep healthy and bouncy, and will be no longer frizzy, dehydrated or splitting. On your hair SPA day, you should definitely use it. If you're not big on silicone-based hair products and prefer natural ingredients - you can coat hair with an extra portion of flaxseed gel mixed with a chosen oil.
WORTH KNOWING!
Flaxseed gel doesn't only protect hair ends from damage but also smoothes, moisturises and increases shine. it is going to work as a natural styling primer and leave-in shine-boosting conditioner. To avoid weighing down hair, add some water - more water makes it more 'conditioner-like' and less like serum.
10. PROTECTING AGAINST HEAT
On a hair SPA day you should be focused on hair repair so you'd better forget the blow-dry routine or all kinds of heat styling.
However, if you really need to go out and need a flawless hairstyle, use a heat protectant spray before taking out the dryer. It's ideal if the product contains natural ingredients, as well as has a shine-increasing effect and gently styles your hair. Argan oil mixed with water is a natural heat-protecting spray - mix a few drops of argan oil with chosen herbal infusion and spray on hair before the blow-drying routine.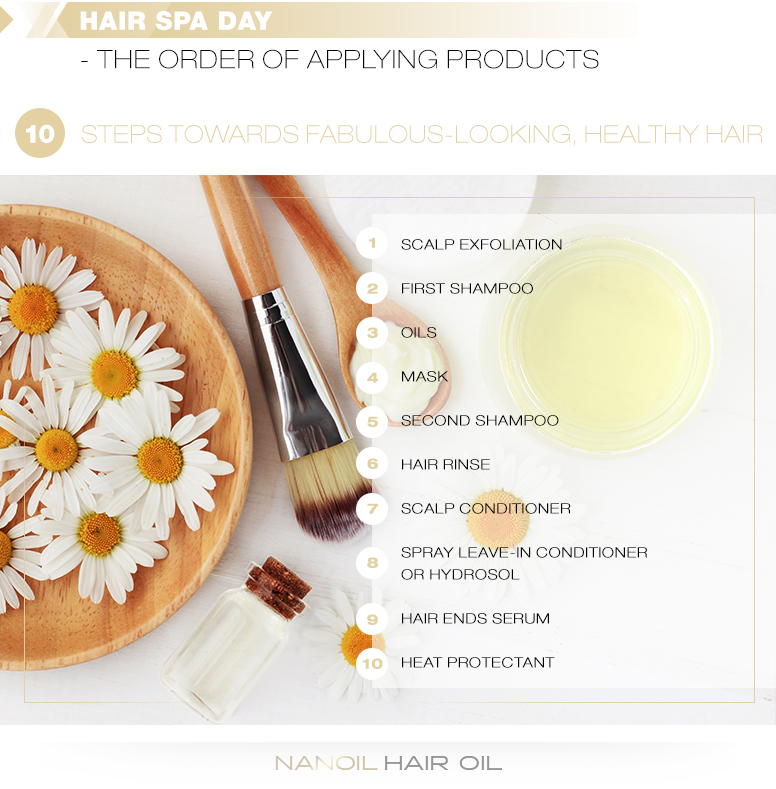 Hair SPA Day - the key questions
One day exclusively for your hair - how often to treat your hair to it?
The effects of an all-day hair therapy are visible after the every first treatment. Still, over the week, nutrients are washed out so you should definitely treat your hair to a SPA day at home regularly. You are going to gain most if you give your hair this kind of nutritional boost at least once a week. This way, both hair stem and bulbs are constantly strengthened and repay you with incredible vitality and gorgeous looks.
Hair SPA Day - how long does the beauty ritual take?
It is hard to clearly define the time spent on beauty care. It seems like an extra bonus - you are the one who decides how long you can and want to keep an oil in your hair. It might be a quick 30-minute boost or a several-hour treatment. Lots of women start their SPA day a night before by doing scalp exfoliation, washing hair and applying an oil treatment right before sleep. Then, in the morning, they follow up with other steps such as applying a hair mask, using rinses and scalp conditioners. This way, the oil has time to repair the hair while asleep. Surely, 3 hours is the minimum you should devote to the whole hair SPA (remember that the more time you give your hair, the better results you get).
Hair SPA Day - which of the treatments is the most important?
Hair oil treatment is definitely the priority during your hair SPA at home. All other treatments are there to intensify the effect and complement the elaborate, ancient Ayurvedic hair ritual. That is why the choice of oils matters so much - pick the right oils for your porosity - the condition of your hair.
One day for your hair - can you skip any stages?
Nothing happens if you skip one or two stages, finishing your SPA day after the second washing. Women often like to use hair rinses and scalp lotions by turns, or they simply give up on them (e.g. when their scalp doesn't cause much trouble).
That's it. Time you prepared some SPA for your hair. Let it experience a total makeover and shine, astonishing others with vitality.