The last two hundred years were truly outstanding when it comes to the history of hairdressing. Although various new hair trends emerged during this period, many hairdressers still remained inspired by the hairdos of the past eras. Do you know what hair trends were ruling in the 19th century? Or what haircuts were in style a few dozen years ago?
As a matter of fact, since time immemorial humans have been turning to all possible kinds of hair procedures to trim, tie and dress up their strands. At the beginning, this practice was influenced by comfort in particular but later it was connected with cultural and social conventions.
How Were Hairstyles Changing Throughout the Last 200 Years?
Definitely, hairstyles recognized as trendy in the 19th and 20th centuries were the departure from lavishness and panoply. It was a big comeback to what's natural. Baroque wigs could be seen only as an element of theatrical property. Instead of them, people again started looking for inspiration and analysing What Hairstyles Were Found Trendy in Antiquity. However, together with the advancement and cultural changes, there were new hairstyle trends to emerge. All of this makes the 19th and 20th centuries hairdressing became incredibly versatile.
TREDNY HAIRSTYLES IN THE 19th CENTURY
The history of hairdressing of the 19th and 20th centuries looped the loop. For that very reason the contemporary times began with the throw-back to ancient hairstyles, especially the Roman ones. However, this isn't the only characteristic trend because the 19th century featured longer and more decorative updo hairstyles as well.
What Hairdos Were Found Trendy in the Mid-19th Century?
In general, back then people preferred short hair and smooth hairdos. Layered hair was found trendy and in most cases such hairdo was made sleek so as to deprive it of volume. To achieve this goal, people used among others hair oils. It's worth realising that after the French Revolution, short hairdos had numerous faces:
hairdo à la Titus – cut-short, choppy hair resembling typical Roman male hairdos. It's said that this hairdo was endorsed by a manqué victim of the revolution - Teresa Tallien – who was cutting her hair strand by strand to release letters from her prison window to her beloved man.
hairdo à la Victime - a short in back, with longer sides and front hairdo often characterized by a forehead covered by curls. With this hairdo people paid homage to all the women beheaded during the revolution. To clarify, a victim's hair was clean shaved in back so as to leave the neck completely bare. This eases setting a guillotine in the right position.
hairdo à la Caracalla - short and thick hair curled tight and arranged to let the curls surround the face. This hairdo was inspired by Roman emperor Caracalla's burst.
This type of the 19th century hairdos inspired by Roman emperors, short, comfortable to wear and very innovative for those times, sadly didn't survive long.
What Hairdos Were Found Trendy in the latter half of the 19th Century?
With time women started growing their hair long again to keep wearing more showy and female hairdos. Once again long hair was found trendy - first, shoulder-length and then waist-length.
People tried to somehow updo the middle-length hair that was growing back. And this is when a fashion for characteristic curls surrounding face emerged. Frequently, such hairdos went with buns (first lower buns, later higher). Another trendy hairdo of those times was inspired by the shape of Apollo's bow. The unruly wisps were tamed with the aid of bands and various hair accessories.
Fun fact: During that time wearing hair down was recognized as serious faux-pas.
Some women decided to wear more voluminous hairdos made of long hair, which in fact was also characteristic for the latter half of the 19th century. These were mostly lavish and big curls that were arranged in either high buns or, even more frequently, impressive braids.
In that era the owner of the longest hair was Empress Elisabeth of Austria whose thick curls were reaching floor. There were legends spread about her hair. One of them says that room maids were paid damages for the troublesome work they experience while combing Elisabeth's hair who hit them with a mirror for every single tug.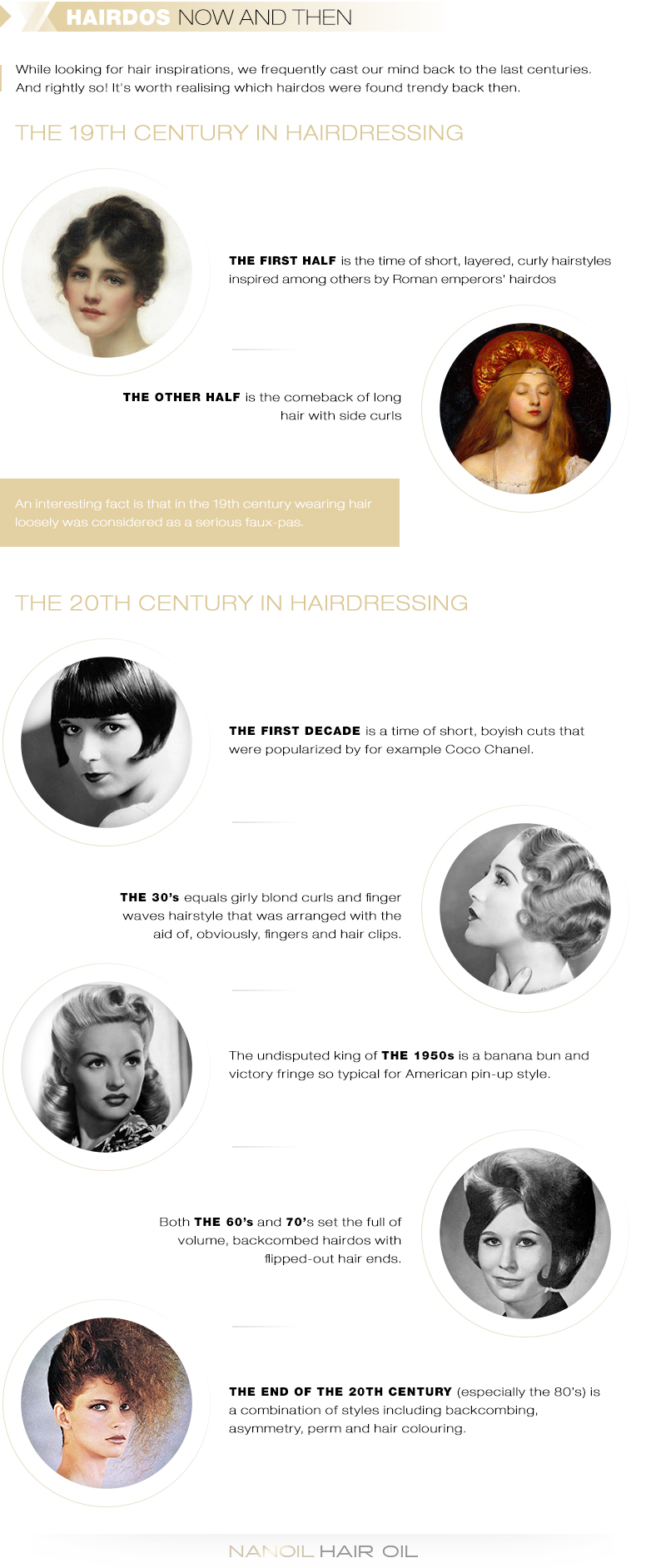 TREDNY HAIRSTYLES IN THE 20th CENTURY
Did the art of the 20th century hairdressing still depend on curling and tying long hair? Not always. This century is a period full of changes in both women's appearance and hairstyles. The way females used to arrange their hair matched a particular position, the prevailing trends of that time and social changes that were developing.
The beginning of the 20th century
The truth is, it wasn't sooner than 1900 when women were allowed to uncover their ears and neck, which was avoided in the previous époques. At that time women started fighting for their rights and some suffragists were brave enough to cut their hair shoulder-length.
In the first decade of the 20th century recognizable were short hairdos, frequently reaching ear-level, which were worn with a wide band. This trend became popular thanks to a famous stage actress Eve Lavallière. The author of this hairstyle was a Polish hairdresser working in France - Antoni Cierplikowski.
It wasn't sooner than the beginning of the 20th century when the first hair styling products came into existence. Also a blow-dryer was gaining in popularity.
Hairstyles of the 1920s
The real craze for short hair boomed in the 20's. Women started having their hair cut short. Also, dark hair was more popular than fair hair.
Some people were inspired by a hairdo with a short fringe and shaved neck typical for La Garçonne form Victor Margueritte's novel. Others wanted to resemble Coco Chanel who introduced a pageboy hairstyle that perfectly matched the tomboy style, which was really trendy then. In some word regions this style was also called flapper.
Another hair trend of those times was Eton Boys hairstyle which can be described as short, neck-shaved with side parting and smoothly combed back hair just like all the boys belonging to elite English Eton College wore.
Hairstyles of the 1930s
A decade later short hair wasn't find fashionable any longer. More feminine hairdos were adopted by the majority which translated into long hair worn loosely. The dark hair was replaced by delicate blond strands. The most favoured hair colour of that decade was platinum blonde.
Hairstyles of the 30's is a classic that still entrances nowadays. Delicate waves and curls noted their comeback and they were easy to notice on both short and longer hair that frequently appeared in bob hairstyle fashion. The compulsory element of this decade's hairstyle was side parting. Other two fashionable trends were so-called finger waves (the name comes from the method applied to style this hairdo; wet strands were rolled over fingers and supported by hair clips) and wavy bob reaching below the ear level.
Hairstyles of the 1940s
It was the time of long hair hairstyles. The decade affected by the Second World War was, despite appearances, a time full of elegance and feminine hairstyles, which gradually became more and more new-style.
Fairly popular were for example Hollywood curls, bouncy and in a controlled mess, created with the aid of either rollers or a hair curler. The hair was either tucked behind ears or side swept, frequently dressed up with bands. The very hair accessory was used to create this extremely popular in the 1940s pin-up hairstyle - hair arranged in a banana bun with victory rolls.
Hairstyles of the 1950s
Somewhere in the mid-20th century, the slow differentiation of styles became more recognizable. Hairstyles of the 1950s didn't look similar, although some characteristic trends in hairdressing of that period were still easy to spot, including the shoulder-length hair together with careless cuts and unceasing love for curls.
The style icons that the women of this decade followed were Audrey Hepburn and Marilyn Monroe, who in fact presented two completely dissimilar styles. To this day, Marilyn Monroe-like curls of very feminine blonde shade are considered as the most popular hairstyle of the 50's.
Hairstyles of the 1960s
The 60's is the time inspired by Brigitte Bardot who wore a high pony tail arranged from ruffled and carelessly tied hair.
It's also the period when the existing image of a beautiful woman had been redefined in favour of more daring hairstyles. Backcombing was found trendy (especially arranging backcombed hair in buns) and oversize style to give the hair the right, almost enormous volume.
Another fashionable accessory of the 60's was a wide headband put in the middle of the head. Due to this, the backcombed and oversized hair was accentuated better. In short, the hair was combed back and finished with flipped-out hair ends. A fringe was another must-have, best if worn straight.
Hairstyles of the 1970s
Another decade was the time when long hair was still in fashion, yet it was gradually turning into more straight and sleek. Fringe also changed its form to become side swept. It was also typical for women of those times to uncover their foreheads more willingly, sometimes they tied their fringe back. The most fashionable hairstyles of that decade were mostly inspired by Charlie's Angels movie. Also some elements of a very natural hippie style constituted an inspiration for the 70's hairstyles.
In the very 70's of the 20th century hair dying became popular. People were looking for techniques enabling them to give their hair the desired platinum shade. Hair colouring became widespread due to the accessibility of simple hairdressing techniques as well as affordable pricing of hair styling products.
Hairstyles of the 1980s
The greatest craze in hairdressing started in the 80's. The end of the 20th century surprised with bizarre hairstyles that we often laugh at today. Extremely voluminous backcombed hair were in style then. Later the backcombing limited itself only to the top hair to combine it with straight hair cascading the shoulders - so-called mullet. Also perm and short, asymmetrical hairstyles were eagerly worn in the 1980s. The most important difference between them and today's asymmetrical hairdos is in the lack of harmony.
Hairstyles of the 1990s
It's hard to find just one hairdo that was the most popular in the last decade of the 20th century. Undoubtedly, it was the time of mixed styles. There were no indicators when it comes to the hairdos, the length of hair or its colour, which in fact lasts till now. Obviously, this lack of clearly defined style was affected by the political changes owing to which we regained freedom also in terms of personal's appearance.
And this is how the history of hairdressing ends.