Dry and damaged hair isn't just an aesthetic problem. Weak hair fiber means e.g. breakage and thinning so it needs professional care. Is it possible to rebuild damaged and over-processed hair? What should the right hair care look like? Let our hairdos speak.
Before moving on to the topic of damaged hair care routine, we should take a closer look at the problem, learn the cause of hair damage and find out if our hairdos already belong to this category.
DAMAGED HAIR – CHARACTERISTICS
Genes are partly responsible for the hair condition. It means that if our grandparents and parents had damaged hair, we may take it after them. However, despite the genes, more common causes include the wrong hair care or lack of it, hormone imbalance, recurring diseases, etc. We must remember that hair is a part of the body, therefore even an unvaried diet is reflected in its appearance.
What destroys hair? The causes of hair damage include:
the wrongly performed coloring and regular bleaching,
overusing blow-dryers, curlers, flat irons,
overexposure to the low temps, wind, sunlight,
improper styling and wearing hair in tight updos too often,
the unsuitable hydration and low-fat diet,
also: hair care that doesn't go with the hair type.
According to trychology, hair that has lost most of its water and fats is defined as dry and damaged. It is caused by the opening of cuticle scales which results in the loss of moisture and weaker lipid barrier. We lose most lipids due to heat and irritative chemicals. No matter the cause, hair gets dull, dry and brittle because of raised scales. It means that damaged hair is high porosity hair!
Knowing the porosity of damaged hair and the reason of their weak condition, we can easily decide on the care routine that will let us bring its health back.
DAMAGED HAIR CARE
How to care for hair that is damaged throughout its length or just parts e.g. ends? We must start off with changing our habits which gave our hair the poor condition. Over-processed hair care follows a few simple rules.
Five commandments in damaged hair care routine:
Give up on things that have a destructive influence on your hair.
Reduce heat styling.
Cut down the most damaged part of your hair.
Go for protein-enriched repairing treatments and products.
Moisturise with humectants and emollients.
Damaged hair care should come in two stages: reducing destructive factors is a must-do but introducing the right products upgrading hair condition – e.g. oils for high porosity hair – matters, too.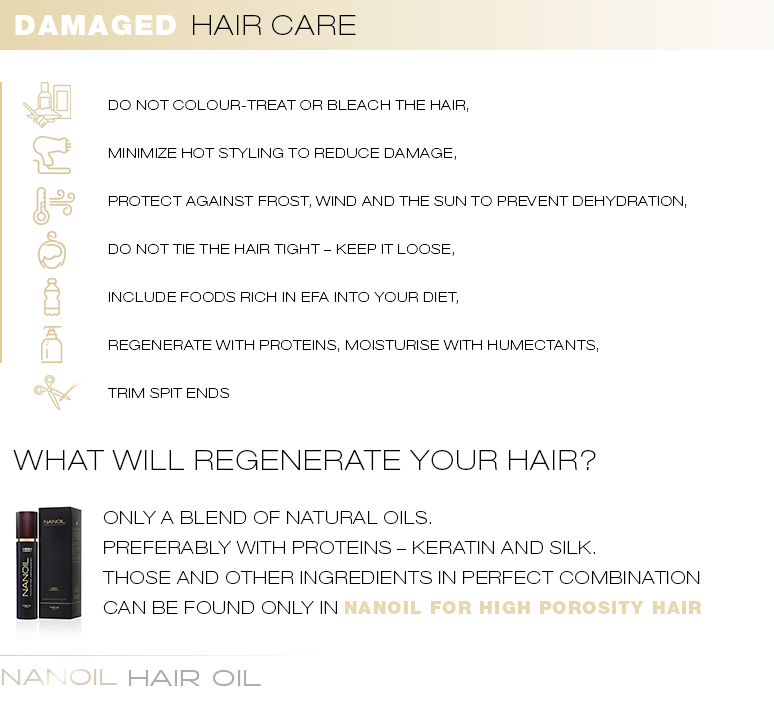 Is it possible to repair damaged hair? It can be done to some extent but thinking that bonding split ends back together is possible is a mistake. That's why the first step should be cutting the most over-processed strands down. You'd better do it before your hair starts breaking. If you're not attached to the long hair, cut it down and let the hair grow back healthy and strong. In case of hair that is prone to damage, trimming should be done regularly e.g. every six weeks.
The next step is cutting down on the things that worsen hair condition to keep hairdo from over-processing and splitting again. We let hair dry naturally, we forget about curling wands and straighteners. We can style hair using natural methods e.g. curling rollers. Another good thing is avoiding updos during the day not to weaken hair bulbs. On the other hand, we must remember to tie hair up before sleep to prevent tearing, tangling and damaging strands at night. Giving up on coloring and bleaching for some time makes a good choice, too.
Washing & Brushing Damaged Hair
The more often you wash your hair, the milder shampoos you should go for. The best shampoos for damaged hair are the ones designed for kids because they are free from strong detergents yet include exclusively gentle hair and scalp cleaning substances. Hydrophilic substances – e.g. glycerol, alantoin, urea – make up the key ingredients of shampoos. Having two shampoos with different components is a good idea – hair won't get used to one cosmetic. The most crucial rule says that you must apply a conditioner every time you wash your hair and use a mask or do an intensive hair oil treatment at least once a week.
If your hair is extremely damaged, you must always brush it before washing (when it's dry). Wash it with tepid water and rinse out with cold water. If you must detangle wet hair, use your fingers or a wooden wide-tooth comb. Even when you brush dry strands, do it section by section to avoid pulling and damage – run up the hair with your fingers, use the comb and then Tangle Teezer or natural-bristle brush.
Damaged Hair Care Products
Dry and damaged hair care isn't just about avoiding harmful substances and treating hair gently. It's also about using products that are full of nourishing, regenerating and strengthening substances. How to nourish over-processed hair? You must start an in-depth care with products rich in:
emollients (protecting substances e.g. oils and silicones),
humectants (moisturising substances e.g. honey, urea, aloe, hyaluronic acid),
proteins (repairing substances e.g. keratin, wheat or egg proteins).
While choosing hair care products, you cannot focus only on camouflaging the imperfections (temporary help). You must concentrate on the deep repair and reconstruction of damaged hair. This is the only method that will let you bring your hair back to life for good. You shouldn't be afraid of the notorious silicones – if you use them is reasonable quantities, they smooth hair surface, facilitate detangling and keep the protective external barrier from destruction. On the other hand, silicones give superficial effects so humectants and emollients (working from within) must be included in hair products.
The best oils for damaged hair must be rich in omega-3 and omega-6 unsaturated fatty acids. Grapeseed oil, hazelnut oil, peach seed oil, sweet almond oil, avocado oil, linseed oil, evening primrose oil, corn oil and raspberry oil are among them. They rebuild the external hydro-lipid layer as well as penetrate the hair, nourishing, strengthening and closing the raised cuticle scales.
Most of the oils are included in Nanoil for high porosity hair. What's important, the product is a professional blend of conditioning oils enriched with strongly regenerating substances e.g. keratin, kerastim, silk and vitamins. To the health of dry and damaged hair!