What can we learn from women living in Morocco, Egypt or Kenya?
Africa is an unusual continent. A characteristic climate means the need for an intensified beauty care. Hair has no easy life considering the harsh African climate. A daily tropical drought turns into the bitter cold. A hot, rainless summer is followed by a rainy winter. In the other part of the continent, all-year-round rainfall makes hair rebel in the humid, tropical climate. How to care for hair in such unfavourable conditions? Caring for good looks is a must. Beauty care gets the traits of a ritual. Africa turns out to be a treasure trove of natural, unique, world-famous plants, being a powerful weapon against the hair-unfriendly climate. How do women in Africa care for their hair?
HAIR IN DIFFERENT WORLD CORNERS PART 3 – AFRICA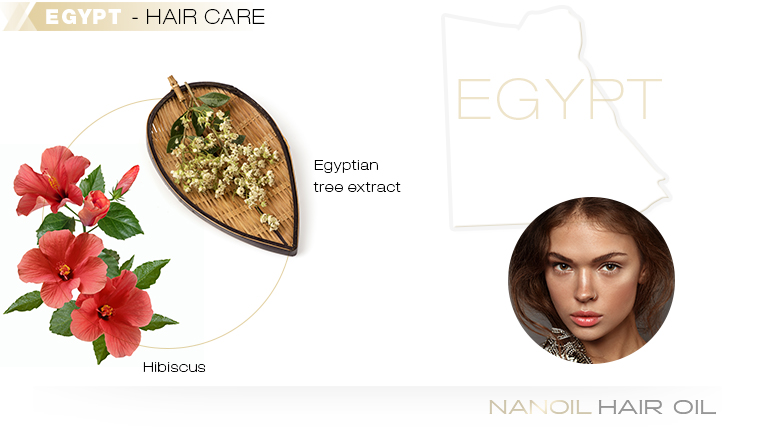 ● Egyptian women have always been known for taking great care of their good looks. Egypt is the very place where lots of reliable recipes and skin care substances (milk, honey, raddle), as well as first makeup and body products (Kohl, Egyptian earth), come from.
Egyptian tree extract is among the most popular hair care products. Its conditioning properties and the 'will' to survive in the harsh, hot climate are impressive. The Egyptian tree is able to store water and other nutrients in the vast root system which allow for surviving without the rainfall for up to two years!
Egyptian women have fallen in love with the extract from the seeds of the Egyptian tree because it has amazing regenerating qualities and strongly moisturises extremely damaged hair.
The Egyptian tree extract is rich in all substances that are essential for hair repair and reconstruction. It reinforces weak strands, prevents breakage and regenerates from roots to ends. Thanks to the extract, Egyptian women can boast about healthy and well-kept, luminous hair. All hair products can be infused with the extract – shampoos, oils, masks, conditioners and balms. This regenerating plant complex penetrates the hair shaft, replenishes the keratin and seals the cuticle layer, making hair healthier and more beautiful.
● Hibiscus is another highly-appreciated, hair-enhancing ingredient in Egypt. It belongs to the family of malvaceous plants which have beautifying, healthful and regenerating properties. Hibiscus abounds in polyphenols, anthocyanins, flavonoids and vitamin C in a high concentration. Egyptian women value the extract from the entire plant. Both flowers and leaves are rich in carotenes whereas the seeds are full of unsaturated fatty acids. Hibiscus has been spread hundreds of years ago thanks to pharaohs who valued its antibacterial and healthful power, drinking an infusion known as Karkade.
Hibiscus teas and extracts are appreciated in hair care, keeping strands healthy, strengthening the bulbs and upgrading the looks of hair, transporting a full set of regenerating ingredients to inner hair structures. An oil, extracted from the Hibiscus seeds, is highly valued, too. It is a rich source of antioxidants, polyphenols, natural AHA acids and flavonoids.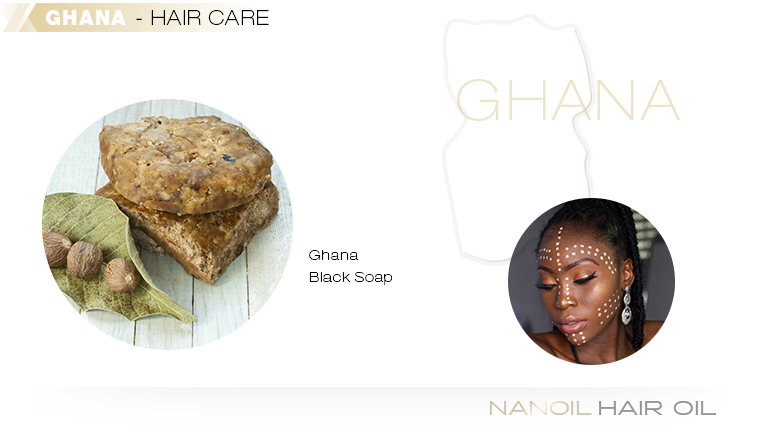 Women in Ghana can brag about a hand-made, black soap which is as famous as the Dudu Osun Soap. Ghana Black Soap works like an exfoliator and ideally cleanses the body and scalp. It is made up of unrefined oils (mostly, Palm Oil and Coconut Oil) and cocoa pods.
It is used for oily skin care. The soap fights problems with dandruff and psoriasis, normalizes the work of sebum glands (suitable for oily, easily-weighed down hair). The Black African Soap works as an excellent scrub for the whole body skin and scalp. A mild shampoo is recommended after using the soap because it has strong degreasing qualities and may leave you with dull, coarse hair.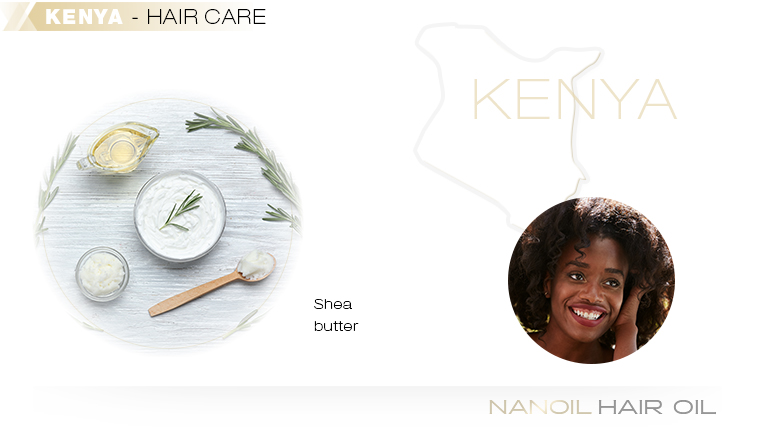 Kenya is world-famous as an intensively-rejuvenating, hair and skin potion. Shea tree fruits are hand-picked and used for the production of Shea butter which is one of the best hair-conditioning products. To be more precise, it is a solid oil which turns into the fluid at around 40 degrees.
Women in Kenya apply Shea butter to skin and hair, as well as use it for the delicate skin of infants. The butter is best known as one of the strongest antioxidants. Regularly applied, it smoothes fine line, prevents hair thinning and graying. Karite trees are grown in many regions of Africa yet Kenya tops them with the highest quality of Shea butter.
Thanks to Karite butter, hair gains shine, vitality and youthfulness. It nourishes, protects hair and regenerates it thanks to the diversity of phytosterols, antioxidants (Shea equals as many as 9 antioxidant compounds), allantoin and vitamins A, E, F (essential fatty acids). Shea butter ideally regulates the level of hydration in hair and skin, adds elasticity to hair, smoothes the strands, strengthening bulbs and preventing hair loss at the same time.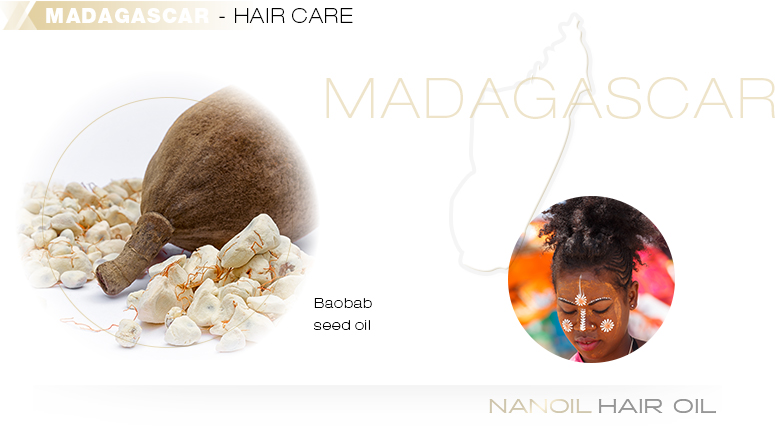 Madagascar is a tropical island – famous for the biggest numbers of baobabs. Women, living on this exotic island, mostly associate them with a life-changing skin and hair oil, extracted from the seeds of the largest tree in the world.
Baobab seed oil is a versatile substance extracted from the (according to the beliefs of Africans) long-lived tree. It contains unsaturated omega-6 and omega-9 fatty acids together with vitamins A, E and D. This oil repairs, protects and improves hair structure. Baobab seed oil is cut out for dry, brittle and damaged hair care: brings back elasticity and shine, shields from the strong sunlight and wind.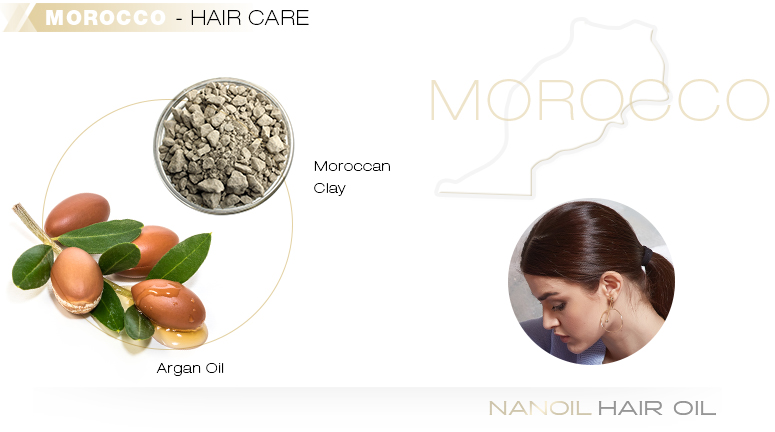 ● Liquid gold of Morocco – Argan Oil
Moroccan women have known argan oil for thousands years. However, nobody had expected it would become so popular. Today, Argania trees are grown on a global scale. Argan oil, known also as the liquid gold of Morocco, is among the top-selling skin and hair care products.
Argan oil is used for oiling and increasing hair shine. It lets women get rid of the problem of weak, dry, coarse hair, protects from the merciless, African sun and prevents hair damage. It is a plenitude of vitamins E, omega-6 and omega-9 essential fatty acids, flavonoids and carotenoids. Argan oil intensively reinforces hair bulbs and keeps strands from falling out, regenerating hair follicles.
● Rhassoul (or ghassoul) Clay – Moroccan Clay
Morocco isn't just famous for the mass production of Argan Oil. In the Atlas Mountains, one of the most valuable cosmetic clays is extracted – loved by Moroccan women.
The Moroccan clay is known as ghassoul or rassoul (the other name derives from the verb 'rassala' - 'to wash'). Not only does the clay work as a perfect hair mask but it is also fit for washing hair and body thanks to gentle lather qualities. It is good at degreasing and refreshing the hair and scalp. Thanks to rassoul, hair is shiny, soft and voluminous. Designed for all hair types yet it works best for heavy, oily (common in tropical African climate) hair, absorbing sebum.
Moroccan clay mask removes the excess of keratin which tends to build up on hair if you use it too much. It means that a regular use of ghassoul clay prevents hair breakage and keeps strands clean which translates to healthy growth.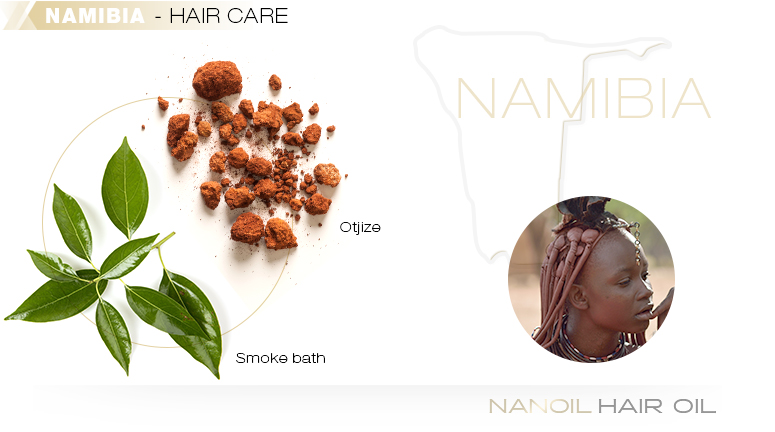 Women of Himba tribe can pride on some unusual, unique body and hair care. This ethnic group lives in the regions of Namibia. Himba women are famous for mind-blowing beauty. Amazing-looking, long-legged and slim women are known for unconventional skin and hair care methods. They keep themselves fresh and protect their bodies from the tropical climate without using water. Himba women devote lots of time to beauty treatments. They apply a mix of butter, ash, plants and ochre (a pigment which gives the mixture a brick-red shade) to their skin and hair. The mix is known as otjize – not only does it make the skin smooth and beautiful but also protects from insects, bacteria and harmfulness of the sunrays. Moreover, otjize has a strong, herbal and incense aroma which lingers on the skin long. How do Himba women wash their hair? Water is too precious so they don't use it. The already-mentioned red mixture has cleansing and disinfecting properties. What is more, they use a smoke bath: embers are enriched with herbs and camphor, disinfecting both skin and hair.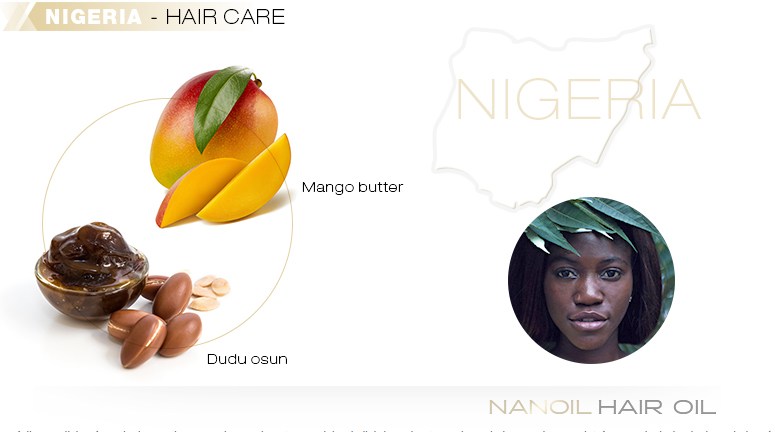 ● Nigerian women also have some secret ingredients and substances which have already gained world fame. Mango butter – beautifully smelling and extracted from mango seeds – is one of the most popular. Mango butter is appreciated for the strongly-nourishing ingredients. It can be used both for the skin and hair. In the strong African sunlight, it is a perfect substance protecting hair and skin from dehydration and UV radiation.
It amazingly softens the strands, adds shine and gives a protecting shield from the excessive sun exposure. Mango butter is mild and doesn't weigh hair down. It leaves a microscopic coat on the surface protecting from hair damage. Applied to the scalp, the butter works as an antiseptic, makes wounds and irritations heal faster and balances sebum secretion on the scalp.
● Black soap, known as dudu osun or camwood, is the pride of Nigerian women, too. Red sandalwood is its main ingredient – it has been used for skin and hair care. The Nigerian, dark brown soap bar deeply cleanses skin, prevents scalp and hair oiliness, not disturbing the hydro-lipid balance at the same time. Dudu osun is infused with lots of natural extracts to combine their power in one bar: Aloe, honey, Shea butter, palm seeds and cocoa pod ash which delivers skin detox and purification. Dudu Soap effectively washes oils off hair after the hair oil treatment. This black soap is increasing in popularity worldwide because it takes waterproof makeup off, conditioning the skin at the same time.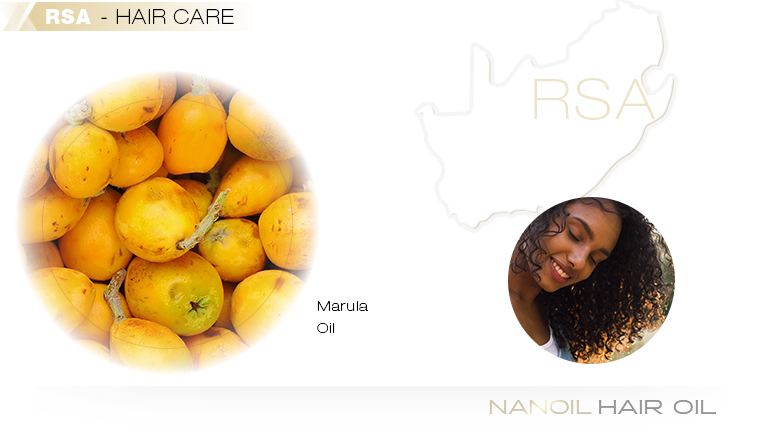 At the bottom of the hot continent, in the Republic of South Africa, there are trees bearing yellow, plum-like fruit. Its sweet scent attracts elephants like catmint does with cats. Marula oil, extracted from the seeds of the fruit, is treated as a powerful elixir of youthfulness.
Marula oil features a high concentration of vitamins C and E – valuable antioxidants which facilitate the renewal of cells. It strongly repairs hair and prevents damage and pre-mature aging, sweeping free radicals away.
Marula is an intensively-regenerating oil which protects hair from the harsh sunrays, which surely matters in the tropical climate. Applied to the scalp, marula oil strengthens hair bulbs and lets them 'nest' firmly in follicles: hair regains power, condition, growing healthily and not falling out. The oil is also appreciated for shine-boosting and conditioning properties.>