Why is a hair appointment the necessary evil for some of us? It is time we dispelled a myth that hairdressers aren't knowledgeable about hair care. Discover the best repairing, moisturising and beautifying hair treatments. Which ones are worth testing?
Since we discovered the power of natural oils, we've been trying to care for hair at home. It is getting easier and easier to give hair essential nutrients without visiting a salon. On the other hand, it happens that home treatments are no longer effective. Either our hair has different preferences or needs stronger support. Luckily, there are salon procedures that help us repair and beautify our hairdos.
Having your hair trimmed or colored is not the only thing you can go for at a salon. Unravel the best hair treatments! Which ones are you going to take to?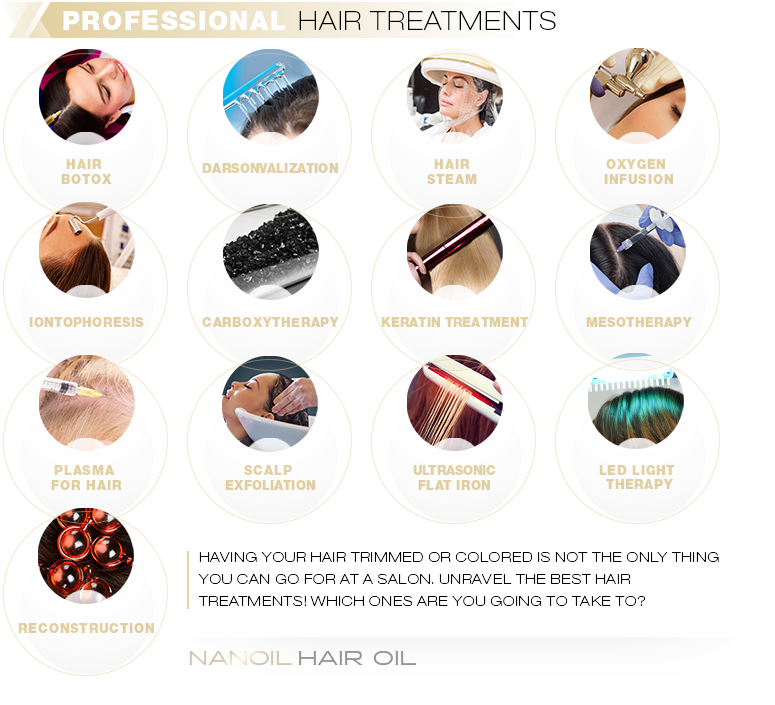 1. Hair Botox
Botox makes us think of aesthetic medicine. It has begun to rule in hair salons as well. It is a hair nourishing treatment which gives weak hair back its vitality and beauty. It fills in the gaps in the hair structure, restores softness and shine, deeply moisturises and ensures protection.
Where does the name of the treatment come from? To perform a hair botox, you need a… syringe! There is nothing to be worried about, though – it is a non-invasive and painless hair treatment. The syringe is used only for comfier application of a serum. The conditioning product is based on all-natural ingredients without salts, parabens, sulfates, colorants, etc. Hair botox provides hair with lots of valuable vitamins, minerals and hair-building substances e.g. collagen. No wonder it is known as the vitamin bomb for hair.
2. Darsonvalization
This treatment is not among the most popular ones. It is used in skin care, too. The name of the procedure derives from the use of d'Arsonval currents of high-frequency, low voltage and high amperage. A specially-designed electrode-equipped device is used. When it touches the scalp, an electric discharge occurs (with a characteristic flash) and the strongly disinfecting, antibacterial and anti-inflammatory ozone is produced.
Darsonvalization for hair:
purifies and disinfects scalp,
eliminates bacteria and fungi, as well as hinders their development,
stimulates cellular renewal and hair growth,
deals with potential skin inflammation.
Darsonvalization is a painless and non-invasive hair procedure, especially recommended for people struggling with thinning hair, oiliness, seborrheic hair loss, etc.
3. Hair Steam Treatment
If we want to treat our hair to SPA, hair steaming is a brilliant idea. It is a professional hair treatment. It affects hair with a slightly higher temperature so it opens hair cuticles. The procedure also ensures optimal moisture which lets nutrients of an applied conditioning product be absorbed easily.
A hair steam treatment allows for a perfect nourishment, moisture boost, reinforcement and regeneration. This simple treatment involves spending around thirty minutes under a device looking like a big hair dryer and using distilled water for intensified effects of cosmetics.
There are two types of hair steamers:
a regular steamer – works in a very simple way, generating steam,
a micro mist steamer – ultrasounds produce light water mist.
You can easily move this kind of treatment to your house and do it yourself. All you need is a proper cosmetic e.g. one of the three Nanoils and a bit of free time. More on the topic here at-home hair steam treatment.
4. Scalp Oxygen Infusion
A professional hair and scalp treatment. The oxygen mesotherapy is another name for the procedure. Its action is based on the properties of concentrated oxygen (instead of the ozone, it uses basic oxygen particles).
What does the oxygen infusion involve?
A special device transfers oxygen as well as a mixture of highly-nourishing ingredients to the skin. Thanks to such a combination, we affect hair with double power because the oxygen itself gives marvellous hair benefits:
reduces hair loss and stimulates growth,
nourishes, moisturises and revitalizes scalp,
removes dead skin cells, sebum and cosmetic build-up,
lifts hair roots, thickens and increases elasticity.
Oxygen mesotherapy is mostly done in series – the optimal option involves doing 4-6 treatments every 10-14 days. Generally, one oxygen scalp treatment lasts for up to 40 minutes. Taking this therapy into consideration makes sense when we want to stimulate hair growth, we have problems with weak, thinning hair, over-proteined strands, dandruff or disturbed sebum secretion.
5. Iontophoresis
Galvanic currents can be used for hair care purposes, too. They cause controlled hyperemia and stimulate cellular renewal. Iontophoresis is not a hit hair treatment because it is more common in skin care procedures. Transferred to the field of hairstyling, it is recommended as an effective anti-hair loss treatment. Iontophoresis introduces appropriate ions of nutrients into the scalp thus strengthens hair, blocks thinning, reduces sebum over-production and oiliness.
6. Carboxytherapy for Hair
Easily guessing by the name, carboxytherapy uses carbon dioxide. It is introduced under the skin causing controlled widening of blood vessels in certain places. It is one of the most invasive therapies but it is not very painful – injecting dioxide under the skin may give a feeling of discomfort. Slight redness and swellings are possible but they ease off quickly. The key thing is that carboxytherapy is effective.
This professional hair treatment stimulates micro-circulation of the scalp, which translates to deep conditioning for hair follicles, stronger hair, faster hair growth and lower risk of premature balding. Carboxytherapy mostly helps to cure alopecia areata and pattern baldness.
7. Keratin Hair-Smoothing Treatment
Keratin treatments are probably the most frequently performed at salons. Why? Because they both repair hair and enhance its good looks. Even though many people think that keratin hair treatment aims only at getting rid of unwanted curls and (as the name suggest) smoothing the strands, in reality, it is a professional treatment for damaged hair which:
fixes damaged hair structures,
deeply regenerates hair and strengthens bulbs,
delivers gloss, softness, silky smoothness and elasticity,
makes hair resistant to humidity and harmful elements.
The salon keratin treatment requires the use of suitable products – professional concentrations of conditioning substances, antioxidants which contain the essential ingredient. It is keratin – hair-building protein. A hairdresser 'irons' the product in hair with a flat iron or an ultrasonic straightener.
8. Scalp Mesotherapy
The most-commonly recommended and chosen by women. Hairstylists assure of its incredible benefits. Scalp mesotherapy is often used for preventing hair loss. The frequency and intensity of the procedure must be adapted individually, depending on the severity of a problem.
Scalp mesotherapy is recommended for people who had excessive hair fall diagnosed. It consists of applying a nourishing cocktail which reinforces bulbs and prevents hair loss. Available options include:
needle-free scalp mesotherapy – the product is introduced into skin through temporary micro-channels made by the electric field,
micro-needle mesotherapy – a hair treatment which involves introducing a preparation with a roller making thousands of micro-holes in the epidermis,
needle scalp mesotherapy – delivering nutrients to hair through micro-injections.
What are hair benefits of mesotherapy? It blocks hair loss, stimulates growth and re-growth, speeds up repair and reinforces bulbs, restores biological skin balance.
9. Platelet-rich Plasma for Hair
The platelet-rich plasma therapy is increasing in popularity in the treatment of hair loss. Too bad, it is a pricey procedure so standard mesotherapy is still more common. In this case, the growth of hair is accelerated by injecting platelet-rich plasma into scalp. This type of therapy is suitable for both balding people and those who simply want some hair enhancement.
Step-by-step platelet-rich plasma mesotherapy:
The blood is collected and then the platelet-rich plasma is extracted.
Scalp is desensitized to reduce the pain during the treatment.
The preparation is injected into the skin.
It is a professional treatment which reduces hair loss and enhances hair growth. 10-15 minutes are enough to hinder hair loss – that's how long a procedure lasts for. Unfortunately the re-growth process is longer – up to three months. Nevertheless, using platelet-rich plasma for hair pays off because the results are sensational. A series of three treatments:
makes hair stronger and thicker, strands no longer fall out in excess,
bulbs are stimulated so there's visibly more hair.
10. Trichologist Scalp Exfoliation
Cleaning the scalp and hair is extremely important because it saves you from problems such as dandruff. From time to time, a trichologist scrub makes sense because even the best shampoo won't leave your hair and scalp as clean. As much as other treatments are recommended for certain problems, scalp exfoliation is a must-do hair treatment that has to be done regularly and as a form of prevention.
Hairdressers do two types of this treatment:
scalp exfoliation with an exfoliating product,
cavitation exfoliation with ultrasounds.
No matter the type we choose, a scalp scrub always delivers the same results. Performed in the right way, a scalp exfoliation frees scalp of impurities, cosmetic residue, sebum build-up, dead skin cells. It unblocks the outlets of hair follicles so next treatments give better effects because bulbs get more nutrients. Additionally, a trichologist scalp scrub stimulates blood flow so hair gets stronger.
11. Hair Ultrasonic & Infrared Flat Iron
How does a hair ultrasonic & infrared flat iron work? It is a straightener which emits ultrasounds and infrared light. Thanks to the device, a simultaneous hair repair with ultrasounds and infrared light is possible. Treatments with an ultrasonic & infrared flat iron work for weak hair e.g. due to chemical processing. With this modern and innovative device, a special nourishing product is pressed in hair. An ultrasonic & infrared straightener is often used for keratin treatments. It also upgrades the results of hair oil treatments – ultrasounds and infrared light let oils easily penetrate the hair shaft and deliver them deep inside hair. An ultrasonic flat iron presses a cosmetic in hair without the use of heat so it's safer. It aims exclusively at hair repair and strengthening, not e.g. making hair straight.
12. LED Light Therapy for Hair
More and more hair salons are cooperating with trichologists so they introduce some innovative treatments which condition and heal at the same time. LED light therapy is one of them. It is used for scalp repair, hair growth boost and prevention of hair loss.
While wondering which hair growth-boosting treatment to choose, the light therapy is worth testing. It is a state-of-the-art remedy for weak and thinning hair. It turns out that the 640 nm LED light is able to stimulate circulation in hair follicles so hair bulbs are provided with oxygen and deeply-conditioned. LED light affects hair like a stimulator because it triggers cellular metabolism and the synthesis of protein which is a building material of hair.
LED light hair treatment is non-invasive, painless and very relaxing. You can perform it every season and combine it with other treatments e.g. mesotherapy. One-off use of the LED light lamp won't bring visible effects, therefore, a series of 10 treatments, 20 minutes each, is recommended.
13. Hair Reconstruction Treatments
Professional hair treatments are supposed to reconstruct damaged and over-processed hair structure. They come to rescue when we don't feel like cutting down our damaged hair. They let us avoid a harsh haircut because of strongly-concentrated products made up of innovative ingredients. Celebrities are crazy about hair reconstruction treatments because they allow for drastic color changes without worrying about hair damage.
Two most popular hair repair treatments:
Olaplex – a treatment which consists of three stages. It detects chemical, thermal and mechanical damage inside hair and then fixes it. Olaplex is famous for rebuilding bonds in disulfide bridges so hair gets its health and beauty back.
Joico – a set of four products which work in synergy, ensuring hair repair, reinforcement, hydration and intensified shine. Joico K-Pak is based on two patented technologies: Bio-Advanced Peptide TM (regenerates peptide chains in hair) and QuadramineR Complex (a set of 19 amino acids that replace natural keratin).