An anthropological journey in search of beauty and original ways of hair care has led us to North America – that's where the hair... really has a voice! A characteristic continent full of diversity and delightful, unparalleled plants. Ancient recipes reign next to modern products, while the hairdresser is chosen by the type of their hair and ... their ethnic roots.
Many people claim that North America is… the whole world locked in a nutshell. The diversity of cultures, ancient civilizations, nations, and sets of beliefs appear through the inexhaustible creativity in terms of beauty care. Ranging from the subdued, full of harmony regions of Canada, through the glorious splendor and diversity of the United States of America, to the colorful, full of secret mixtures Mexico and all-night dancing hot Cuba - in North America, the hair has incredible possibilities to delight with its beauty.
HAIR CARE IN DIFFERENT WORLD CORNERS PART 5 – NORTH AMERICA
What can we learn from the women of Mexico, Canada, and the USA?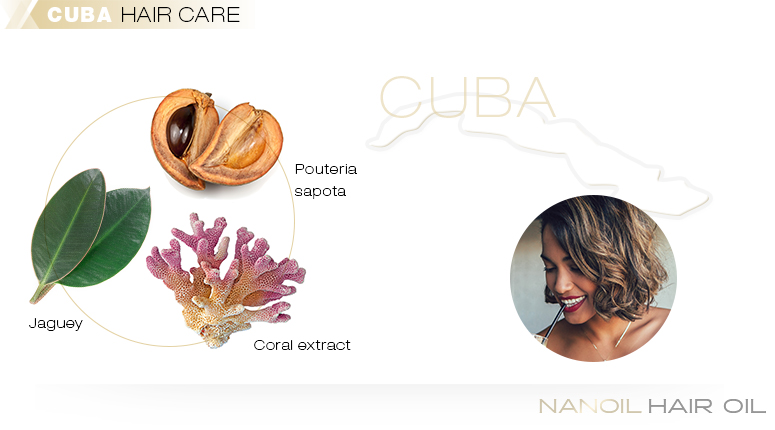 Cuba is a country famous for dancing and singing, a country where you can see the passionate love not only for music. The stunning hair of Cuban women is the merit of special care, during which extracts from trees and shrubs of endemic nature are used (this means that they are not found anywhere outside of Cuba). This island turns out to be a treasure trove of a cork palm tree, and jaguey - a laurel family tree that has impressive, aerial roots and a variety of beautifying and conditioning properties. Another worth-mentioning plant is ficus from the Moraceae family - it produces milk juice, which is used in the production of medicinal and cosmetic products - particularly, those intended for hair care and styling. It contains a large number of tannins, resin, waxes, protein and volatile oils, so it takes excellent care of hair in a hot, hair-unfriendly climate.
Cubans adore oil hair treatments – they often use their 'native' oil obtained from Roystonea regia commonly known as Cuban royal palm. The oil is considered a powerful weapon against unfavorable weather conditions as it shields the hair and scalp from scorching sun and UV radiation. Hair oiling is performed much more often than in Europe, because high temperatures increase the need for an intensified hair care.
● coral extract (sea whip extract) is invaluable in beauty care - Cuba, as one of the few regions of the world, can boast of containing such a large quantity of coral. Its extracts are precious in cosmetics and often become the components of anti-aging creams as well as masks and shampoos intended for mature hair care. Coral is the source of pseudopterosine - one of the most effective ingredients responsible for moisturizing and rejuvenating both the skin and hair. The coral extract also has strong anti-inflammatory qualities, thus, it is ideal for the care of the scalp.
● pouteria sapota (mamey zapote) - this is a large, oval fruit hand-picked from the evergreen tree with orange flesh and a large, black stone. Cubans love to eat it for breakfast because it is as nutritious as a banana. It tastes like avocado, banana, and pumpkin and is popular throughout Central America.
Women in Cuba has fallen in love with its amazing effects and thus, willingly apply it to their hair (in the form of a mask, a conditioner or even shampoo). Pouteria abounds in antioxidants, including beta-carotene and delivers a set of vitamins: C, A, and B, as well as minerals: copper, potassium, calcium, magnesium, and iron.
Canada is well-known for its beautiful, untainted, pristine, impeccable and varied nature. The flag is not without reason adorned with a maple leaf – maple syrup is Canada's pride. It is the country with the second largest geographical area. Forets-covered areas of Canada stretch up to 310 million ha. Can this result speak volumes about Canada's love for nature and natural care? What do they use to take proper care for their beauty, hair, and scalp? It turns out that they have something to boast of.
● chokeberry (Aronia) - the plant is already known all over the world, but its most outstanding varieties grow throughout the virgin regions of Canada – where it came from to Europe. It turned out to be a plant of great powers. Chokeberry fruit and the juice extracted are considered to be the strongest source of antioxidants. This is one of the most rejuvenating substances - it has anti-wrinkle, firming and regenerating qualities. Chokeberry is often a component of face creams and specialized cosmetics designed for hair care. It contains the power of various minerals and micronutrients, while the high concentration of antioxidants is recommended not just in cosmetology, but also in anti-cancer prophylaxis. Large amounts of vitamin P (Bialflonoids) protect the scalp from bacteria, fungi, and yeasts, and shields the hair against toxins coming from the environment. This is not the end of the wealth of valuable substances contained in chokeberry. It is also valued due to high concentrations of all B vitamins, as well as vitamin K, C and E. They balance processes in the body cells, upgrading the looks and condition of the strands. Aronia can also boast of an incredible amount of minerals: iron, calcium, copper, boron, manganese and iodine, phosphorus, potassium, and zinc. Chokeberry is a real multivitamin boost for both the hair and the scalp.
● canola oil - is another pride of Canada. Canola oil belongs to a family that comprises refined oils ideal in the kitchen as well as cold-pressed, natural ones with beautifying and healthful properties. Canola oil is ideal for hair that's described as medium and high porosity - it moisturizes and regenerates the hair, makes it elastic, combats overdrying of the scalp. In addition, it is also suitable for applying to the face - it is well-absorbed and makes no trouble when washing down. It smoothes out the hair cuticle and (which is of great importance for Canadians) protects against the adverse influence of external factors as well as high and low temperatures.
● Canadian horseweed (erigeron canadensis) - it is an annual plant that grows also over Europe, but it is not harvested or cultivated, because according to the majority it is ... a weed. Meanwhile, the extract obtained from a tiny plant with extremely fine flowers is an ideal ingredient for shampoos and conditioners for oily scalp. It has anti-inflammatory qualities, inhibits seborrhea, heals wounds and has a toning effect on the skin.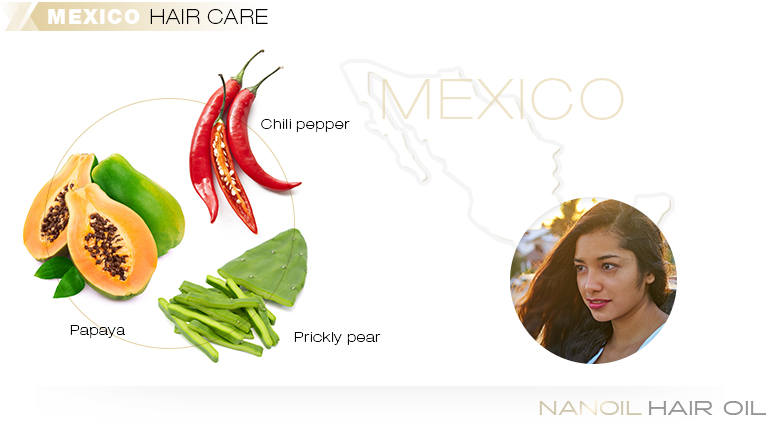 Mexican women are considered to be the lucky ones – the Aztecs and Mayas have passed on the knowledge of they received the knowledge of ancient herbs, plants, and fruit from, which have extremely strong healing and beautifying properties. This age-old tradition is still present in the present-day lives of Mexicans. Women have a lot to choose from - many plants and herbs with great powers support their hair care on a daily basis. Here are the most valuable ones:
● cactus - there is no shortage of it in Mexico, that's for certain. Giant plants with unfavorable appearance offer beautifying, healthful and regenerating properties. Cactus stimulates hair growth and inhibits its loss, perfectly nourishes and revitalizes, regenerates the scalp and maintains an appropriate level of hair hydration, increasing its elasticity. Mexicans are happy to spoil their hair with cactus juice, because it upgrades its looks by cleansing the scalp perfectly, lifting the hair from the roots, strengthening the structure, and enhancing radiance.
● avocado - it is not without reason considered a super-food - avocado is the abundance of vitamins and valuable fatty acids. It is one of the most important food products in Mexico. It is widely used in the kitchen for culinary purposes, but the people of Central America value it not only in the form of guacamole. The essential oil extracted from green avocado is the perfect remedy for damaged hair, which needs regeneration and renewal. Avocado oil is a light, well-absorbed oil that is a real vitamin bomb for the hair (it has as many as seven vitamins necessary for proper hair and skin care). It can be used on both medium and high porosity hair because it has strong hair-regenerating and antioxidant qualities.
● candelilla wax - (euphorbia cerifera) - is one of the densest oils commonly used in cosmetics. Mexicans use it as an ointment for dried and cracked parts of the body, and as a remedy for the hair ends - this way they gain maximum protection against damage. Candelilla wax perfectly nourishes the hair and is a very effective emollient, containing a number of hydrocarbons, resin, fatty acids and esters. When applied to the hair, it immediately smoothes out the hair and tames unruly strands. However, it should be used in moderation, because the candelilla wax is extremely difficult to wash off.
● pitaya - also known as dragon fruit has an irregular shape ana quite unusual composition. For the inhabitants of Mexico, it is a sweet and delicious delicacy with healthful and strengthening properties. It has also been used in cosmetics for a long time - it has strong antioxidant properties, which means that it slows down the aging process and protects against oxidative stress. Pitaya owes its invaluable, strongly rejuvenating properties to betalains - microscopic compounds that, apart from cosmetic properties, act as a support in the fight against diabetes and cancer. Pitaja, meaning dragon fruit also abounds in vitamins, including vitamin C, riboflavin, vitamin B (necessary for proper hair growth), niacin and thiamine. It also has a number of minerals (calcium, iron, phosphorus). Its presence in hair care products increases their prestige and ensures more intensive regeneration.
● papaya - known in Mexico for centuries, that is, from the time of the Maya. It was widely used in the treatment of wounds and ulcers, because it perfectly regenerates the skin. Today, it is used not only as a pharmaceutical but also as a reliable cosmetic agent. Papaya perfectly cleanses the skin, it is an ingredient of enzyme peels (including those for the scalp), and a hair-enchanting component of shampoos and conditioners. Papaya Strengthens and moisturizes the hair, rebuilds and stores collagen, and thus positively affects the structure of the hair and skin. Mexicans value papaya pulp for its strong rejuvenating and regenerating qualities: it contains a lot of vitamins: C, A, K, E and a number of B vitamins that play an important role in the proper growth and appearance of the hair. Moreover, iron, phosphorus, potassium, sodium, zinc, calcium and magnesium are a whole set of minerals that are important for the hair and skin, found in papaya.
● prickly pear (Opuntia ficus-indica) - is an unusual cactus variety, with flattened leaves and exotic orange flowers. The juice obtained from prickly pear contains a rich composition which abounds in vitamins and minerals, flavonoids, organic acids and betalains. Mexicans willingly use it as an ingredient in hair masks. Prickly pear is also welcomed in shampoos and consumed in the form of supplements, because it has been proven ... weight loss properties.
Prickly pear is not only pulp and juice - the mucus is obtained from its leaves, which is a powerful component of hair and face masks (Mexicans often use the same, freshly picked mucus from the prickly pear, applying it to the hair and skin). Another great product extracted from this unusual cactus is the oil, which has strong, bioactive rejuvenating and regenerating properties. It is often used in the form of a facial serum and as an oil for hair oiling.
● chili pepper - the basic ingredient of Mexican cuisine has endless invaluable cosmetic properties. It turns out that the chili was already known to Aztecs and Maya - in combination with cocoa it was referred to as the "drink of the gods", which slowed down aging, added vitality, increased blood circulation, improved mood and thought processes and worked as a detoxifying agent. For Mexicans, chili pepper is a secret ingredient that accelerates hair growth and stimulates hair bulbs to work. Chili combined with oils and rubbed in the scalp improves microcirculation, oxygenates the skin, and strengthens cellular metabolism. Thanks to this feature, the hair becomes stronger, it stops falling out and grows faster.
● guava – as sour as strawberry, as creamy as a banana, as juicy as an apple with a slightly sweet aftertaste resembling date fruit - in Mexico, it is regarded as a tasty and strong antioxidant with regenerating properties. Teens use guava juice to relieve the symptoms of acne, it also perfectly nourishes oily hair and brings relief to scalp irritation. Guava not only regulates the level of sebum, but also ensures an adequate degree of hydration of the hair and scalp, and inhibits their aging at the same time preventing the loss of vitality.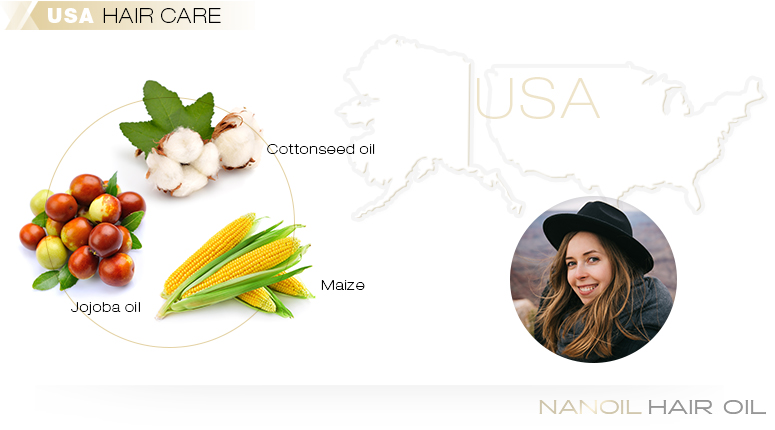 The United States of America – a country where people fulfill their dreams of equality, freedom, wealth, fame. Does that mean that the dreams of having stunning hair have the chance to come true? It turns out that an ethnically-rich country approaches hair care extremely professionally: Afro hair has its own specialists and properly oriented hair salons, whilst, thick, low porous hair of Asian residents also receives special care. To be more precise: every hair will find its own place here.
Americans also have a weak spot: it is European hair care - there are special salons that only offer treatments using the popular features of the Old Continent.
U.S. female residents also eagerly reach for traditional recipes, known and used until today by native Americans. The following list presents the most popular, natural substances with brilliant effects in the hair care.
● cotton (cottonseed oil) - known and cultivated in the United States for decades, also valued for its cosmetic properties. The strongest hair-enhancing substance is cottonseed oil (as the name indicates) extracted from its seeds. It is ideal for the care of dry and damaged hair, lacking elasticity and vitality. It regenerates brittle hair and perfectly protects the tips. Cotton seed oil is famous for its softening properties and balancing the hydro-lipid barrier of the scalp, preventing over-drying and scalp irritation.
● maize - another precious cosmetic oil is the one obtained from corn germs. The United States is a leading supplier of maize and products obtained from it. Maze oil is a wealth of vitamins (C, A, K, D, E and those from group B), as well as minerals (potassium, sodium, calcium, iron, magnesium, and zinc) and valuable fatty acids (oleic and linoleic). Because the concentration of vitamin E in maze oil is twice as high as in olive oil, it is the best remedy for upgrading the looks of the hair.
● soy - one of the main crops grown in the USA. Soy is widely used in the food industry, and the oil extracted from it was considered one of the best. It works perfectly in the kitchen, whilst the cold-pressed and unrefined one is valued in cosmetics. Soybean oil is a key ingredient in anti-aging prophylaxis; it contains a lot of vitamins and microelements and also abounds in protein - essential in the process of hair regeneration. Soy oil prevents moisture loss, protects the hair from high temperatures (strong sun, heat emitted by the dryer). US citizens often find extracts of soy germs in hair and eyelash care products - it greatly strengthens bulbs and improves the hair growth process.
● meadowfoam (Limnanthes alba) has one more beautiful name: prairie pearl. The oil obtained from is obtained from one-year plant and is an extremely strong antioxidant. The people of America appreciate it as an ingredient in cosmetics intended for hair and face care. Meadowfoam delighted cosmetologists with such properties that its flowers were compared to sea foam. The prairie pearl comprises a number of long-chain fatty acids and high triglyceride concentrations. Thus, it moisturizes the skin and hair Perfectly, regenerates and nourishes, reduces wrinkles, absorbs well and does not overburden the hair.
● witch hazel (hammer virginiana) is a substance praised for its astringent, antiseptic and anti-inflammatory properties. The natural habitat of witch hazel is North America. The extract obtained from its bark has a number of nurturing properties. The most important ones include disinfecting, astringent, anti-oxidation. Witch hazel is widely used in the care of oily or acne skin, and as a hydrolate massaged into the scalp and hair to balance the level of sebum secretion and inhibit seborrhea. Witch hazel perfectly treats any inflammation, irritation, and ulceration. It is also a common ingredient in antiperspirants because it inhibits sweating of the skin.
● black willowbark extract (salix nigra) is the best remedy for oily hair, dandruff, or excessive seborrhea. Black willow is a characteristic feature of the landscape in the eastern areas of North America. It works antibacterially and boosts the renewal of skin cells. Often used in skin, face and body scrubs. Its action is often compared to salicylic acid, but the black willow is more effective and delicate: despite the presence of salicylates, it does not irritate the skin.
● serenoa repens, commonly known as saw palmetto - this is a plant already known to indigenous people of America. Women valued it especially because it inhibits hair graying and prevents premature hair loss. It is ideally suited for the care of mature, damaged, tired and sensitive hair. Saw palmetto comprises a wealth of fatty acids (capric, capron and caprylic, lauric, myristic, oil and palmitic), and phytosterols that ensure the right level of skin and hair hydration and have the ability to stimulate collagen synthesis, so they greatly support tissue regeneration. Carnitine and lipoic acid present in the saw palmetto inhibit inflammation of the scalp and counteract baldness.
● jojoba oil – jojoba shrubs are a distinctive view of Arizona, California and the few areas of Mexico. Jojoba oil is really a liquid wax that contains one of the most valued ingredients in the care of hair and skin - squalane. This substance is also present in human sebum - it is responsible for the proper level of skin hydration, suppresses seborrhea, and soothes excessively dry skin.
Jojoba oil is one of the most valued cosmetic substances - its presence in hair care products raises the prestige of a given cosmetic - jojoba is one of the most perfect emollients, and its esters are the most skin-friendly substances. Jojoba oil is easily absorbed, it increases hair shine and perfectly improves it condition. What's more, it does not overburden the hair.