Are you dreaming of having gorgeous-looking hair? Go to Australia! That's the very place where you will find all-natural and powerful conditioning ingredients – not found anywhere else in the world. Australia and the Oceania countries are specific "plant countries" with the largest number of endemics in the world.
It turns out, that the smallest continent of the world is not only the so-called paradise for surfers, fanatics of diving in the largest coral reef, megalomaniacs (opera in Sydney) and ... ostriches... Australians highly value native products, which, in terms of quality, are one of the best in the world. How does Australian hair care look like in the light of this information?
HAIR IN DIFFERENT WORLD CORNERS PART: 6 - OCEANIA & AUSTRALIA
What can we learn from women living in Oceania & Australia?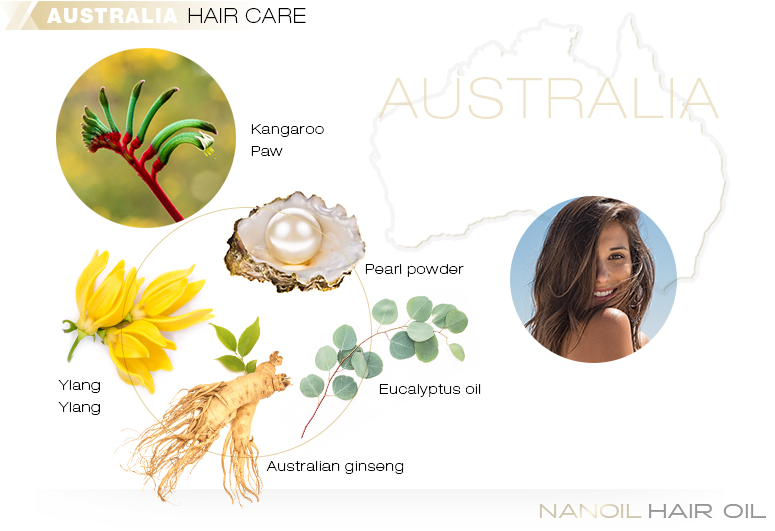 The most unusual and smallest continent of the world surprises with the abundance of indigenous plants and original oils that are never found anywhere else. Women in Australia can pride on their passion for taking care of their beauty. Having such a diversity of amazing components at their fingertips, they do not want to use random products as they value quality and organic raw materials, preferably native. Australia impresses with a wide range of natural beauty products owing them to the local flora. Their variety is so extensive that the description of all plants, algae, oils, clays and marine minerals would be equal to the encyclopedia. Today, we will discuss the most popular specifics used in Australia in terms of hair care.
Kakadu plum grows in northern areas of Australia; it's a fruit that contains more vitamin C than oranges from Florida. It is a salvation for skin damaged by the UV radiation, it is an excellent antioxidant which brightens and protects the skin and hair from pollution and harmful weather conditions. Kakadu plum 'heals' the scalp and perfectly regenerates the hair. Also, it prevents its ageing and slows down hair greying.
Kangaroo Paw (anigozanthos) – where did the name come from? The tubular form of the flower is covered with velvety hair and has pointed lobes which resemble a kangaroo paw, hence its name. Luckily, it does not smell like a kangaroo - the anigozanthos has a beautiful smell and is a great ingredient of hair conditioners. Kangaroo paw softens the hair improving its vitality and elasticity.
Australian seaweeds - because of the fact that they contain the powers of strongly nourishing and regenerating nutrients, they could be called the"marine vegetables". Niacin, thiamine, riboflavin, proteins, vitamin A, C, E, K, PP, iron, calcium, iodine, copper, fluoride, phosphorus, zinc - this is the whole galaxy of everything that hair needs to maintain its incredible radiance, health and prevent thinning. Seaweed is a constant element of care not just of the hair but of the entire body. They are also willingly included in the diet and considered being one of the superfoods that complement the deficiencies of vitamins and minerals. It is worth "feeding" the hair with them - as they are the excellent treatment that nourishes and intensifies the stunning appearance of the hair.
The bark of Australian Wild Cherry - an irreplaceable ingredient of conditioners and shampoos. It gives the hair extraordinary elasticity and strength, makes it shiny and well-nourished, and at the same time provides it with a number of micronutrients and vitamins (iron, copper, cobalt, zinc, magnesium and manganese, and vitamins C and E). The bark of Australian Wild Cherry doesn't only upgrade the condition of the hair but also leaves a wonderful, intensely floral scent.
Australian Wild Peach - Aborigines refer to the wild peach as "quandong", wishing to emphasize its uniqueness and inimitableness with this distinct nomenclature. The extract of wild peach is a valuable substance that deeply nourishes and moisturizes the hair improving its shine and enhancing the hair colour. Australian wild peach is often a key component of conditioners and shampoos intended for colour-treated and unruly hair.
Pearl powder – Women in Australia are considered to be the experts in terms of pearls: for decades, their country has been the world's largest producer and exporter of shiny sea jewels. Pearl powder has been known for over 4,000 years and so far nothing that gives such a subtle glow, perfectly upgrading the looks of the hair and skin at the same time has been discovered. Pearl powder contains more than 20 amino acids, which are part of our body cells and, in addition, it is a valuable source of a substance called conchiolin - the equivalent of human keratin (the key structural material making up hair). Furthermore, the pearl powder stimulates the level of melanin (delays greying), balances sebum secretion preventing excessive scalp oiliness, soothes burns, protects against the adverse effects of environmental pollution as well as regenerates and moisturizes the hair, perfectly polishing it.
Australian Jojoba oil - Australians are keen on performing oil hair treatments. Natural and essential oils are a permanent element of their hair care routines. They eagerly reach for ready-made products based on oils, and jojoba oil seems to be the most popular oil used on the continent. Obtained from native scrubs, growing in a clean, desert climate, jojoba is an excellent oil: it is lightweight, it is quickly absorbed, it does not overburden the hair, contains squalene responsible for regulating the work of sebaceous glands, improves strength, elasticity and radiance of the hair. Jojoba oil is one of the most amazing caring substances. It can be used not only in the hair care, but the whole body and face will benefit from it as it revitalizes the skin and soothes acne.
Pili oil (canarium ovatum) – oil that's cold-pressed from pili nuts is appreciated by the inhabitants of the continent and considered to be more valuable and healthier than olive oil. This unrefined oil is used by Australians mainly for hair oil treatment. It abounds in omega fatty acids, a number of valuable minerals (iron, magnesium, proteins and vitamins E, A and all 8 essential amino acids. Pili oil can be used on its own, or in combination with other natural oils. Moreover, it is often used for blunging mineral clays and in this form, it works wonders as a hair-regenerating mask.
Australian hops - for decades valued not only in the production of beer but also as an excellent hair-enhancing ingredient. Australian hops are an excellent means for hair bulb reinforcement, boosting hair growth, moisturizing and improving the structure of the strands. Also, Australian hops eliminate the problem of dandruff, include antibacterial qualities, regulate seborrhea, and perfectly polishes. No wonder that Australians appreciate hops in everyday hair care. You can use it as an infusion made of hop cones, or look for hair care products that contain natural hop extract.
Australian ginseng – a highly-valuable ingredient for thin, weakened hair, lacking energy, vitality and elasticity. Ginseng is appreciated for its rejuvenating properties, which is why it is often found in products dedicated to mature hair care. Additionally, it is an excellent ingredient in various nourishing and regenerating serum for hair tips. Ginseng is also used as a macerate to create a unique natural oil. Most often, the root of Australian ginseng is soaked in coconut oil or jojoba oil. Hair oiling with the aid of ginseng macerate stimulates the work of the bulb, inhibits hair loss and stimulates hair to grow.
Australia is a country where essential oils are used with passion - not only for aromatherapy purposes. They are often added to cosmetics to increase their care qualities. Which Australian essential oils are most popular in hair care?
Fragonia oil (agonis fragrans) - is a popular essential oil that can be added to hair masks and conditioners. It is also combined with natural oils to enhance their antibacterial and disinfecting effects. Diluted fragrance oil, applied on the scalp, regulates the level of sebum secretion, cures dandruff and inflammation of the skin. It is a frequent component of hair growth stimulating oil blends that also bring relief to the scalp.
Oil from Australian sandalwood - one of the oldest oils in the world, dates back to the time of Cleopatra, it also appears in the ancient Indian medical books. A special variety of sandalwood, called santalum spicatum, grows over vast areas of Australia. Its anti-microbial qualities are stronger than the world-popular tea tree oil. Sandalwood oil is often added to cleansing and sebum-regulating shampoos. It soothes skin inflammation and supports cleansing of the scalp.
Niaouli Essential Oil native oil obtained from leaves and twigs of the plant of the same name works similarly. It shows strong antiseptic properties, kills fungi and has anti-inflammatory, toning and antibacterial properties. It can be found added to shampoos and face emulsions. Niaouli is known as an oil that perfectly strengthens the immune system and soothes allergy symptoms - it is, therefore, a "grateful" addition to sensitive hair care products.
Another disinfectant, healing and inflammation-soothing oil is the one obtained from the eucalyptus tree. Eucalyptus oil supports cleansing the scalp, combats dandruff and acne, polishes the hair and leaves it soft and bouncy.
Ylang Ylang essential oil (oil from the Ylang Ylang tree) - this is another essential oil that is extremely popular all over the world. Its aroma is a great aphrodisiac but it also has strong beautifying and conditioning properties. Ylang Ylang oil counteracts baldness, stimulates hair follicles to grow, accelerates wound healing and irritation, and regulates seborrhea of the scalp. Australians add a few drops of this precious substance to their hair masks and conditioners or enrich clay-based cosmetics and hair hydrolates.
Anise myrtle essential oil - is one of the most popular oils in Australia. Women gladly use it in hair care, because it boosts its growth, perfectly cleanses the scalp and strengthens the subcutaneous blood circulation. It stimulates and invigorates bulbs, so it is often added to all types of ampoules that inhibit hair thinning and reinforce the hair follicles. Anise myrtle oil has one more feature, which is highly praised by women: if applied to the brush or a comb, it facilitates de-tangling and taming unruly strands.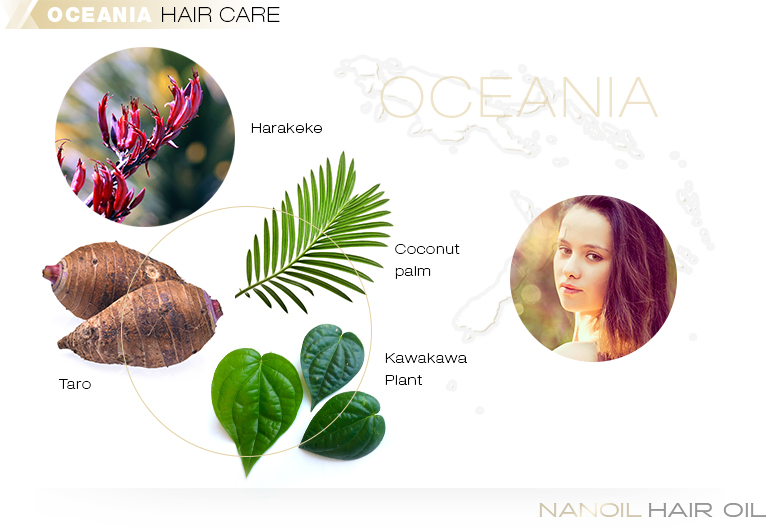 Australia is surrounded by 13 other island countries that can boast of a tropical climate and completely pure, free from smog and polluted air. Oceania countries comprise rare, exotic species of plants that are often used in cosmetics and medicine.
The most popular plant cultivated on tropical islands also known in many other warm regions of the world - coconut palm. The coconut oil is widely used for culinary purposes and in cosmetics (coconut oil is the most common component of shampoos, conditioners and hair masks). Nevertheless, there are alsoplants that are unusual for other continents. New Zealand (as well as some areas of Australia) boasts an extraordinary fruit: tamarillo - otherwise called tomato tree, is not really a vegetable. This tropical, Australian fruit is valued for its unusual taste qualities, and for anti-ageing properties. Tamarillo slows hair and skin ageing processes, is a valuable source of vitamin A - protects against free radicals, while vitamin C supports the production of collagen and strengthens the structure of blood vessels. Tamarillo, like the "native" traditional tomato, contains a high concentration of potassium, which inhibits hair loss and reinforces weakened hair bulbs. The fruit can be applied to the hair, face and scalp in the form of a thick mush often infused with a few drops of natural oils.
A popular oil with soothing and anti-ageing properties, recommended for the care of mature skin and hair, known worldwide, massively grown in New Zealand is called borage seed oil. It is a powerful antioxidant, also recommended in the care of colour-treated and bleached hair.
All island states appreciate and use the beneficial power of sea algae - in this region of the world you can encounter a dozen different varieties that are included in the diet and used as a cosmetic with strongly regenerating properties valuable for the skin and hair.
Another popular cosmetic from the region of New Zealand is the harakeke extract - often added to shampoos or hair rinses, famous for its healing and toning properties. Its main task is to bring relief to the irritated or sensitive skin, soothe burns and perfectly take care of heavy, thick and volume-free hair.
Due to its soothing and calming properties, the macerate from olive oil and kawakawa plants, it is also used in shampoos recommended for sensitive scalp. It has analgesic and anti-inflammatory qualities, protecting the scalp from strong sun and high temperatures.
Nearly the entire Oceania and most areas of Australia are tropical forests and a wide range of eucalyptus varieties - they are a highly valued cosmetic and aromatherapy agents. The aforementioned eucalyptus oil is one of the most popular ingredients used in the care of heavy and oily hair.
Another plant characteristic for the New Zealand region is the New Zealand flax(often called New Zealand hemp). oil pressed from the seeds of this plant is particularly valued in hair care. It is called the harakeke seed oil and is popular because of the high concentration of omega-6 linoleic acid. Harakeke seed oil is a valuable source of phytosterols that stimulate collagen synthesis, prevent hair loss and strengthen the entire length of hair from the bulbs to the tips.
We can also admire the amazing richness of plants in New Caledonia (the island is "home" for 2551 endemic plants). Particularly noteworthy are the unusual and unique coniferous trees - many species are protected there. Seeds are used to produced essential oils which are often combined with the popular coconut oil or jojoba oil.
Another appreciated substance for hair care is ebony and the above-mentioned sandalwood. They are grown mainly in the region of the Solomon Islands. Ebony is used not only for the manufacture of furniture and sculpturing. It turns out that the ebony extract has excellent anti-cellulite qualities, and also stimulates subcutaneous blood circulation. In addition, if used systematically in the form of scalp lotion - contributes to better hair growth and protects the bulbs from falling out. It also has anti-ageing effects and protects against free radicals.
Samoa can boast of having a mass cultivation of a plant called colocasia esculenta, commonly called taro. Various parts of it are widely used in medicine: taro is a perfect remedy for the irritated scalp, all ulcers and inflammation of the epidermis. Its cosmetic properties are impressive: taro is rich in sugars, oligopeptides and flavonoids. Its active ingredients strongly stimulate cell metabolism: therefore, extracts from the plant are used to deal with problems connected with weakened and thinning hair. Taro is also excellent as an ingredient in regenerating creams and face masks.
Exotic fruit from the regions of Oceania, apart from their amazing taste, are often valued for the richness of vitamins, minerals and amino acids. They become ingredients of natural masks and are combined with natural oils to nourish hair and skin. One of the more commonly grown fruits on Kiribati are bananas, jackfruit and melons. They are not only nutritious foods but also natural cosmetics beneficial for the body and hair.
Tropical and exotic ingredients for hair care? If you are looking for innovation and want to try out something new - reach for native, natural oils from Australia and its unique plant extracts - their action will positively surprise you. Considering the fact that hair oiling is a popular ritual around the globe - such a large number of women cannot be wrong: natural oils are the best you can give to your hair!