South America is a continent where modern cosmetology and aesthetic medicine meet the centuries-old tradition and ancient plants of great powers. The ancient Incas have discovered the beautifying and healthful properties of herbs, fruit extracts, seeds, rhizomes. The women of Brazil improve their beauty with all the aesthetic medicine and advanced cosmetology achievements. This is the continent, where a broad sense of beauty has its origins- from ancient oils of great power to keratin hair straightening treatments. Luckily, we have the chance to learn a lot about hair care from the temperament, knowledge and experience of the inhabitants of this colourful, hot, imbued with the wildness of nature corner of the world.
HAIR IN DIFFERENT WORLD CORNERS PART 4 - SOUTH AMERICA
What can we learn from the women of Brazil, Chile or Argentina?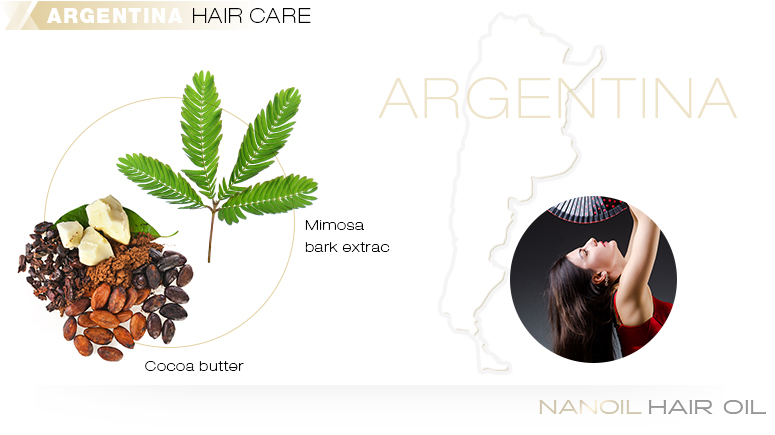 Women of Argentina are known for taking excellent care of their hair, or to be more precise, for improving their looks by every means possible of aesthetic medicine and advanced cosmetology. Due to the hot climate and high temperatures, they are somewhat bound to take care of their hair, scalp and skin more intensively. One of the popular and valued substances with strong pro-health and beautifying qualities is camaldolese, also called tepezcohuite, or mimosa tenuiflora. It is a mimosa bark extract - a strong antioxidant, treated in Argentina as an elixir of youth.
It is known mainly for delaying skin ageing processes and is willingly used in various products dedicated to mature skin and hair care. In hair masks and conditioners, it has an additional moisturising function which is extremely important considering such a hot and hair-unfriendly climate. The mimosa bark extract strengthens blood vessels and stimulates the bulbs to work more intensively. Camaldolese can be even used on the sensitive scalp as it will bring relief to all irritations, inflammations and provide protection against the blazing sun. Moreover, it has anti-inflammatory and anti-bacterial properties as well as protects against infections, reduces swelling and redness on the skin, stimulates the bulbs and strengthens hair follicles. As a consequence, the mimosa bark extract prevents hair loss and significantly improves its condition.
Entire South America has fallen in love with Camaldolese. Mimosa bark is valued to such extent that it has found a noble place in the range of hair cosmetics launched by Salma Hayek.
Another praised and well-known natural cosmetic is cocoa butter. It grows throughout South America, but the best varieties can be found in the southern regions of the continent. Cocoa butter is brown in colour, resembles a chocolate pulp and has an amazing smell. The women of Argentina use it in their face, body and hair care – especially popular among the owners of dry, frizzy, unruly hair that lacks shine. Cocoa butter takes care of the scalp perfectly – it soothes irritations, protects against strong, tropical sun and improves hair's elasticity. It can be applied to the hair ends to protect them from damage.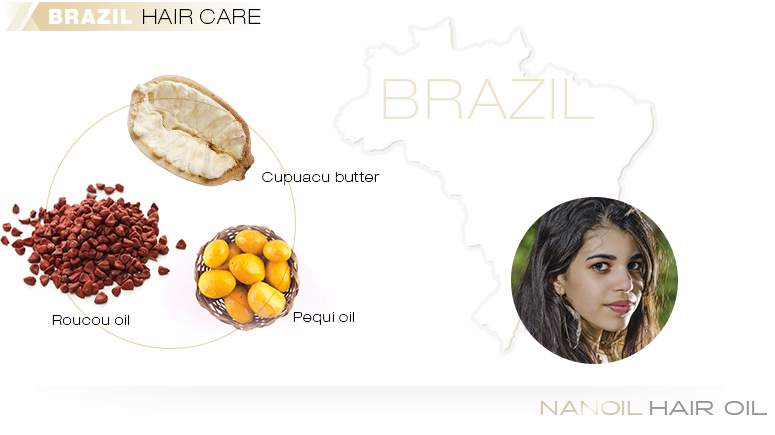 Brazil is mainly associated with wild, unpolluted areas of Amazonia. That is where all the most valuable, internationally-famous substances with strong beautifying and conditioning qualities come from. Amazonia abounds in natural, tropical oils and butter that are willingly used by the women of Brazil for oil hair treatment, face and body care as well as for combining them with herbal infusions intended for treating minor diseases and skin ailments.
What do the Brazilians use in their hair care routines?
Cupuacu butter – is pressed from the seeds of a particular variety of the cocoa plant (the Cupuasu tree), a relative of cocoa butter. How does it influence the hair? First of all, it is easily absorbed and does not overburden the strands. Cupuacu butter is gentle to the scalp, renews the skin's hydro-lipid layer, ensuring an appropriate hydration level of the hair and scalp. It regenerates perfectly because it contains a high concentration of phytosterols - these, in turn, have the ability to stimulate collagen synthesis. Moreover, phytosterols reduce the breakdown of elastin whilst strengthening the hair roots. They are part of the intercellular cement of our skin. Also, Cupuacu butter delivers a wealth of vitamins: C, E, and A - the strong antioxidants. The presence of unsaturated and saturated fatty acids ensures intensive regeneration of the hair and allows the Cupuacu butter to adapt to both low and medium porosity hair.
Babassu oil – is extracted from nuts harvested from the Brazilian Cohune Palm. It contains up to 90% saturated fatty acids, which perfectly nourish the thick and heavy hair of Brazilians. Babassu oil contains a lot of plant sterols and vitamin E – its task is to enhance the hair lightness, nourish the scalp and thoroughly cleanse it to remove toxins and sebum. What is more, the oil improves the condition of the hair, delivers softness and increases volume while smoothing out the structure. Thanks to Babassu oil, the hair gain protection against adverse weather conditions, and additionally – support in the fight against dandruff (it also has antiseptic effects).
Pequi oil – is another exotic and slightly less-known oil, extruded from the seeds of the Caryocar brasiliense. It is especially valued in the care of hair that has been overprocessed, weaken by hot styling, dyeing or bleaching. Pequi oil helps maintain moisture and strengthens the hair structure, thanks to which, it maintains good condition: it is strong, shiny whilst it's neither dry nor frizzy. Pequi oil will also take care of damaged and dehydrated hair ends.
Roucou oil - is a costly yet valuable oil that deals with the first signs of hair ageing – provided that it is used regularly, it inhibits greying and hair loss. In addition, it delivers antibacterial and soothing qualities. Roucou oil derives from the seeds of achiote tree (Bixa orellana) - a shrub or a small tree growing in the Amazon Rainforest. When used in hair oil treatment, it makes the strands gain brilliance and softness and transports a whole range of regenerating ingredients, including magnesium, calcium, selenium or salicylic acid. Moreover, Roucou oil is also a wealth of the so-called vitamins of youth, that is vitamin A and E.
Brazil Nut oil – is another oil appreciated for its powerful anti-ageing properties. Its composition features a diversity of fatty acids (over 75% of palmitoleic, oleic and linolenic acids). Their high concentration makes the Brazil Nut Oil responsible for the proper functioning of skin cells and hair matrix. Additionally, it helps to combat various skin problems as well as nourish the scalp and prevent irritation supporting the reconstruction and regeneration of intercellular cement. Moreover, it regulates the level of hair hydration and protects against the harmful effects of external factors. Brazil Nut Oil contains vitamins E and A and phytosterols highly valuable for hair (including sistosterol). It is also a beneficial source of magnesium, which is involved in the production of proteins - keratin - the key natural structural material making up hair.
Prised exotic oils and butter are not the only features the Brazilians can boast of. Nevertheless, it is worth remembering that it is to them that we owe the world-famous Keratin Hair Straightening Treatment.
Hair-Smoothing Keratin Treatment – also known as Brazilian Keratin Treatment or Brazilian Blow-Out – a procedure done to upgrade the looks of the hair. Most women decide to undergo the treatment to straighten their hair yet its main benefit is the in-depth nourishment based on replenishing keratin deficit in the inner hair structures. This intensively-regenerating therapy rebuilds each strand making it thicker, more moisturized as well as protected against damage and dehydration leaving. Aa a result, the hair becomes radiant, healthful and gorgeous-looking. Keratin Hair Treatment seals hair scales thanks to which the hair surface is smoothed out. Owing to the treatment, you will be able to pride on thick, resilient and full of vitality hair, just like the women of South America. It is worth mentioning, that the best type of Keratin comes straight from Brazil because that is the area where it draws its roots and tradition - you can be sure that keratin is appropriately processed and supplemented with high-class care ingredients.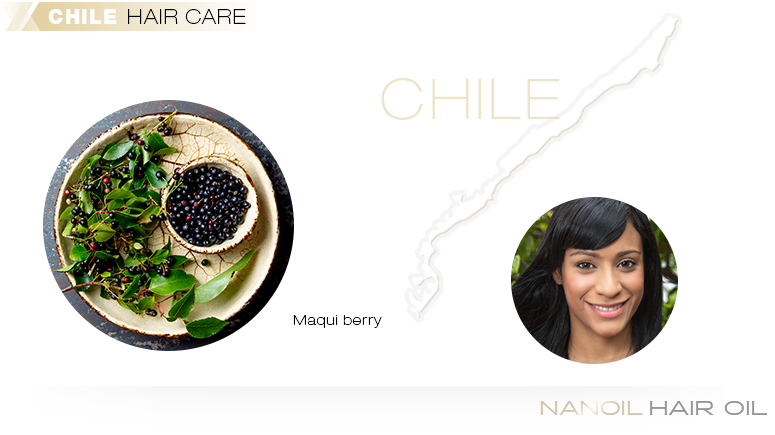 The women of Chile can also boast about a high-quality natural oil. One of the most important oils is maqui berry (Aristotelia chilensis), cold-pressed from the fruit seeds harvested from the shrub of the same name. Maqui berry shrubs grow wild and the fruit is hand-picked by the Mapuche Indians, who cultivate plants and have been extruding valuable oils for ages handing down the tradition from generation to generation. They have mastered the art of using not just the pits and maqui berry fruits, but also its leaves, roots and stems.
Oil extracted from berry-like fruit is a valuable source of antioxidants. Therefore, it is treated with due reverence and pietism and considered as the elixir of youth. It contains primarily omega-6 and omega-9, as well as an extremely high concentration of vitamin E and plant sterols, which perfectly regenerate and beautify the hair. Maqui berry oil improves the elasticity of hair, firmly maintains the bulbs in the hair follicle (in consequence, it inhibits hair loss), stimulates hair growth, and skin regeneration. It also strengthens the hydro-lipid barrier of the epidermis, complements the lack of fats in the skin and hair, and also improves the penetration of nutrients into the skin and into the hair matrix.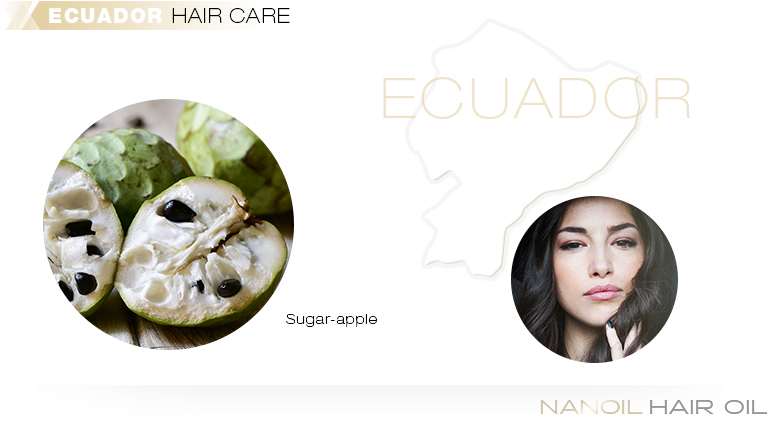 Probably the most exotic tropical fruit – sugar-apple – comes straight from Ecuador. The fruit resembles a large, green-purple raspberry that reveals sweet and aromatic pulp from under its thick skin. It abounds in a range of minerals: (phosphorus, calcium iron) and delivers a set of vitamins: A, E, C, PP. As a beneficial ingredient of various hair care cosmetics, sugar-apple features strongly nourishing, regenerating and soothing qualities. Thus it accelerates healing of irritated areas of the scalp. It does not only provide vitamins and minerals, but also perfectly sweeps away toxins due to the lemon and apple acid content which is intended to exfoliate, disinfect, and at the same time properly acidify the scalp by normalizing sebum ( the acids also provide shine-boosting properties). Women from the regions of Ecuador treat sugar-apples with pride and eagerly use them as a mask dedicated to hair, scalp and face care.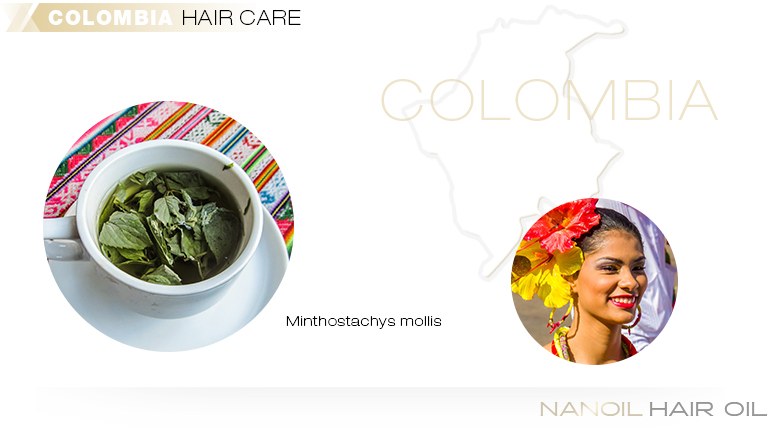 Minthostachys mollis (muña) - is a medical plant that occurs primarily in Colombia and Venezuela, but it can also be found in the north of Brazil, Ecuador and Peru. The main ingredient of the plant is peppermint oil, which contains menthol, isomentone and numerous terpenes (including geraniol, pulegone, linalool and isoamyl alcohol). The extract obtained from the above-ground part of muña is used in the production of various beauty products. It has antiseptic properties: it disinfects, combats and heals skin fungal and bacterial infections, deters insects and protects against toxins. Muña helps to get rid of parasites, fights scabies, dandruff, supports the fight against atopic dermatitis, enhances blood supply, thus when rubbed into the scalp, it stimulates the bulbs and consequently, accelerates hair growth. Thanks to muña, the skin is better supplied with nutrients. Colombians drink herbal infusion, and women use muña on their skin and hair to nourish, regenerate and purify the scalp. In Colombia, there is a common belief that the muña herb is capable of combating the HIV virus and is widely used even with the advanced stage of AIDS.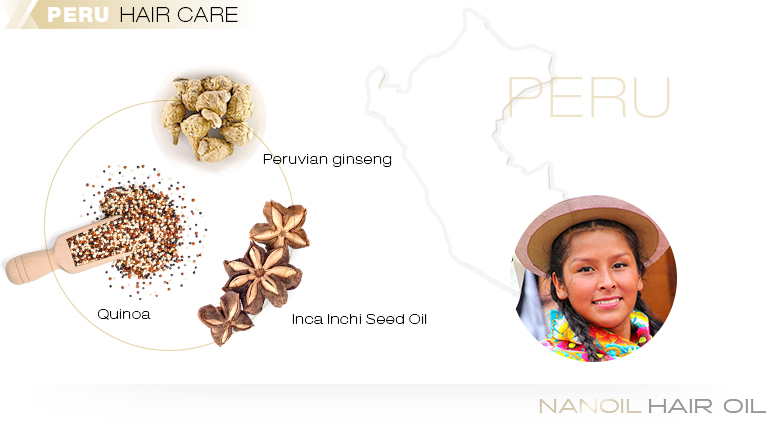 In terms of body, hair and facial care, Peruvians have something to brag about. The magnitude of natural, perfectly functioning products is primarily the merit of the Incas - their ancient recipes and discovered plant-derived substances are still very popular nowadays - not only among the local population. Inca tea, inca inchi oil or amaranth are world-famous products. What is their task when it comes to hair care? What else do the inhabitants of Peru use to enhance the looks of their hair?
Peruvian soap - it is the pride of Peruvians - it is natural (contains more than 92% ingredients of plant origin), delicate and excellent for washing because it has a reaction that is compatible with human skin. Peruvian soap has a beautiful, emerald colour and is suitable for washing the face, body and hair. The product perfectly removes oils after hair oil treatment, regenerates dry hair, ensures the proper level of moisture, nourishes and cleanses the scalp, restores radiance and makes the hair soft and pleasant to the touch. Peruvian soap is semi-liquid, reminiscent of an azure paste with a nice aroma. Perfectly removes makeup, tightens the skin and washes off well, leaving no greasy residue. Another advantage is that Peruvian soap is very efficient: it is a multi-functional, natural cosmetic with a nice consistency and a pleasant formula, rich in natural nutrients.
Maca also referred to as the Peruvian ginseng - its healthful properties are invaluable. Maca is primarily used as a medicine and ingredient enriching healthy diets as it strengthens bones, adds energy, provides a range of vitamins, improves potency and fertility. It is also a component of cosmetics, including those for washing and nourishing the hair - its presence in hair masks is fully justified: maca is a real vitamin booster for both the hair and the skin. Maca also reinforces the hair's strength and protects it from damage. It is worth mentioning that the Incas have already worshipped maca in the past and used it during religious rites. Such rituals were to indicate its uniqueness and strong healing effects.
Quinoa - its use in skin and hair care products still seems quite exotic in some regions of the world. However, in Peru, quinoa does not surprise anyone as a cosmetic; it often accompanies other natural oils, for instance, shea butter. As a cosmetic, quinoa perfectly nourishes the skin and hair because it provides them with a wealth of omega-3 fatty acids, vitamins (including B2 also known as riboflavin that provides the skin and the hair with vitality and elasticity), proteins and antioxidants. Also, the product supports the production of collagen and protects against moisture loss. It is the source of numerous amino acids and improves the repair of damaged tissues. Peruvians willingly use it to regenerate and protect the hair from damage. Quinoa takes care of the right level of hair hydration and protects it from drying - from the roots to the ends.
Physalis peruviana - the Incas called it "goldenberry". Surely, every woman in Peru would certainly give it a gold medal for its nutrient content (vitamins A, C, the most important from B group: B1, B2, B3, as well as phosphorus, iron and calcium). In hair care, Cape gooseberry is a valuable component of masks and conditioners, because it perfectly regenerates, improves cell metabolism, polishes, protects and prevents hair loss. Physalis peruviana is also an excellent, slightly sweet delicacy.
Inca Inchi Seed Oil - comes from a small, green shrub bearing tasty nuts, hidden in a fruit of an unusual shape. To this day, the most effective method of obtaining this oil (also known as Sacha inchi) is to squeeze the seeds by hand in special presses. This way, the oil does not lose its valuable properties - it is cold-pressed and unrefined. Sacha inchi oil is unusual - its proportions of fatty acids suggest calling it "Inca Omega Oil". Why? Apparently, it contains about 48% omega-3 fatty acid, 36% omega-6 fatty acid, 8% omega fatty acid 9. This ideal balance of fatty acids translates into excellent pro-health and beautifying properties of the oil. Inca inchi seed oil has strong regenerating properties, quickly and efficiently penetrates the skin and hair, strengthens the roots and prevents hair loss. What's more, it improves hair structure, stimulates the cells to work and boosts their renewal. But that is not all of its assets. In addition, it firms the body, reduces scars and fine wrinkles, delays the hair ageing processes (in including greying). Inca inchi oil is also a powerful antioxidant with a high content of vitamin A - it is responsible for proper hair growth, ensures its good condition, protects against overdrying and destruction. Inca inchi is an extremely delicate oil that heals scratches and skin irritations, protecting even atopic skin.
Amaranth oil - otherwise known as amaranthus cruentus. Amaranth oil is a valuable source of good fatty acids (mainly linoleic), as well as squalene and tocotrienols. Amaranth used in hair care, regenerates, protects and beautifies strand by strand. Linoleic acid is responsible for the proper functioning of the skin and hair bulbs. What's more, it is a great moisturiser and a component of intercellular cement. Thanks to this, amaranth is a source of type 1 ceramides valuable for hair and skin. Squalane balances the level of sebum and inhibits seborrhea. When it comes to dehydrated skin and hair, it's task is to bring relief and the proper dose of hydration. Amaranth oil is suitable for hair oiling because it perfectly shields the strands from harmful effects of weather conditions. It doesn't just sooth all inflammation but also smoothes out the hair structure, tames unruly strands and polishes the hair. Amaranth oil is often added to hair masks and balms. It gently lubricates them and makes the strands gain elasticity and good looks.
Uncaria tomentosa - also known as cat's claw and often referred to as Vilcacora (Uncaria tomentosa). A climbing plant known throughout the world. The greatest recognition and the best varieties occur in Peru. Cat's claw is ideal for the care of weakened and delicate hair with the tendency to falling out. Peruvians willingly use shampoo with its content. Vilcacora makes the hair beautifully-looking, smooth, soft as well as boosts lustre and charm. Cat's claw relieves irritation of the scalp. In other parts of the world, it is mainly released in the form of tablets, as a supplement supporting the fight against many diseases and ailments. In Europe, the most common name is the cat's claw.
Full of temperament, exotic, abounding in wild, pristine, unpolluted areas, the continent is the inexhaustible wealth of perfect, natural cosmetic substances of enormous powers. It is worth remembering them and implementing in the hair and skin care routines. After all, women living in South America are famous for their full, beautiful, thick, and healthy hair that grows long and strong, softening the heart of every muchacho.