Braided hair look beautiful and very feminine, they add elegance or nonchalance, depending on the type of braid we choose. However, not only is the type important, but also the updo itself. Here are the most beautiful braided hairstyles you can have!
The braid is in fact a hairdo. It is beautiful and gives the look fresh and feminine effect, usually evoking nice, holiday memories. It is a classic with which you can build any kind of look you like depending on the type of braid chosen. It may delicately fall on your neck, but this is only one of several possibilities. Check the most beautiful braided hairstyles.
Are braids making a comeback?
This simple hairstyle is becoming more and more popular among those women who want to feel comfortable. Braided hairstyles are perfect for this purpose because they give a lot of possibilities and fit any occasion and look.
Following the latest trends among fashion designers, Hollywood stars and celebrities, it is time to practice a few braided updos. The ability to braid is a valued skill, especially if you want to be trendy.
What is the best braided hairstyle?
In general, all types of braids fit both elegant and everyday outfits. The fishtail braid is very girlish, while the rope braid will emphasize the features of the face making you look more feminine. Different type of braid is recommended for a summer festival, another for a wedding, and yet another for a romantic date in a restaurant. Still, each of them deserves to be called 'the best'. If you don't know which braid to choose, go for comfort. An ideal braided hairstyle is the one that we feel good in.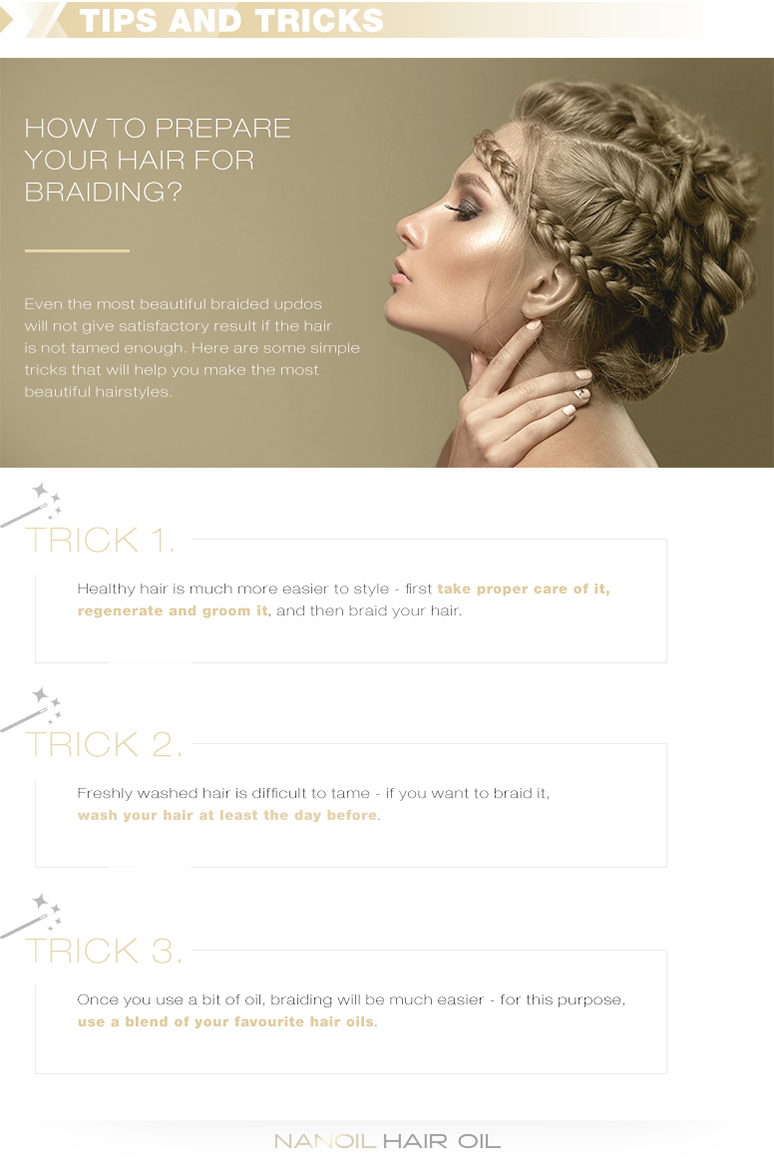 15 ideas for braided updos
One thing is certain - every braid can be presented in many ways. Check the most interesting ideas for braided hairstyles that are worth trying. With a bit of time and creativity, you will be able to wear your hair in a braid all year round without getting bored!
1. One side braid
What is the easiest way to make your braid more attractive? Instead of braiding it on the back of the head, move it slightly to one side. The hair combed to the side can be braided into an English, French or Dutch braid. This way, your hairstyle will be different each time. Unfortunately, this updo will work fine only with long hair.
2. Boxer braids
The most fashionable hairstyle of the last few seasons is boxer braid. The name comes from the fact that it was originally chosen by athletes. At one point, this type of braid appeared on catwalks, and shortly after that on the streets. Today, boxer braids are popular among many women (worn on a daily basis or for special occasions), because such hairstyle is extremely comfortable and glamorous, especially when decorated with hair jewelry.
How to do boxer braids? You have to divide the hair into two halves with the parting in the middle of the head. Then, braid each section tightly from the top of the head to the ends. It can be a classic French plait or its Dutch variety.
3. Crown braid
If we go back in time, this hairdo was popularized by the former Ukrainian prime minister Yulia Tymoshenko. However, she is not the only one who is in love with crown braid. It is a timeless and very elegant hairstyle that gives you seriousness and maturity.
Unfortunately, this is a very difficult hairdo. Also, there are many varieties of the crown braid - in the case of long hair, the crown can be made of a long braid placed across the top of the head, in the case of short - the hair can be plated around the head.
4. Braided space buns
Two braid wrapped up near the ears are one of the most recognizable movie hairstyles - such buns are a characteristic feature of Princess Leia from Star Wars. The buns are made of two plaited braids, which are wrapped up and pinned in place. Unfortunately, this is another updo that will work best with long hair.
5. French-up high bun
A few seasons ago, girls went mad about high, loose buns with a french braid at the back of the head. Such a combination has conquered the hearts of women because both hairstyles gained a new, fresh and interesting look.
Such an updo is very easy to do - flip your head upside down and comb your head carefully. Then begin braiding down a French braid towards the top of your head. Once your braid is ready, gather all hair to form a high bun. The final effect is absolutely wonderful!
What's important, this is a great way to get a high bun when we have short hair at the back - our shorter strands on the neck are gathered in a tight braid.
6. Braided double buns
Another variation on a French-up high bun is an updo with two braided buns. This is a perfect festival hairstyle. It is done in the same way that the French-up high bun is, though the hair needs to be divided into two sections with a parting in the middle. Then braid two French plaits finished with two high loose buns.
7. Braided bun/ bun decorated with a braid
A simple way to make an ordinary bun more attractive is to leave one strand, braid it and pin it around the bun.
As an alternative, you can create a braided bun. All you need to do is braid your hair at any height (just above the neck or from a ponytail) and wrap it tightly near the skin so that it creates an effective bun. If you pull a few strands from the bun, this hairstyle will fit even the most casual look.
8. Braided rose
This is a very interesting hairstyle with a braid that resembles… a rose. What do you need to do it? Long and thick hair as well as a lot of time, skills and patience. It's good to have additional two hands that could help you with it because it is a rather complicated hairstyle.
This updo is actually a bun made of specifically formed braids in a way that it resembles a rose. You should start from the inside with the use of thin braid, which is rolled up and pinned exactly where the middle of the flower should be. Then, next braids should be thicker and wider - this is how you imitate the rose petals. This is a difficult task, but the effect is worth the effort.
9. Braided hairband
If you get annoyed when your hair falls into your face (which is particularly annoying in the summer), you can try braided hairband. It is enough to braid the part from one ear to the other in a tight, French braid. In this way, with your hair you can create a natural, practical and nicely-looking hairband.
10. Braided bangs
This is a good idea when you want to get rid of your bangs only temporarily. You can use your bangs to make a braid. For a better effect, you can hide the tip of the braid under loose hair.
11. Parting braid
This is a relatively new idea when it comes to hair braiding. Such a braid will fit any kind of hairstyle, be it loose curls or straight hair. It gives your hair a bit of ethnic character. How to do it? Create two partings leaving a large section of hair in the middle. Then braid the hair in the middle and secure with a band. Let the braid mix with the rest of the hair to achieve a natural effect.
12. Braid finished into a ponytail
Another simple hairstyle with a braid (though, a very impressive one!) is a braid finished into a ponytail. You can easily do it at home. You just have to braid your hair from the top of the head to the middle and then finish with a ponytail. The effect is absolutely charming.
13. Braided mohawk
If you need something more expressive that will be perfect for a party - choose a braided mohawk. This is an easy way to make you look sexy and glamorous at the same time.
How to do braided mohawk? It's best to choose a Dutch braid, which is called the 'reverse French braid' as it involves crossing the strands under instead of over the middle strand. The braid is at the top which makes it clearly distinguishable from the rest of the hair. Loosen the strands to achieve a satisfactory effect.
14. African Cornrow
This is a very popular hairstyle in African countries. It is made of small braids running from the forehead to the neck. This is one of a few hairstyles with braids that can be done even with short hair.
There are many variations, such as side-swept cornrow or swirl cornrow. It is a kind of hairstyle that gives you many options, even though it's based on just one type of braid.
In the african tradition, women oil their hair with a natural oil (usually coconut) before braiding them. This is a good idea for a couple of reasons. Firstly, it smooths your hair, make it shiny and easier to braid. Secondly, it will fix the effect and tame your hair. Thirdly, oil will protect your hair from the sun.
15. Other braids
In fact, there are many types of hairstyles in which braids play either the main or secondary roles. Braids can be used to form fancy patterns on the head even on loose hair, for example creating a fishnet across the surface of the hair. In this case, the only limit is your imagination.