Every woman wants to look like a movie star on her wedding day. Gorgeous hairstyle is an essential element of the celebrity look. How to care for hair so that it's healthy, strong and long on the big day?
Wedding preparations start off long before the set date for many couples. Renting a wedding reception venue, hiring a photographer, setting the menu, we forget about ourselves. Despite the dress, shoes and accessories, the issue of the bride's looks comes down to making a hair salon and makeup appointment.
What if I tell you that you can actually start pampering your hair much earlier so it looks its best on the big day? The hairstyle effect is up to you!
Pre-wedding hair care
More and more women are becoming aware that healthier hair looks far better in a wedding style than split dry strands. The right pre-bridal hair care is a way to look and feel exceptional on this very day (and night). Hairdressers find it easier to work on strong, elastic and thick hair. Moreover, there are more possibilities when it comes to ideas for wedding hairstyles.
That is why writing a pre-wedding hair care schedule makes sense and lets you get ready for the event.
How can you make your own pre-bridal hair care plan?
Once it dawns on you that pre-wedding hair treatments really make sense, it is time to create your individual hair care plan. There isn't one recipe for beautiful hair. Each of us has a different type of hair porosity and different hair care problems.
Firstly, answer these three key questions:
What's my hair like now?
What's my dream hair like on the wedding day?
What's my dream wedding hairstyle?
Secondly, on the basis of the answers, diagnose your hair problems (excessively falling out, lack of moisture, split ends) and define your goals (e.g. volume boost, longer hair). You will get a hint if you should focus on repair or boosting growth. A desired bride's hairstyle also determines what your hair should be like - if you want a grand high updo, you need thick, strong hair which is long enough.
Thirdly, arrange your bridal hair care regimen. Define which products you actually need and subsequently use them regularly. On a daily basis, make use of lightweight conditioners. Once a week - go for deeply-working treatments and clarifying shampoos. Run through ingredients on the labels and pick products addressing the needs of your hair e.g. proteins for damaged hair, humectants for dry hair, etc. Still, don't forget the importance of hair oil treatment because it is the quickest way to bring back shine and beauty.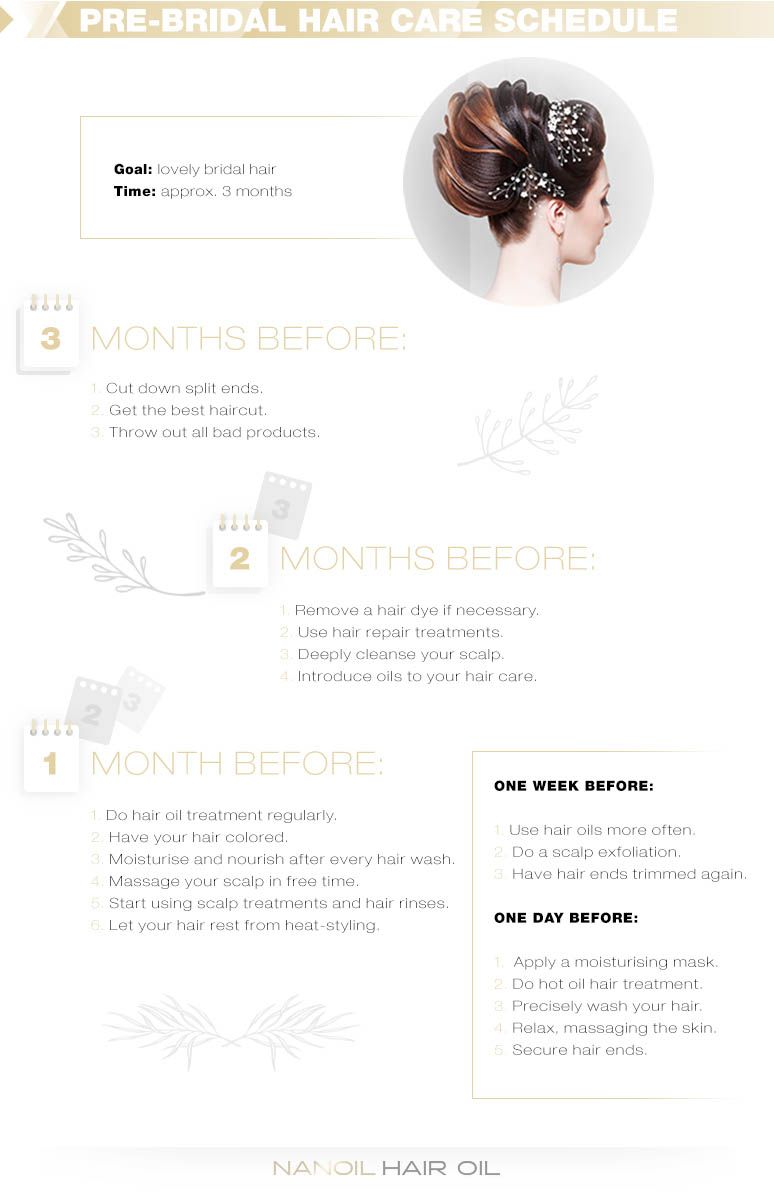 Pre-bridal hair care regimen
You need time for hair repair so start acting at least three months before the fixed date. Of course, you can start changing your habits much earlier. It's never too soon to start the right hair care routine.
Create a timetable and plan everything you must do to make your wedding hair gorgeous, lively and luminous.
The soonest possible, run through all of your products and throw out the potentially-harmful ones e.g. due to improper ingredients. Get yourself some natural oils - of course, they must be right for your hair porosity like Nanoil. Go to a hairdresser who will tell you which salon treatments will help you restore your hair shine. Cut down on all things harming your hair e.g. heat styling.
A few months before, think of the best haircut e.g. have hair cut straight if you don't need layering for your bridal hairstyle. It is good time for various salon procedures and chemical processing which requires some time for repair later on. If you've got color-treated hair but want your natural color back, don't put off removing the dye. Do it as soon as possible.
One month before the big day, have hair ends trimmed not to spoil the look with split strands. Have your hair colored if you want to change or refresh the color for the wedding. It's high time you introduced the right products (conditioners, masks, oils, rinses, scalp treatments) which will help you strengthen and beautify your hair preparing it for a bridal hairdo.
Read more about the best frequency of using different products in the post about hair care pyramid.
Seven days before the wedding, you have time for the final preparations for the chosen hairstyle and instant treatments e.g. steaming. You can use oil treatments more often but don't forget about the hair and scalp cleansing to get rid of product buildup, impurities, toxins. Let your hair rest from a dryer, straightener, hairspray. Shield it from the sunlight and physical damage e.g. wearing a loose bun at night.
A day before, give your hair another dose of nutrients with oil treatment. Gently massage the scalp to give your hair a boost of energy and let yourself relax before the incoming event. Wash your hair using a mild shampoo (hair is better to work on when unwashed) and secure the ends using a lightweight serum or oil.
Pre-bridal hair care - rules
Obviously, you can't forget the fundamental hair care rules which are valid especially before the wedding day. After all, you want your hair to look stunning and be smooth, shiny and soft, right?
Top 10 pre-bridal hair care rules
Hydrate and nourish your hair from within with the right diet.
Cut down on hair-damaging procedures e.g. hair extensions.
Decide on a color change soon enough.
Don't experiment with your hair - let a pro do the job.
Do regular hair oil treatment to bring back the natural beauty.
Have hair ends trimmed, even if you grow long hair.
Follow multi-stage hair care using various products.
Protect your hair (mostly hair ends) from damage.
Never forget about scalp care and cleansing.
Treat your hair like treasure that you must take care of.
Treatments to prepare hair for the wedding
Before such an important day, you must lavish love and time on your hair. Your hair care must be as excellent as it has never been before. Popular hair treatments work best here. What should you use to prime your hair for the wedding?
Hair oil treatment
Without doubts, it's the winning hair care treatment. You can do it either at home or salon. On a daily basis, you can use hair oils as a replacement for conditioners or serum for hair ends. Still, you should perform a hot oil hair treatment once in a while to quickly deliver the maximum amount of nutrients.
Hair oil treatment enhances the color, shine and smoothness, as well as lets you solve out many scalp-related problems (e.g. reduce dandruff), minimizes hair loss, accelerates growth. After all, these are the most popular goals of brides-to-be :-)
Hair steaming
This treatment can be carried out at home too but it is better to let the professional take care of it. Thanks to a higher temperature and increased moisture, a steamer or micro mist steamer moisturizes, nourishes and enhances repair.
Scalp mesotherapy
You should try this one if you want to give your hair an energy boost for growth. You can choose needle, microneedle or neeldlefree mesotherapy but the procedure always aims at stimulating skin repair and making bulbs work more efficiently.
Trichologist scalp exfoliation
In your pre-bridal hair care regimen, it's a must to deeply cleanse the scalp and hair, freeing them from all impurities which weaken and (most of all) block the absorption of masks, oils and scalp conditioners. A trichologist exfoliation is an excellent procedure which purifies, as well as increases blood flow to scalp and enhances repair.
Olaplex
When it comes to brides-to-be which don't feel like giving up on coloring but are afraid of hair damage, Olaplex seems to make the best choice. It is a three-stage hair structure reconstruction which is done during coloring to reduce its negative effect and get a lovely color on healthy hair.