Summer music festivals are a mix of different styles and colors. The ideal hairstyle for a festival should be seemingly careless, enhanced with intense colors and accessories matching the whole stylization. Discover the best hairdos for festivities!
Once, they were an opportunity to listen to good music. Today, they are turning into fashion shows and a place where new trends in makeup and styling are created. Get to know the best hairstyles for music festivals and be trendy this summer!
Festivals of style and colors
All you need to do is to look through the festival inspirations on Instagram to see that summer music events are a feast of colors and a mix of styles. The art intertwines here with the latest trends and usable fashion. Not just the outfit counts, but also makeup, jewelry and, of course, the right hairstyle for the festival, which fully reflects its atmosphere. For the festival participants, it is like an additional jewelry, a cherry on the top of every festival style.
THE BEST HAIRSTYLES FOR FESTIVALS
The spirit of each festival is most easily rendered with the right styling. Hairstyles for the festival can be full of colors, energetic, tousled, messy or a bit feisty. You can give them a festival look with proper hairpins, colors and hair decorations. They will be a perfect complement to the style of hippie, boho or rock. You can get inspired by hairstyles from catwalks or reach for trends from years ago. The only limit is your own imagination.
You do not what hairdo to get for a music festival? Pay attention not only to the type but above all, to the colors and accessories. In this case, less does not mean better.
Festival hairstyle - major trends
BRAIDS
Among all the hairstyles at festivals, all versions of braids are always dominant. The popularity of this hairdo results from the ease of performance, impressive appearance and the opportunities it offers. You can encounter all kinds of braids, such as fishtails, fashionable Dutch or French braids, or the three strands braid. The weave can be single, symmetrical on two sides or just an addition to a hairstyle. The braid can be braided from the bangs or only from several parts of hair to make the hairdo look more effective. It is worth remembering that the braid in the festival edition is best presented in a messy careless version with loose wisps and flowers or decorations attached between the strands.
BUNS
The ideal hairstyle for the festival must be effective, and this is what topknots are. For a summer music festival, a loose, voluminous, with sideways wisps or bangs will work. A good base for a topknot are waves, thanks to which it looks even more effective. If we plan to tie the hair for the festival in a bun, we have several options - a messy bun on the top of the head, a double bun, a French bun, a samurai bun with careless wisps at the bottom or a bun braided with a braid. To give it character, you can attach flowers to it, wrap it with colorful thongs or a scarf, and even cover with a mist of glitter.
PONYTAILS
You can also get carried away with ponytails! While a standard ponytail may seem too boring for a festival hairstyle, in combination with a french braid or colorful accessories will be stunning. The simple to do ponytails are a great alternative to loose hair and updos- on the one hand, the hair is collected and out of the face, and on the other hand, part of the strands falls loosely on the shoulders. Hairstyles for the festival offer a wide range of possibilities, even if we choose a regular ponytail. We can make it tight, slightly lower or near the back of the neck. Remember, however, that it looks best on very long hair or if you're wearing hair extensions.
WAVES
Loose hair lovers can be tempted by subtle curls or beach waves. Hairstyles for the festival must be full of volume, which is why hair should be lifted at the roots with a mousse or a special powder and blown-out with a large round brush before styling. To give the hairstyle some slack, you can run your fingers through the roots, squeeze in a bit of light oil or spray it with a mist. The point is not to leave the hair lay flat, but give it the wind-blown effect. Festival wavy hair looks brilliant on its own, but they are also perfectly suited for further styling. Subtle waves are the best base for festivity hairstyles.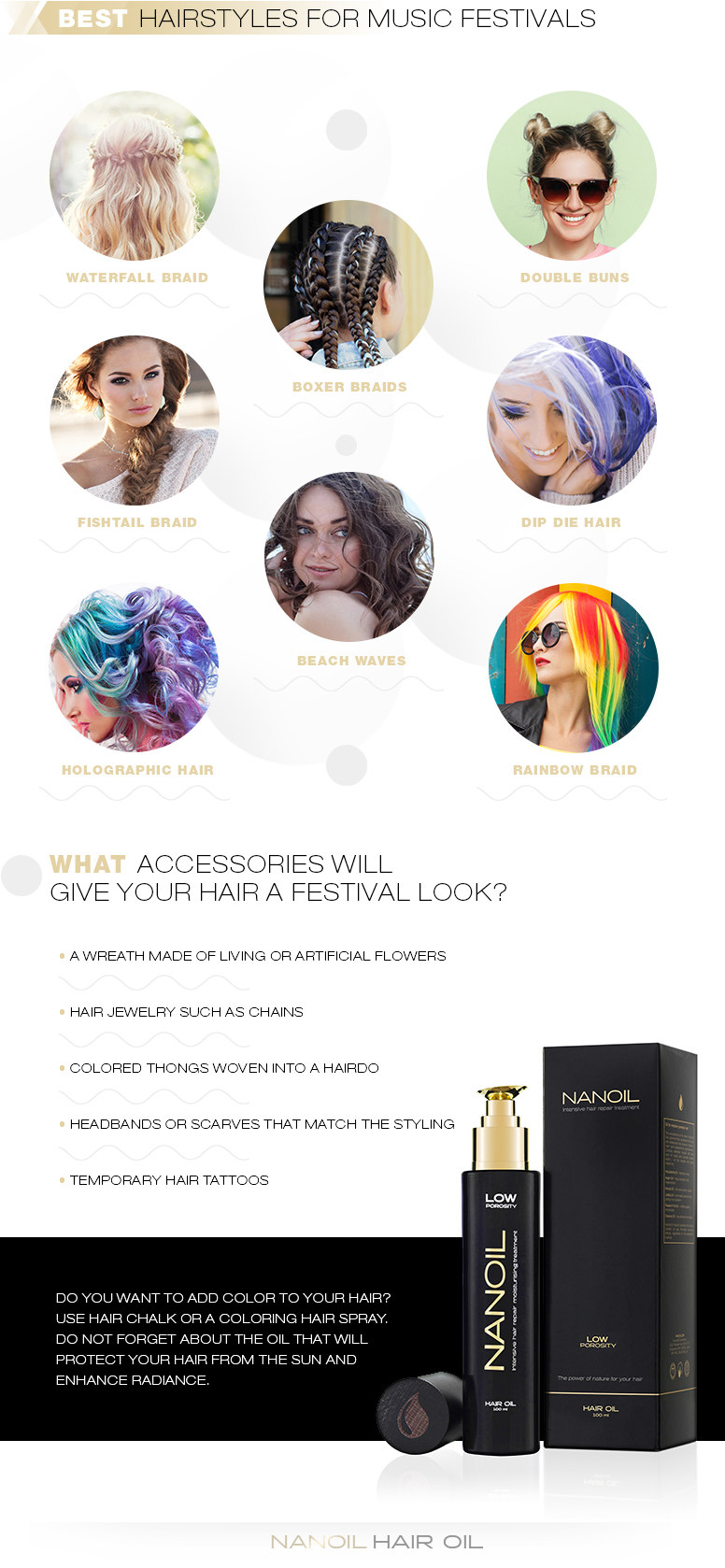 Festival hairstyle - color palette
Hair color is extremely important for the appearance of the hairstyle. In the case of festival hairstyles, it is particularly important, because every stylization for a summer party in the open air is based on a bold combination and play with colors. You can freely combine and dye all your hair, create an ombre effect, rainbow or color only individual strands, for example, to vary and enhance the appearance of a braid. What hair color suits the festival the most?
Pastel shades (mostly) of pink, blue, violet
Very light hair in blues, grays or white
Holographic or rainbow shades
If you do not want to wear pink hair every day, use hair chalk or a hair-coloring spray - the effects will be temporary.
Festival hairstyles - accessories
• Hair wreaths - the most appropriate addition to the festival hairstyle flower children-like. Hippie styles are perfectly complemented by wreaths of live plants or artificial compositions. The latter are better suited for festivals because of their durability. The wreath can be very impressive or delicate, it can be worn on the head or in the form of a flowery rope hand-woven into the hair. It brings lightness to every style.
• Hair flowers - individual flowers can be also beautifully blended into the stylization. An interesting festival hairstyle can be additionally varied with only a flower attached, for example, behind the ear or at the topknot. Such an addition will make the entire look more feminine.
• Headbands - if the wreath in our hair will not match the outfit, then a headband makes a good alternative. It can also be decorated with flowers, have floral patterns and natural colors. But it can also be lace or cords, and then better fit in the boho style. Headband makes a great addition to the festival hairstyle, but it must be decorated and perfectly match the style of our hairdo and the outfit.
• Neckerchiefs - in many cases, the headband and wreath do not give such possibilities as a neckerchief. Rock bandana or girlish silk scarf are better suited for hair. You can use them to create the pin-up girl style band, tie around a stylish topknot or ponytail, or even braid it to give the hair a more interesting look.
• Hair Jewelry - this is an addition to the hairstyle for the perfect festival look, especially if you plan boho styling. Beautiful chains loosely falling on the hair, rings, pins or hair slides with jewelry decorations; all this will be suitable for a music festival. Hair is such a grateful material that you can put everything into it. Jewelry can only be an addition or, for example, serve as a headband.
• Colorful straps - whenever you don't really know how to style your hair for a festival or you do not have time for time-consuming updos, straps can be helpful. Just attach them to individual bands, and even loose hair will gain a new look. Those in shades of brown will prove themselves in rustic stylizations, and colorful ones will be a perfect complement to hippie hairstyles. You can treat them as colorful highlights or stick in your hairstyle.
• Hair tattoos - metallic tattoos can be worn not only on the body but also on the hair. This type of decoration fits perfectly into festival trends. In addition, they fit almost any styling and look amazingly effective. Hair tattoo can have geometric, oriental or floral patterns in shades of gold and silver. This is an ideal option for straight hair or sleek hairstyles. Unfortunately, such tattoo loses its original appearance when wearing waves.
What cosmetics to use for a festival look?
Preparing the hair for what awaits it at the festival requires appropriate cosmetics. Products that will protect against sun, wind, and dust are a must. Texturising cosmetics that add volume and color will also be useful. What hair cosmetics are worth taking to the festival?
• Hair oil - this is the fundamental step if you want the festival hairstyle to look good and not have a bad effect on the condition of the hair. Most of the oils contain natural UV filters, so they protect against the sun. They also help in hair styling, enhancing lightness and flexibility, as well as emphasizing the curl. It is worth mixing a light hair oil with iridescent eyeshadows and carry with you; rubbed in the hair prevents it from falling out and makes it light-reflecting.
• Thermal water – can be used as a mist to provide hair with perfect hydration and nutrition even in difficult conditions. Rich in valuable ingredients, thermal water will give your hair softness, smoothness and shine.
• Sea salt - it helps to achieve the effect of beach waves on the hair, which is one of the most interesting hairstyles for the festival. Sprays based on sea salt can be treated like a mist, which is to be sprayed on hair and pressed into the strands. The effect will last longer on thin hair. It is worth remembering that (despite its valuable properties) sea salt used in excess may harm the hair, it can dry it out, cause frizziness and increase dullness.
• Hair chalk - chalk hair coloring is the perfect patent for music festivals. The so-called chalk hair is a hair with unusual, very bold colors obtained with the help of a hair dye. It is easy to use, to wash off at the first wash and allows you to dye your entire hair, selected parts or only highlights in any color you want.
• Coloring Spray - just like the hair chalk, there are coloring sprays that can be bought in most drugstores. Music festival fans love this product because it dyes hair temporarily, spreads easily, does not hurt and is gone after one wash. In-spray hair dyes are available in many shades, for blondes and brunettes.
• Dry shampoo - is handy and allows you to take control over hair, which tends to get greasy faster in the summertime. If you want to quickly refresh your hair, use a dry shampoo, and work the excess with your fingers. Additionally, this technique will also give the festival hairstyle the desired volume.
SUMMER MUSICAL FESTIVALS
Where to use the idea for a hairstyle for the festival?
One of the most popular is The Coachella Valley Music and Arts Festival - an annual music and arts festival held at the Empire Polo Club in Indio, California, located in the Inland Empire's Coachella Valley in the Colorado Desert for over 20 years! This is the largest music festival of its kind in the United States. It is no wonder that crowds of celebrities and bloggers from around the world are going to attend the event. The Coachella festival gives you the opportunity to show yourself and become the new trendsetters.
Luckily, there are far more opportunities to show yourself. Music festivals in a similar climate include, for example, Lollapalooza in Chicago, Bottlerock Napa Valley in California, Hangout Music Festival on Gulf Shore beach in Alabama. Europeans can go to closer music festivals such as Bonnaroo Music & Arts Festival in Manchester, Primavera Sound in Barcelona, Tomorrowland in Belgium or Open'er Festival, Orange Warsaw Festival or OFF Festival in Poland.