You'll be a bride or a wedding guest soon? No matter what your role is, the right hairstyle is an inseparable element of your look. How to make your hair look its best? Find the hottest and latest hair trends and discover your ideal wedding hairstyle!
You should ask yourself about the best bridal hairstyle at the beginning of your wedding preparations. There's an important task ahead of you: get to know the latest wedding trends and think of a few key issues connected with choosing the right hairdo for the party's style or hair length, for instance. You should definitely broaden your knowledge in this respect.
If you already found out about the best pre-bridal hair care routine, get down to looking for the perfect wedding hairstyle.
Wedding hairstyle trends
The question about this season's trendy wedding hairstyles is hard to answer. Trends change every year but to be honest they shouldn't be the criteria for choosing the best one.
Still, there are some tendencies which keep up regardless of hairstyles presented by Prada, Dolce&Gabbana or Giorgio Armani. What wedding hairstyles do we usually decide on?
Undoubtedly, braids rule. Brides have fallen in love with various braid versions e.g. crown braid or messy fishtail braid. In opposition, there are fancy glamour smooth styles such as various bun versions e.g. a high or low bun, as well as curly hairstyles requiring lots of work, time and effort.
Loose bridal hairstyle
Moving away from classic hairdos and turning to letting hair down for the special day is becoming more popular.
It is an interesting option for long hair but it might work for shorter strands when it's impossible to create a standard hairstyle requiring some length. Loose hair looks gorgeous on the wedding provided your hair is healthy, shiny and voluminous (you can amp up the volume by creating a head of curls or romantic waves).
Does loose hair make a good idea for the wedding?
The good sides of loose hair:
It is comfy because some tight updos don't let you move freely.
The truly natural, feminine and elegant effect.
You don't need to carry a hundred of bobby pins to secure the hairdo.
Women feel confident wearing hair down.
Lovely loose curls look better than many buns or braids.
The bad sides of loose hair:
Making it last is more challenging.
It looks bad if you've got damaged split hair.
Loose strands may turn out uncomfortable e.g. while dancing.
Some accessories slip off loose hair easily.
A hairstyle might lose volume after just a few hours.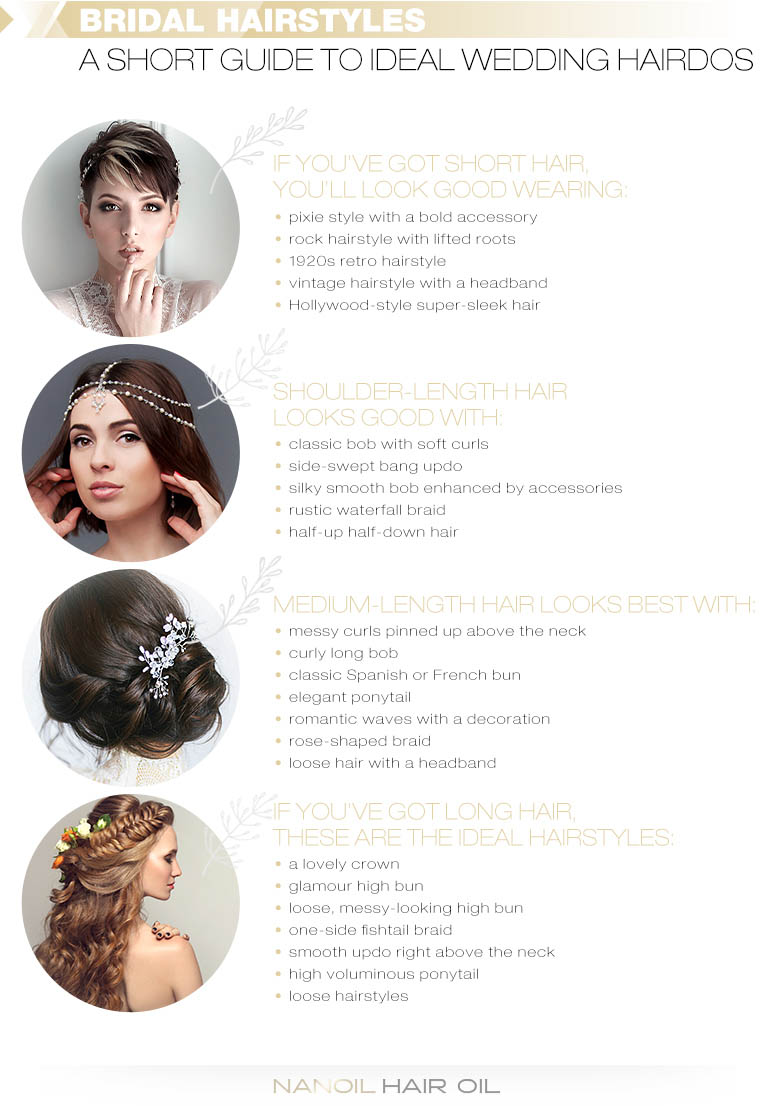 Which hairstyle makes the best choice for a bride?
Let's face it, pinning hair up gives more possibilities and a chance of presenting (your or the hairdresser's) creativity. It is much more popular than letting hair down for the wedding. How to find the best hairstyle among so many inspirations?
Six suggestions for the most beautiful bridal hairstyles!
1. Boho bridal hairstyle
All boho styles ideally correspond to the latest trends and go with rustic weddings. Messy, imperfect, looking wind-blown, truly feminine, making perfect match with a wreath or fresh flowers, they make a nice duo with loose dresses e.g. lace dresses. This kind of hairstyle will surely make you look charming and girlish.
2. Elegant bridal bun
Stiff-looking hair weighed down by layers of hairspray used to be the synonym of elegance. Nowadays, beautiful low French twists or high buns are the examples of elegant hairstyles. A bun is a timeless wedding choice which is ideal for a veil and princess or fishtail dress.
3. Rustic wedding braid
Going back to rustic weddings, a braid seems to be the most natural hairstyle matching the atmosphere. Actually, there are lots of braids you can choose from. The most popular one is an idyllic fishtail braid (enhanced with a wreath) or two Dutch braids (falling on the shoulders or on one side of the head). In both cases, a braid makes a good choice for a wedding and looks really spectacular.
4. Back to retro
Even though retro hairstyles require lots of manual skills, they make a good choice, especially when you plan on Great Gatsby wedding party. Grand curls smoothly and precisely secured near your cheek plus a toque with a veil or a large gold-color accessory - it's a recipe for a perfect retro wedding hairstyle. A timeless style.
5. Bridal ponytail
The lovers of modern weddings like the idea for a bridal version of a ponytail. It is a flawless hairdo and you can choose between two versions - elegant, smooth, high ponytail with fancy accessories or a slightly messy pony with loose and curly strands and flowers. In both cases, you'll look really feminine.
6. Crown braid
One of the most universal bridal hairstyle which goes both with romantic dresses and elegant grand gowns. The effect depends whether your crown is tight and smooth or has some loose strands. It doesn't make a good match with a wreath but you can combine it with a traditional veil instead.
Bridal short hairstyles
What to do when you've got short hair?
Even though the list of ideas is shorter, you can get carried away with the accessories - wreaths, headbands, flowers, bobby pins, glamour or boho decorations.
If you have a slim face, go for pixie layered hair or smooth your hair back (Hollywood wet hair look). Plump cheeks can be camouflaged thanks to a naughty bang or outstanding mohawk which makes the face look slimmer.
How to choose the right bridal hairstyle?
While browsing through hundreds of online inspirations and creating your own roundup of the bridal hairstyles you like most, it is easy to fall in love with one particular do. However, try not to get carried away. Let's face it - some wedding hairstyles won't be good for you. There is no such thing as one-fits-all bridal hairdo.
Take a look at a few essential elements:
The dress is one of the most important factors. Your hairstyle must go along with the length, cut and type of the dress. A lace boho dress makes a good match with messy hair e.g. braid whereas elegant sateen dresses look best with a smooth bun.
Hair length is something we tend to skip. Of course, you can go for hair extensions before the wedding but natural hairstyles look far better. Theoretically, a skilful hands of a hairdresser should face to every challenge but it is better to think about the possibilities of your hair length early enough (also remember that layered hair is more difficult to work with).
Wedding style is another criterion for choosing the perfect bridal hairdo. You should definitely let it go along with the atmosphere of the party. A bride with a smooth bun decorated with pearls won't go with a romantic barn reception. Being consistent matters.
Comfort is probably the most important. A perfect wedding hairstyle should by comfy, making us feel freely and not inhibiting the moves. Let's put comfort above everything else. A tight heavy updo done for long hours means nothing good if you don't feel comfily.
Bridal hairstyle. Can you do it yourself?
Eventually the key thing: can you do a wedding hairstyle yourself?
Obviously, it depends on your skills, the length of hair, its proneness to styling and most of all - its condition. It might work but you must take into consideration that the stress and being snowed under with duties are likely to make your DIY bridal hairstyle a flop. It is more difficult to control the hair, especially when you can't see what's happening at the back of your head.
If you want to look stunning and be sure a chosen style lasts throughout the reception, use the services of a professional hairstylist. On this big day, it's a good idea to let an experienced person do the job. Of course, the thing you can do yourself is prime your hair well and care for the strands early enough e.g. by doing regular oil treatment so that the pro has something to work on, creating a piece of art on your head.