Long hair is no longer just a dream. It is a goal that you can achieve with home remedies or hair-salon extensions. There are several methods you can choose from. Find the one right for you.
Having hair extensions done is non-invasive and painless. The treatment involves attaching artificial strands to the natural hair. It aims at adding length and volume so that extensions blend with natural hair.
What does the hair extension application look like?
It depends on the hair extension method you choose. The step-by-step procedure may be different but the effect is always the same – a voluminous and impressive hairdo.
Which method to choose? Some of you want non-invasive treatments. Others go for hair extensions that won't cause any damage. There isn't one ideal hair extension method because we all desire different effects. If you don't know which technique to choose, consult your hairstylist – a pro piece of advice will definitely make the choice easier.
Fun fact: A hair extension strand is maximum 24-inch long.
However, the fans of natural methods encourage to choose alternatives which don't require artificial hair. There are different hair growth stimulating methods which let you get long voluminous hair without going to a hair salon.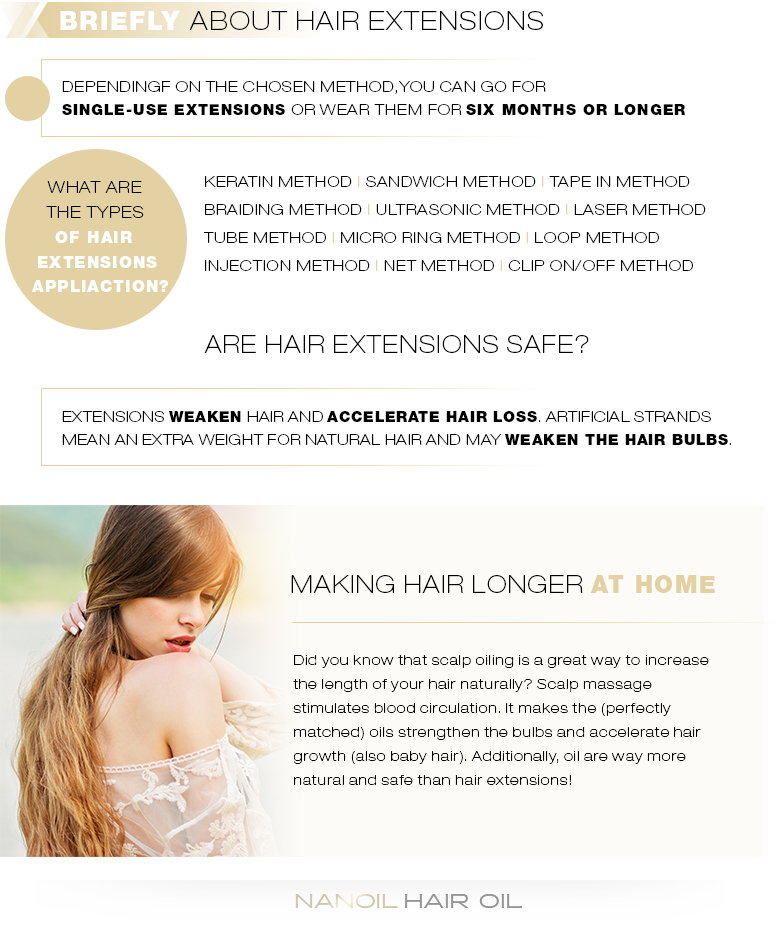 HAIR EXTENSION METHODS
Hair salons offer a few dozens of hair extension methods. Some of them are very similar so we focus on the most popular ones for the simplification.
1. Keratin Hair Extensions
Making hair longer with keratin strands is one of the most popular treatments. It is also known as a heat hair extension. In this technique, artificial strands are attached with keratin, which seems to be a great option. After all, keratin is the natural ingredient of hair. This method can be carried out in two ways:
with a special heated tool at the temperature around 170 degrees
with a keratin glue gun at temperature 70 degrees tops
How long do keratin hair extensions last? Durability is an asset of this solution (around 3-4 months). However, you need to go for touch-ups because the keratin extensions go down while your natural hair grows.
2. Hairtalk Extensions
This method is quick and effortless because the silicone tapes are extremely easy to apply. The treatment involves attaching artificial hair strips to the individual natural hair strands evenly. The tapes are so close to the skin that they are almost undetectable and invisible. Hairtalk is recommended for fine hair that needs an instant volume boost – the silicone tapes are less overburdening. Even though the tapes are attached to the top and bottom of every hair section, the extensions last just around 3-6 weeks. Hairtalk isn't comfy if you're into wearing your tresses tied up.
3. Sew-in Hair Extensions
There is a variation for the hairtalk method. Instead of attaching extensions with the glue, you have them sewed in. A hairdresser makes a waterfall braid (loose hair) and sews tapes under each braid. No heat or adhesives. Sew-in extensions aren't long-lasting, which is the biggest drawback. To make things worse, the washing routine is more challenging because rinsing out the impurities and product build-up, settling between the braids, isn't easy.
4. Japanese Braid Hair Extensions
A braid is used in the Japanese method, too. The hair volume is achieved through weaving hair extensions into the real hair. Synthetic strands are braided into hair at the very roots and secured with a very thin, clear elastic. Too bad, the braids must be tight. That's why the Japanese hair extensions should not be used for more than two months to avoid weakening the hair bulbs.
5. Ultrasonic Hair Extensions
This technique is recommended for those who want to avoid hair damage. Cold fusion is used for attaching the extensions. It uses a tool generating appropriate waves and keratin-tipped wefts, bonding real hair with artificial strands. The effects of ultrasonic extensions last up to six months! These extensions are barely detectable and long-lasting. It is a mixed blessing – you enjoy them long but taking them off may end up in hair damage.
6. Laser Hair Extensions
Also known as hairdreams or infralight hair extension. It is one of the long-lasting and pricey methods. It works for fine hair because attaching artificial hair with the laser equals undetectable extensions which are lightweight and elastic, lasting for 4-6 months. The biggest advantage – extensions behave like natural hair during brushing, styling and washing routine so it's hard to tell them apart. Sadly, the price of laser hair extensions is really high.
7. Tube Hair Extensions
A bit more popular than the sew-in extensions. In this case, tiny tubes are used for attaching small clusters of artificial hair to the natural strands of similar size. There are two variations:
shrink tubes or shrinkies hair extensions (last around a month and a half)
copper tube hair extensions (last around three months)
8. Micro-Ring Hair Extensions
Attaching artificial strands with micro-rings doesn't require heat so it doesn't cause hair damage. Small sections of artificial hair are attached with small (aluminium, copper or bronze) rings – their size must go with the type and structure of hair. If the extensions are infused with silicone, they are bigger but they hold on hair better and are safer. Sadly, few salons offer this treatment as it requires a huge skill on the part of a hairdresser. You can wear micro-ring hair extensions for 3-4 months. At first, the rings may feel detectable and not comfy.
9. Easy Loop Hair Extensions
The procedure is similar to applying micro-ring extensions yet easy loops are safer and more hygienic. They last around 3-4 months, too. Easy loop method takes very little time and effort.
10. Injection Hair Extension
An innovative method which is mostly recommended as a remedy for baldness and thinning hair. It is a non-invasive and non-surgical treatment which involves implementing hair to the skin-imitating base (attached to the scalp with a special product). Natural-looking effect is the great asset of the method – it usually uses natural hair extensions; thanks to fixing the extensions this way, they are undetectable and pose no problems while styling. You need to have the basic tapes replaced only once a year! Regrettably, the price is high and you can't go for this method if you struggle with psoriasis, dandruff, etc.
11. Net Hair Extensions
It is a bit cheaper method but still costs a lot. It also uses natural hair strands that suit the hair color, structure and length of a given person. Extensions are attached to a net whereas the net is attached to natural hair with clips. The effect is natural; wearing the extensions is comfy. The treatment is cut out for balding people and those who simply want to add some volume to their hairdos.
12. Clip-on/off Hair Extensions
Finally, the most popular hair extension, chosen for special occasions – clip on/off. The cheapest yet the least comfortable option. Artificial hair tapes are attached to natural hair with clips. You can do it yourself; such extensions are designed for multiple uses. Too bad, the effects aren't long-lasting. The result isn't natural either. The tapes may be detectable (especially when you tie your hair up) and you must take them off before sleep. It's a one-day solution.
How long do hair extensions last?
The time you wear extensions depends on the chosen method. You can go for single-use extensions or wear them for six months or longer.
Can people tell that you wear hair extensions?
It depends on the method, too. Clip-on/off, sew-in or hairtalk extensions are the most detectable, especially when you tie them up. Injection, laser, net or ultrasonic extensions are the most natural-looking. The higher the price, the harder it is to tell extensions and real hair apart.
Are hair extensions safe?
It is a very common question on hair blogs. We always want it to be painless and non-invasive. And it is so in most cases. However, no one is going to tell you what your hair is going to look like after a few months of regularly-done hair extensions. Do hair extensions cause natural hair damage? Unfortunately, the truth is sad. In many cases, extensions weaken hair and accelerate hair loss. Mostly, thin hair, which is fragile, hates this treatment. Artificial strands mean an extra weight for natural hair and may weaken the hair bulbs.
How much do hair extensions cost?
It is a very popular treatment among celebrities. Its price isn't low. Surely, not everyone can afford it. Still, the costs differ depending on a method you go for. What is more, the prices are different in different salons.
Having hair extensions done at a salon is really pricey. You should think of ways for adding volume and length to hair at home. You can do it yourself at a lower price because you only spend money on a necessary hair product.
MAKING HAIR LONGER AT HOME
Natural hair growth remedies make a brilliant alternative to the pricey hair extensions. If you are terrified looking at the prices for hair extensions, turn to tried and tested hair oils. If you choose the right oil for the needs of your hairdo, it will not only make it look better. It will boost hair growth, hinder baldness and promote baby hair, too.
The hair and scalp oil treatment for hair growth isn't new. Many women make the most of the gifts of nature. On the other hand, keep in mind that some oils are unsuitable for hair growth. You need natural oils (not essential oils) which can be used for scalp application and have growth stimulating power, strengthening bulbs.
Castor oil, burdock oil and pine oil are among the favourites.
The choice of the right method for applying a hair oil matters, too. The best at-home hair growth technique involves applying an oil to the scalp and massaging it for a few minutes. You can try a hot oil hair treatment because humidity and heat improve the absorption of nutrients and intensify the treatment effects.