There's a thing about the classic – it's never going to be out of style.
Stylists like to reach out for the classic designs which have a huge asset – they never grow old.
Classic is the basis for all other trends. If you want a stunning hairdo, a simple cut always makes a good choice. A traditional hairstyle has one more plus. In one moment you can turn it into a modern and way-out do.
You desire to create a trendy look which will turn you into an icon of style? Check out the never-ageing hairstyles!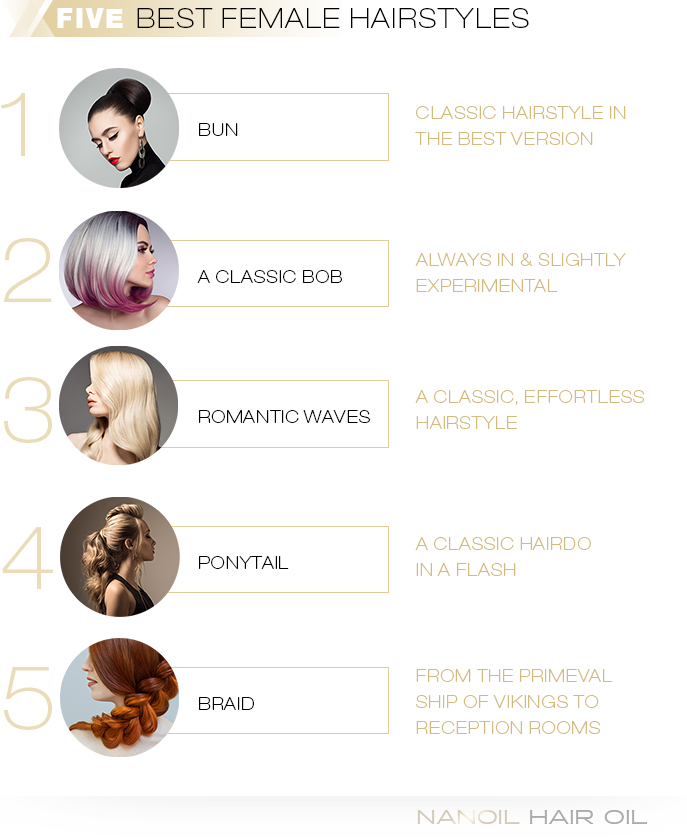 1. Bun – classic hairstyle in the best version
It's been known for ages. It was changing, depending on a historical period. Greek women put some leather bands and flowers in; in the 16th century a bun was decorated with locks; in the early modern period, ladies liked to decorate it with a ribbon. Still, a silky, smooth and high bun is the most popular, which is partly owed to Audrey Hepburn. Her hairdo in Breakfast at Tiffany's – a classic, smooth bun with a tiara – is already iconic.
What makes a bun so popular?
Surely, there's something magnetic about updos which expose the neck and shoulders, drawing attention to women's eyes and face. Both flawless and intriguing – a bun is like a (seemingly) tamed femininity. Women like it because it goes along with lots of outfits and styles – messy or refined ones. You can enrich it with a clip, flower, pearls or jewels.
You can easily make a bun, applying a bit of natural oil first. On a daily basis or for bolder-looking styles, try a messy version with a bit of backcombing. There used to be a special hair nest for buns but today they're replaced by hair scarves which cover the entire bun.
2. A classic bob – always in & slightly experimental
Bob is a short and extremely feminine hairstyle which involves cutting the hair at the height of a chin. It often comes with a fringe. In the classic version, it has the same length. In the 60s, the bob haircut got a new form and it has stayed in the canon of timeless hairstyles. The hair is cut at the jaw level and is shaved at the back (A-line) – strands at the back are shorter (the hairdo resembles the letter A because sides are longer than the middle part).
What makes a bob so popular?
Bob is a breakthrough hairstyle. It's a symbol of changes, women's power and independence. The haircut got popular in the first decade of the 20th century – women in the US and England gained the right for voting. A classic bob showed women's independence, freedom of choice and gender equality. What's more, women look beautiful wearing the bob haircut. It can be matched to the face shape. According to historians, already Cleopatra wore a hairdo looking like the classic bob.
A naughty version of the bob is a bit wild and rock-style – messy, backcombed, with careless strands, often wavy tresses. Such a look is easy to achieve – you just apply a bit of a mousse or styling lotion, scrunching, slightly backcombing and lifting the roots. Bob also comes in bold colours: ombre, sombre, baleyage and other unusual shades which look amazing on sleek hair.
3. Romantic waves – a classic, effortless hairstyle
Waves on women's hair have a history as rich as the classic bun. A wavy hairdo was already popular among women in the ancient times. In the middle ages, the adoration for long (sometimes, ankle-length), loose (and often hidden behind a veil) waves was even more intense. Romanticism and Decadence loved the waves, too. They were the subject of paintings, fascinating the painters for ages. Loose, slightly messy and surely charming and feminine – waves are the symbol of a free and rebellious woman. A pure femininity.
What makes wavy hair so popular?
Romantic waves are still in, enhancing women's good looks and matching the canon of beauty. Wavy hair doesn't require some complicated styling treatments. It's a way to get a womanly and careless look with just a few gestures. A saver when you're pressed for time and desire a stunning do. It's amazing that waves go with every hair length and almost every look – a messy or a romantic, delicate image.
Long, romantic waves are extremely easy to make. Most women get this effect by letting their hair air-dry. Later on, they just apply some mousse and gently scrunch the hair to define the waves. Another option involves braiding hair on both sides of the head. You can also slightly wet your hair, spray a styling primer and blow-dry with a diffuser.
4. Ponytail – a classic hairdo in a flash
A ponytail involves pulling hair back and securing it with an elastic or clip. It's not the product of our times – women have been wearing ponytails for ages. Ancient Greece, Rome and Egypt were in love with this hairdo. Maya men wore ponies and there are lots of cultures in which it's a traditional hairstyle. There are lots of paintings presenting women who wear a few high ponytails (often with some decorations). Many women who belong to African tribes tend to wear ponytails often decorated with a thick piece of leather or rawhide.
What makes a ponytail so popular?
It truly looks like a pony's tail and it's so endearing that nobody's surprised by its popularity. It's simply irresistible. A high ponytail goes with every woman and all face shapes. It works for celebrities, evening dresses, sports shoes, a uniform or suit.
You can adapt a ponytail to every single situation or event. The best thing is that a seemingly predictable hairdo astonishes with hundreds of combinations. For example, take one strand of hair and wrap it around your ponytail so it works as an elastic. You can tie your hair right at the neck or at the ear height. To tame flyaways, try different bobby pins and clips. A scarf instead of an elastic, a velvet or silk ribbon (plain or striped) – in a shape of a bow or loosely falling on shoulders together with the ponytail. A flower in the elastic adds lots of charm, too.
For women who like to stand out among others, a layered ponytail makes a good choice. It's an extraordinary hairdo that takes a few minutes. Many women like to wear ponytails on one side of the head. It looks untypical and a bit rebellious – this unique hairdo takes a moment to make, too.
5. Braid – from the primeval ship of Vikings to reception rooms
According to hairdressers, braids belong to the group of the most charming hairstyles. A braid itself works as a hair decoration, letting you create a different look every day. For example, you can add various accessories.
Women braided their hair already in the ancient times. Braids ruled in Greece and Rome. Egyptians liked to make lots of thin braids that would fall on their shoulders. It was extremely comfy and practical because the hair wouldn't come in a way while working and… fighting. That is why dangerous fighters of the North – Vikings – liked it so much. Women reached their creative peak, wearing braids with ribbons, flowers or – in case of noble queens – precious stones. A fun fact: a braid used to be the symbol of virginity. A bride-to-be had to go through the ceremony of unbraiding her hair. In this way, the family allowed their daughter to get married.
Similarly to the classic bob, braided hair has become a symbol of revolution. Take a look at Yulia Tymoshenko and her famous braid. The peasant-style braid was the characteristic feature of the Orange Revolution. Again, women proved that the hairstyle isn't just about the appearance but it's a kind of an ideological message of what's important.
What makes a braid so popular?
A braid comes under different names. While braiding your hair, your imagination is the only limit. It says a lot about a person who wears it, usually being the symbol of youthfulness and innocence. Women like braids for saving them e.g. on a bad hair day. It's a fix for flyaways, adding some chic to your image. Its playful version has been in for some time. A dragon braid is a thing now, looking truly unusual and exceptional. One of the characters of Game of Thrones has set up a trend for thick and imaginative braids. The Mother of Dragons amazes with beautifully and extraordinarily-braided hair that really looks like a dragon's tail.
Even if your hair's short or shoulder-length, you can make a braid – start braiding at the roots and gradually add more strands. Make one braid and make a bun on the top of the head. If you want a cheeky look, let your hair down and make one or a few tiny braids, falling loosely. You can make one braid above your forehead or two braids on both sides of the head.