Thin hair isn't the end of the world.
It is true that you can't go for any hairstyle but you can choose between many brilliant haircuts.
You would be surprised by the number of music or film stars whose hair lacks volume and thickness. Nevertheless, they look stunning on parties, photo shoots and film sets.
The right haircut, a good hairstyle and a bunch of easy tricks (recommended by bloggers, vloggers and hairstylists) are their secrets.
If thin, limp hair bothers you, too – you are in the right place.
We rounded up the hottest and best haircuts and styles for thin hair. For a dessert, you'll get a handful of useful and sneaky hacks which will let you enjoy a non-stop beautiful hairdo. You will finally fall in love with your fine hair.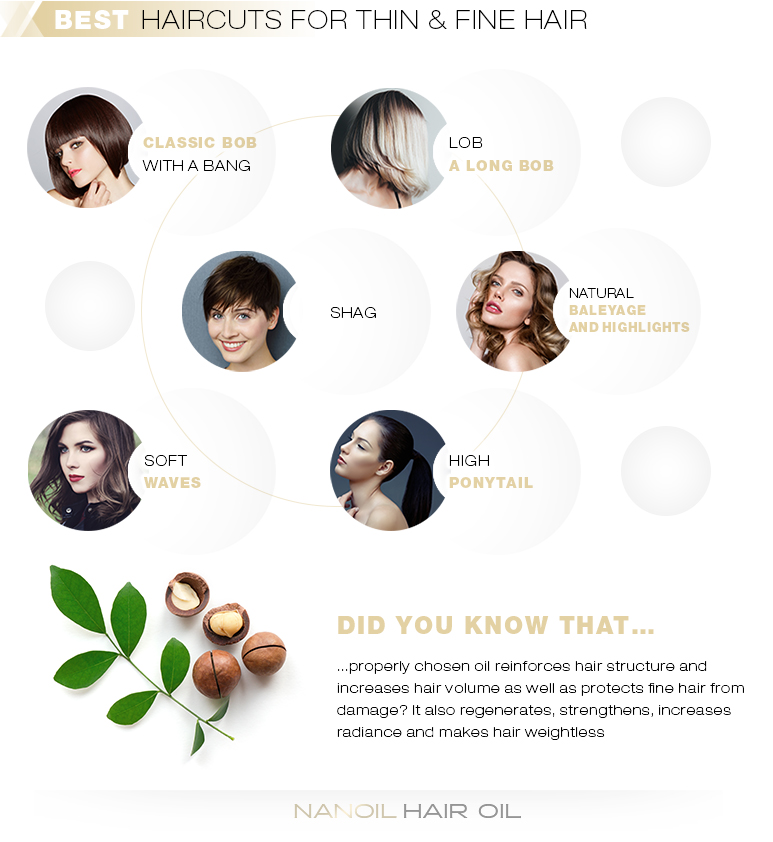 TOP 12 best haircuts for thin & fine hair
1. A classic bob with a bang
A timeless hairstyle that is, was and will be a thing. Anna Wintour – a fashion queen, the British Vogue editor – has definitely upgraded its popularity. She's in a class of her own. Her flawless and chic hairstyle goes with every outfit. A short bob with a bang should reach the jawline. Thanks to this haircut, you instantly get a great volume and perfect look. Anna Wintour wears a straight fringe but it is possible to wear a side-swept bang to break the monotony and give it a twist.
2. A classic bob without a bang
It is obviously a different version of the previous haircut. This one comes without a fringe. The length is up to you – go for a chin-length bob or make it longer so that the ends are nicely curled up. To get body and density, don't have your hair layered at the front. This version of bob means easy styling – with a big, round brush. A layered bob is a perfect choice for fine hair, giving it a maximum volume.
3. Blunt bob
It is one of the most impressive hairstyles this season. The one-length hair lets you style it with a round brush (so it resembles a long bob) or blow the strands dry with a large, square brush (termix paddle is one of the top-selling ones, it is gentle and reduces drying time). Such a hairstyle makes thin strands look strong, healthy and voluminous. Blunt bob is one of Kim Kardashian's favorites. It makes thin hair look really great, no matter your hair color, texture or age.
4. Lob – a long bob
Thin, fragile hair is going to get along with lob – a longer version of bob. It's really rewarding when it comes to styling routine. Hair is a bit shorter at the back. It resembles letter A. The hair is short at the back and gradually gains length at the front to give the effect of shoulder-length or longer hair.
5. Shag
If your hair reaches the shoulders, treat yourself to a haircut that reined in the 70s and 80s. I mean shag – hair is layered and (must be!) tousled, often coming with a sharp, bold bang. Meg Ryan, in When Harry Met Sally, made the haircut popular. It gives you the just-out-of-bed look so the styling isn't at all difficult. You simply spray some styling lotion and... mess the strands up. Shag looks its best when you let your hair air dry. Thin hair tends to be frizzy so you should rub some natural oils (maracuja oil is one of the best anti-frizz oils, keeping hair ends healthy and preventing aging) in hair tips for a flawless look.
6. Natural Baleyage and highlights for fine hair
Luminous reflections make hair look fuller and denser thanks to the play with light and shadow. The hair volume is doubled. Highlights enhance individual hair parts. If your hair isn't layered, subtle highlights will keep the flat and limp hair look away. The key thing is to make the shades subtle and soft, preferably in the same color gamut.
7. Volume-boosting bang
It makes a good choice for girls who try to grow their hair long, worrying about thin and volume-less strands. If you are one of them, 'devote' the hair at the front and cut it, making a straight or diagonal bang. It gives an impression of a fuller and voluminous hairdo. Light highlights work here, too, adding body and density at the same time.
8. Soft waves
A saver for long bob, shoulder-length or slightly longer hair that isn't layered. Subtle waves slenderize the facial features. They add volume to the hair. The styling routine is a child's play – rub some styling mousse in (for example, a product designed for fine hair, increasing volume) or spray some delicate styling lotion.
9. Cut it straight
Avoid sharp layering because it intensifies the impression of thinning hair. Layered strands lose the volume fast so you end up with a flat hairdo. Remember that thin hair and layering don't make a perfect match. Why? While styling, the strands fall heavily on the shoulders or (the other way round) you get flyaways. Even long and thin hair may look nice and voluminous – if you don't have it layered.
10. A high ponytail
It is classic in the best possible version. A ponytail is never going out of style. Make it loose and messy for a volume boost. A gentle backcombing adds some body, too. To lift the roots, you can use large hair rollers or rub some hair powder in before making a ponytail. After this kind of priming, you either make a pony or a messy ban.
11. Pull through braid
A faux braid – pull through braid – is an easy way to get a voluminous hairdo. Your thin hair is going to love it. You simply braid three regular ponytails for a loose, full braid. Online pictures and tutorials show you how to make the pull through braid effortlessly. Ladies, whose hair is long and thin, will surely love the effects. The longer the hair, the nicer the braid.
12. Tousled pixie
It is a new dimension for short hair – a bold cut for pixie fans. Hair comes in layers of different lengths for a volume boost. Another important thing is not making it smooth. Instead, lightly scrunch up the hair for a messy yet subtle look. Even the thinnest hair is going to get body and density.
How to thicken and care for thin hair?
Check out some tried and tested tricks for adding volume to fine hair which is demanding, sensitive, frizzy and easily weighed down.
Thin hair – secret no 1: keratin
This natural building block of hair is washed away due to the wrong hair care. To replenish the keratin in hair, you can go to a hair salon for a hair-smoothing keratin treatment. In this way, you nourish the strands and fortify hair texture. On a daily basis, use a keratin-infused shampoo which is free of parabens and substances such as SLS.
Thin hair – secret no 2: sleeping with a high braid
If you want your hair to be full of volume and easy to style the moment you wake up – make a braid, starting at the top of your head. Don't braid your hair too tight; gently tilt your head while braiding. As a result, the roots will be lifted throughout the night so after unbraiding, the hair will stay this way for long hours.
Thin hair – secret no 3: a hair powder
You apply some powder to the roots, gently massaging the scalp and hair. In this way, you lift the roots for amazing hair body and volume.
Thin hair – secret no 4: a foam conditioner
Fine hair simply hates heavy masks and conditioners. To keep the volume, nutrients and protection, you should go for a foam conditioner. It doesn't only provide hair with valuable ingredients but also ensures easy styling without weighing down. The best foam conditioners add shine and protect from the harmful outside factors.
Thin hair – secret no 5: hair oils
If you choose the right oil for your hair type, it is able to match the structure, making the hair soft, luminous and bouncy, locking water in at the same time. A cold-pressed, unrefined macadamia oil is cut out for thin hair. It is known as a vanishing oil because it fully penetrates the hair, without overburdening it. Macadamia oil protects fine hair against dryness, makes it manageable, reduces frizz and gently texturizes, providing heat protection.
Thin hair – secret no 6: a blow-dryer and curler
Blowing your hair dry with the head down is a trick known to all girls with fine hair. Few people know that a curling blow-dryer gives the best hair volume. The best one should have an ionic function. Wrap your hair on a rotating brush of the dryer and use a cool or cold airflow. You'll get lifted hair roots and spectacular volume. A cool air fixes a hairdo and seals cuticle scales for an intensified shine and smoothness.
Thin hair – secret no 7: a hair flip
To avoid flat, lifeless hair, don't get attached to one hairdo. Try different styles. Flipping your hair to the other side is a game-changing hack. Thanks to switching the parting, your hair is gently lifted and doesn't get used to one side.
Thin hair – secret no 8: a scalp massage
Doing a hair oil treatment is a good moment for giving the scalp a massage (to improve the blood circulation, slightly lift the roots and stimulate hair bulbs). A scalp massage adds volume to hair and ensures better blood flow so sebum doesn't build up on the scalp fast (sadly, too much sebum is a bane among girls with fine hair). What's more, you can massage the skin while applying a hair powder or scalp conditioners.
Thin hair – secret no 9: a vinegar hair rinse
Balms, masks and conditioners don't work for thin hair. To nourish fine hair and close cuticle scales, use a hair rinse (e.g. apple cider or raspberry vinegar) after every washing. It will provide the scalp with the proper pH, increase hair shine and tame flyaways so your thin hair won't be frizzy or static. An appropriate scalp lotion is a good choice if your hair is thin – it will strengthen the strands and keep the pH on the scalp balanced.