Modern technologies are being more and more eagerly introduced into the realm of hairdressing. Instead of resisting stubbornly, it's time to take a closer look at the possibilities that advanced applications, virtual reality and artificial intelligence are able to offer. Read on to learn the future of hairdressing!
It wasn't that long ago when a record of a phone call between Google Assistant and a receptionist at a hairdresser's hit the Internet. It appeared that A.I. is able to make an appointment at a hairdresser's for us. What's even more astonishing, the person at the other end of the phone didn't even realize that she wasn't talking with a real human being. It was possible owing to the extraordinary achievements of speech synthesis and use of neural computing to teach artificial intelligence.
However, there's more that artificial intelligence is capable of. Various types of cutting-edge technologies applied in hairdressing are constantly gaining in popularity.
Digital Technologies in Hairdressing
Technological advancement allows the biggest hairdressing brands to use digital technologies to do both promote their names on the Internet and improve service offered in their salons. And this is made to provide us with customized offers and to answer needs of clients in the most accurate way possible.
No wonder why in the present-day beauty salons the choice about the right hair colour, hairstyles or hair care routines has been made significantly easier owing to special mobile apps, hair booths, AR and VR technologies as well as taking advantage of artificial intelligence. Here are the most interesting and innovative ideas of using modern technology in the service of stunning hair.
Mobile Apps to Change Hair Colour at Home
Today, every smartphone owner can become a virtual hairdresser. It's enough to install a special app to with just a few taps change hair colour and find out how this new hairstyle suits us.
How Do the Hair Changing Apps Work?
It wasn't that long ago when similar mobile apps were pretty ragged - only very sharp face photos could be used, but still the effect was frequently far from being satisfactory.
Luckily, today this process looks completely different owing to well-developed apps. They match a hairstyle with the shape of face on their own, in real time. You just need either a front camera in your smartphone or a selfie uploaded to the app. Everything is possible thanks to artificial intelligence and the possibilities offered by Augmented Reality (AR).
YouCam Makeup x Redken App
Definitely the most popular hair colour changing application is YouCam Makeup developed together with Redken hairdressing brand. It's supposed to help women decide what colour to choose to dye the hair with. Before picking up the shade, we can play a hairdresser and run some virtual metamorphosis of our hair.
Despite the app being free, it:
allows you to change your hair colour to one out of a few available shades
lets you see the effects of highlights, ombre or balayage
gives you the possibility to cut your hair virtually or give a try to a completely new hairstyle
Virtual Hair Changing Rooms
The path from mobile apps allowing to 'try on' a hairstyle to designing professional hairdressing software is really short. Nowadays, the owners of hairdressing salons can finally make use of highly advanced software like SalonStyler.com - their hairstyle, colour and even accessory and hair dressing base is incredibly huge.
Again, Redken was the precursor of introducing this solution and installed special modules to YouCam Makeup application in their New Your salons. As it isn't hard to guess, the experiment was successful - the clients were eager to test new hairstyles through the application. Consequently, they decided to have their hair dyed with bold colours more frequently.
There are a few reasons why hairdressing salons upgraded with virtual hair changing rooms is a marvellous and ground-breaking solution. The most important ones are as follows:
Digital technology allows clients to see the selected hairstyle long before a hairdresser even starts doing it and this helps to assess whether the final effect will appeal to the client's liking. Also, it allows to choose a colour so as to match it with the client's beauty type.
The fun that is connected with trying on various hairstyles and giving a try to different hair colours doesn't only facilitate making up one's mind and increasing the satisfaction of customers but also it makes spending time in a waiting area more pleasant.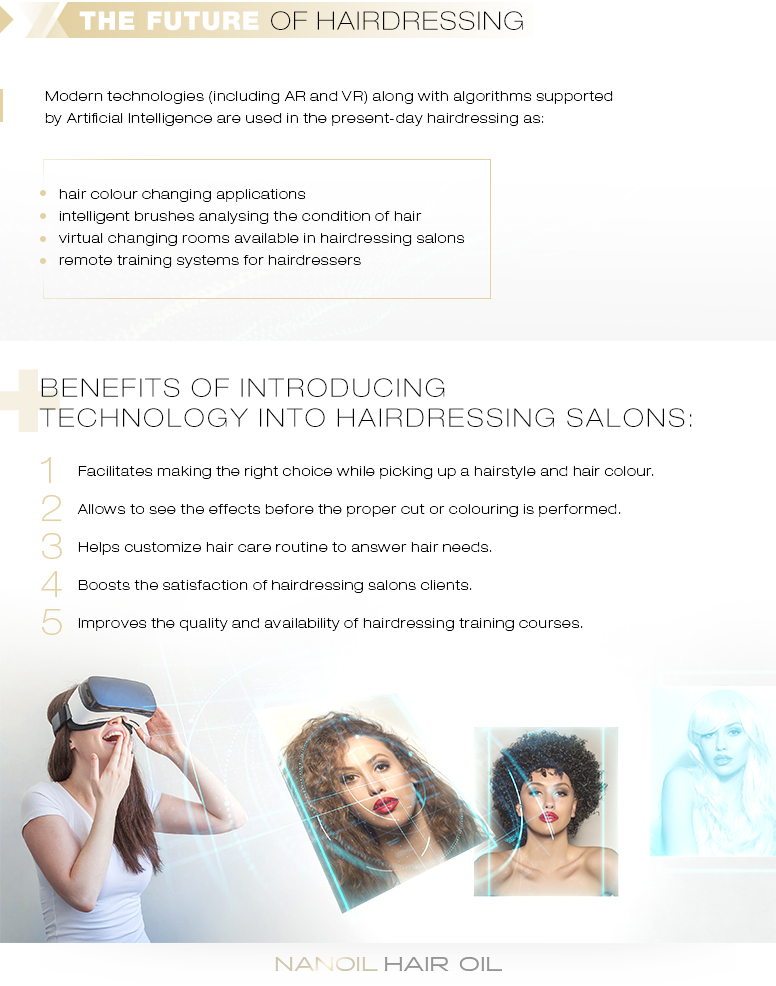 Intelligent Hairbrushes
Frequently the modern technologies are used to create intelligent devices to take care of and style hair. One of the most intriguing solutions is the world's first intelligent hairbrush Kérastase Hair Coach by L'Oreal.
This intelligent hairbrush has a few gadgets built in, and they are:
sensors to measure the pressure put during combing
accelerometer and gyroscope to analyse the movements applied during combing
microphone to measure how dry hair is
sensor to tell whether the hair combed is dry or wet
a special systems defining the condition of hair
What's the most interesting here is that this intelligent hairbrush Kérastase Hair Coach can be paired with a mobile application to stay up-to-date with your hair condition, save hair care progress, follow all the changes that your hair undergoes and receive customized tips concerning how to take care of hair. The highly-advanced algorithm evaluates the condition of hair by analysing weather conditions such as wind, humidity and temperature, provided that we pair it with a weather application.
Hairdressing Training Courses with VR Technology
The future of hairdressing doesn't limit itself to Augmented Reality (AR) only, as it's with the hair colour changing app, but also it takes advantage of Virtual Reality (VR). The first to make use of it was L'Oréal Professionnel 'Matrix Academy' in the USA - they used it to conduct a new-style hairdressing training course. What was its innovativeness all about?
VR Hair Education Course is an effective alternative to all the costly trainings conducted in a certain places and time, where the seats are limited especially to those people with smaller budged, little free time or living far from where the course is supposed to be held. L'Oreal faced the very problems by organizing VR Hair Education Course that can be attended without leaving home but just by putting on VR headset. This is much better than YouTube tutorials!
What Is VR Hair Education Course?
With the aid of virtual reality everyone can enter a special virtual room where a L'Oreal Matrix Academy instructor runs a training course on a model. VR technology allows a participant to walk around the instructor and watch the stylist's work form various angles, even by stepping in the very place where he stands and observing his work form the first person viewpoint. This type of photorealistic 3D recording is a perfect way to make use of VR technology and apply it into the field of hairdressing so as to make any training course even more accessible and easier.
Will A.I. Replace Real Hairdressers?
This is the best question to answer in order to summarize how the art of hairdressing is changing due to the modern technologies. This advancing in all possible fields automatization entirely justifies the question: Will robots replace hairdressers?
At this point the modern technologies aren't advanced enough for fully autonomic robots to start working in regular hairdressing salons. Only a real hairdresser is able to cut, colour and style hair no matter the conditions. Digital solutions only help to streamline and improve the work of hairdressers.
However, it's worth being aware of the fact that we are able to create professional 3D head and hair models on the basics of photos and scans therefore creating robo-hairdressers is probably just a matter of time. Today, full automatization introduced into hairdressing salons is perceived as cost-ineffective and won't rather be warmly welcomed by clients - after all, a hairdresser doesn't only style our hair but also listens to us and frequently becomes our sounding board.